(Last updated on January 12th, 2021)
McAfee and Kaspersky are two popular names in the antivirus space, but who wins in a head-to-head battle?
Our experts have put together this detailed, data-driven McAfee versus Kaspersky comparison to help you make an informed decision.
In today's era, internet security is more important than ever, mainly due to the ever-growing number of sophisticated malware attacks all across the internet.
In 2018 alone, over 8 million computers were infected by malware across the United States. In another statistic, over 800 million new malware bugs were surfaced in 2018. These numbers are only going to get bigger and bigger each year as creators of malware become more advanced in their methods.
While free antivirus programs can be useful, they lack advanced features and utilities that have become essential tools in modern antivirus suites. Also, most free solutions don't even offer real-time malware monitoring, which means they are nothing more than a mere disinfection tool.
When it comes to digital security, you get what you pay for. Therefore, we recommend investing in a premium security suite, like Norton — which is our recommend antivirus suite for 2021 — for complete peace of mind and ultimate security.
Editor's Note: We have spent over 150 hours examining all the top antivirus software out there, so you can get the best antivirus product for yourself and those you love.

At the moment, we think that Norton is the best antivirus software available in the market. It offers exceptional anti-malware security with minimal impact on system performance, as evidenced by the recent independent lab tests conducted by the AV-Test Institute.

Currently, Norton is offering an exclusive 70% discount to our readers for a limited time, so grab your copy of Norton before the sale ends.
Best Antivirus Software for 2021
---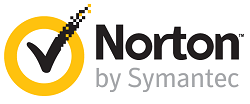 Unbeatable anti-malware protection
Minimal system impact
Exceptional value for money
Recommended by PC Mag, CNET & TechRadar
100% virus protection promise
60-day risk-free money-back guarantee
Let's take a look at two of the best antivirus software on the market: McAfee and Kaspersky.
Breakdown of this Comparison
Features
Anti-Malware Protection
Impact on System Speed
Interface
Pricing
Popularity
Customer Ratings
In a hurry? Below a quick rundown of who wins in each category. You'll also find our overall recommendations below.
McAfee Vs Kaspersky: Comparison at a Glance
1. Features: McAfee offers more security-related features and utilities in its security suites than Kaspersky. Kaspersky offers a decent range of security products, but its firewall is reserved for higher-priced packages.
2. Anti-malware protection: In independent testing, Kaspersky received better scores than McAfee, demonstrating excellent malware protection capabilities.
3. Impact on System Performance: Both McAfee and Kaspersky achieved excellent scores in independent performance evaluations.
4. Interface: Kaspersky has a more intuitive, simplistic interface but suffers from the way it locks out features depending on your subscription plan. McAfee brings everything all at once since you only pay for licenses. Overall, McAfee is the winner in this category.
5. Pricing: McAfee wins this round of comparison due to its better per-device pricing structure.
6. Popularity. McAfee's market share is significantly larger than its competitor according to independent sources.
7. Customer Ratings: McAfee has better overall user ratings than Kaspersky.
The Winner
McAfee is our winner in this comparison. Kaspersky does bring some good value to the competition, but some of its key features are only reserved for top-tier products. Both pieces of software are excellent at protecting your devices against all sorts of malware threats, but McAfee puts less impact on system performance than Kaspersky.
2021's Top Antivirus Picks
---
#1 (Best Overall)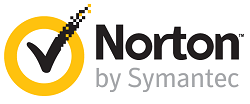 Extensive feature-set
Award-winning malware protection
Minimal system impact
competitive pricing structure
Intuitive user interface
100% virus protection promise
60-day money-back guarantee
#2 (Very Good)
Robust Feature-set
Excellent Anti-malware security
Zero System Slowdowns
Exceptional Value for Money
Intuitive User Interface
#3 (Very Good)

Impressive Feature-set
Good malware protection
Value for Money
Now, let's delve into the details.
1. McAfee Vs Kaspersky: Features
Let's dig into the details of both antivirus companies and see what their various packages have to offer.
McAfee's features
McAfee's flagship package is McAfee Total Protection. This antivirus package comes in three different license bundles; you can get it for just one computer, five, or ten.
The features included in each bundle are the same; the only difference being how many devices (PCs, macOS, and smartphones) are covered. the package offers all the advanced features you can expect to find in full-blown security suites.
Smart Two-Way Firewall – protects against all sorts of malware threats and gets updated with new malware definitions several times a day.
File Lock Module – allows you to secure and lock specific files so only you can see them.
Vulnerability Scanner – checks your home network for security flaws and other vulnerabilities.
Advanced Password Management Tool – secures your password and login information in a digital vault and protects this information from malicious websites.
Network Manager Utility – protects your Wi-Fi network against hackers and intruders.
Parental Controls – monitors your kids' online usage and limits their access to unwanted online content. This module also includes a tracking facility that helps locate your kids when they are away from home.
Permanent Delete Function – allows you to "Permanently Delete" anything that you never want leaving your computer, like your sensitive personal files or information.
Optimization Tools – reorganizes your computer's files and deletes junk data that might be slowing system performance.
McAfee LiveSafe is the next offering from McAfee. It comes at a relatively higher price point and has all the same security features found in the previous suite, in addition to the ability to store files in the cloud.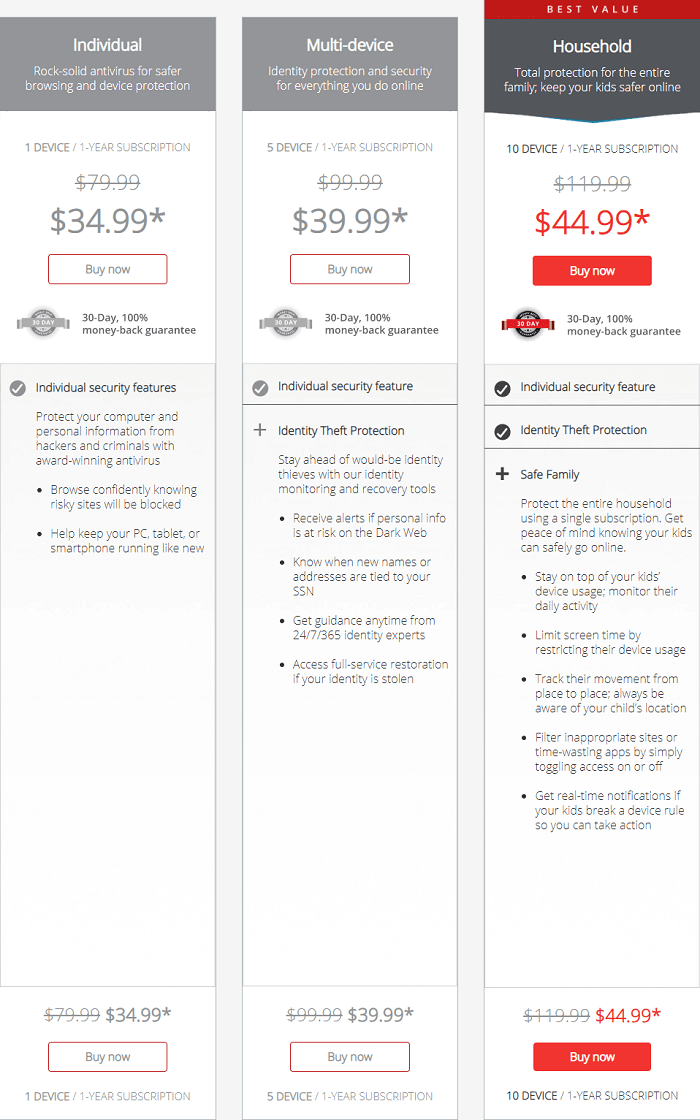 All McAfee products come with premium support; you can contact their customer support at any time of the day or week by phone, email, or digital chat.
Kaspersky's features
Kaspersky Free is the first tier of coverage offered by the company. As expected, the freeware is barebones in terms of advanced features, but it does protect against a range of malware threats. Protection against phishing websites and the capability to check USB drives for malware is also incorporated into the freeware.
The next tier for Kaspersky is its first paid product, called Kaspersky Anti-Virus. This takes the basic coverage offered above and adds on some useful features:
Vulnerability Scanner – checks your network for security issues and fixes or notifies you instantly if anything's amiss.
Silent Mode – lets you suspend notifications while you're gaming or watching a movie.
Multi-Layered Ransomware Protection – encrypts your private information while you're online and protects you from money related frauds and threats.
It should be noted that this suite is only compatible with PCs.
Next up is Kaspersky Internet Security, which can work on Macs, PCs, and mobile devices. It includes everything found in the previous suite, plus:
Two-Way Firewall – Provides comprehensive security against cyber threats.
Hardened Browser – secures your private information and sensitive data during online banking or shopping.
Anti-Spam Module – acts a lot like an ad-blocker for your email and computer, preventing a lot of spam junk from reaching you.
Parental Control Filter – blocks age-sensitive content and lets you monitor the web activities of your children.
The company's full-blown offering is Kaspersky Total Security. This includes everything that's part of the "Internet Security" suite, as well as:
Password Manager – organizes and stores your password information for easy login accessibility and prevents this information from being stolen.
File Shredder – Works a lot like McAfee's Permanent Delete feature and saves your sensitive data from landing in the wrong hands.
Backup Utility – lets you store up to 2 GB of data on the cloud, courtesy of Dropbox.
Recently, Kaspersky introduced another top-of-the-line product, called Kaspersky Security Cloud. It offers everything that's jammed into the "Total Security" suite. The only difference is that the "Security Cloud" has the "adaptive technology" that can automatically apply all the necessary settings based on your activities. It comes in two versions, Personal and Family.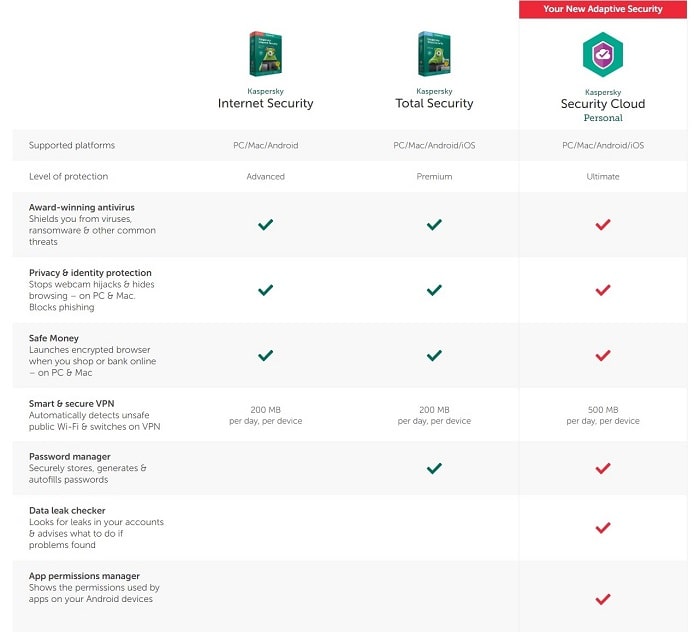 Winner: McAfee. Overall, McAfee wins this round of comparison as it offers a broader set of features in its flagship product. Kaspersky, on the other hand, offers a progressively-stronger range of security suites.
2. McAfee Vs Kaspersky: Anti-Malware Protection
Malware protection, above every other factor, is the chief aspect that you should focus on when selecting antivirus software. After all, the entire purpose of this software is to keep your computer safe from ever-evolving digital threats.
McAfee and Kaspersky both rely on firewalls and scanning engine to accomplish their protective tasks.
Let's look at some recent evaluations done by independent laboratories to see how both software stack up against each other in terms of malware protection. Almost all antivirus software companies participate in these tests, which are conducted by experienced security experts.
AV-test.org is one of those organizations, and they score antivirus companies on a scale of 1 to 6 in three different tests: Protection, Performance, and Usability. We'll look at the Protection Test for our purposes first, then the Performance test later.
In the AV-Test's July-August 2019 Protection assessment, both McAfee and Kaspersky scored a perfect 6 out of 6. This indicates that both products are excellent when it comes to defending a computer against malware threats. (See this and this for detailed results.)
McAfee: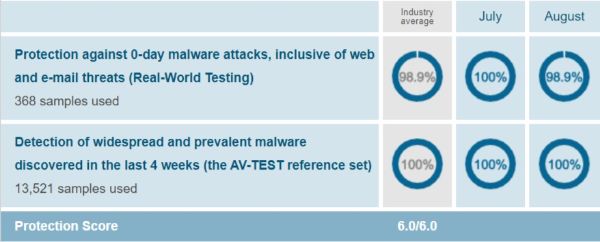 Kaspersky:
In the June 2019 Real-World Protection Test conducted by the experts at AV-Comparatives, another independent organization, Kaspersky registered an impressive score, earning the highest ADVANCED+ rating. On the contrary, McAfee got the lowest STANDARD award, mainly because of false alarms.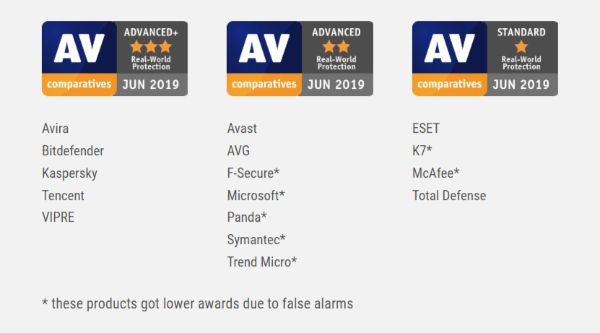 Winner: Kaspersky. Kaspersky is a clear winner here, as independent evaluations show it offers excellent malware protection.
3. McAfee Vs Kaspersky: Impact on System Performance
Since antivirus programs run passively in the background, it's important that your software doesn't slow your computer down to the degree that's noticeable and makes your day-to-day experience worse.
Again, we'll look at the recent lab tests to see how McAfee and Kaspersky compare in this category.
Those two companies who tested McAfee and Kaspersky's defense against malware also tested their system impact by running the antivirus suites alongside regular computer operations, to see how much a computer slows down with each participating product installed.
In the Performance category of the AV-Test evaluations, both McAfee and Kaspersky received a perfect 6 out of 6 score.
McAfee: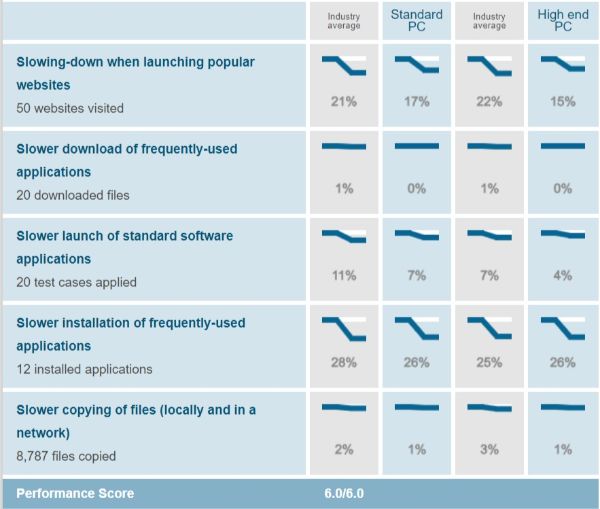 Kaspersky: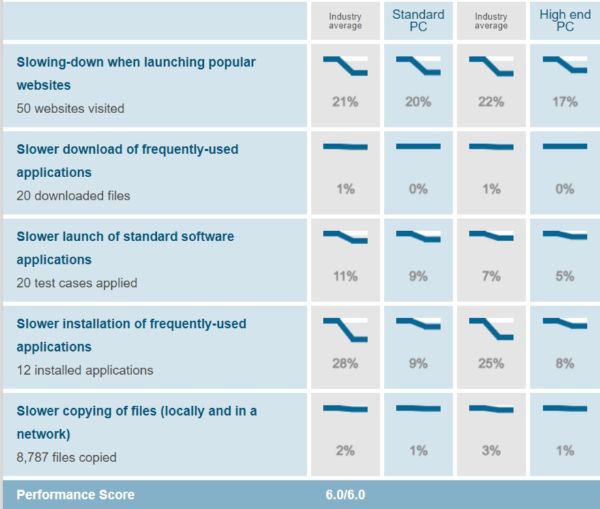 In the recent Performance Test conducted by AV-Comparatives, both McAfee and Kaspersky notched the highest ADVANCED+ award because of their impressive impact scores.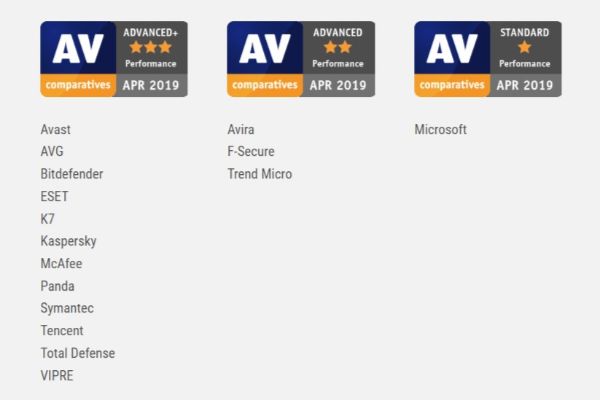 Winner: Both. It's evident that both McAfee and Kaspersky are equally efficient, as they put almost no impact on system performance.
4. McAfee Vs Kaspersky: Interface
It's imperative for security companies to provide an intuitive, easy-to-use interface with their security suites.
A good user interface is a key part of security software because you'll be using the program a lot. Usually, most companies offer the same user interface with all of their security products, but you will find certain advanced features locked if you choose to go with entry- or mid-level products.
Let's take a look at the interfaces of both McAfee and Kaspersky.
McAfee uses a central control panel that you access from your desktop or program list, and everything you need to see is contained on the front screen or through a left-hand sidebar. This sidebar has buttons and widgets to select which switch screens to more focused locations depending on your task.
This means that you do have to switch screens rather frequently with McAfee; there's a different layout for scanning and updating and the firewall and so forth.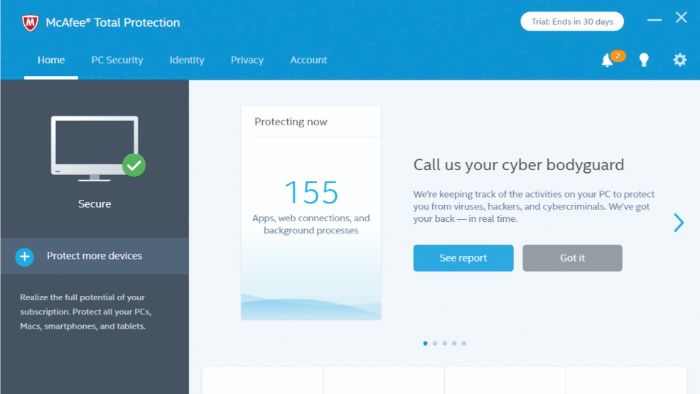 Kaspersky's user interface is simple and colored in green and white. Everything is much more organized into a main-screen row and with big icons. It's definitely a better setup for most casual computer users or those who aren't computer literate.
However, the free version of Kaspersky clearly indicates what's not available to you, presumably in a bid to get you to upgrade. While we recommend always paying for a good antivirus, this design is a little annoying, since it feels like the interface is giving you options only to take them away unless you fork over the cash.
This can continue even after you pay since if you aren't getting the highest tier of coverage, there are a few features not available to you. This can feel frustrating rather than persuasive.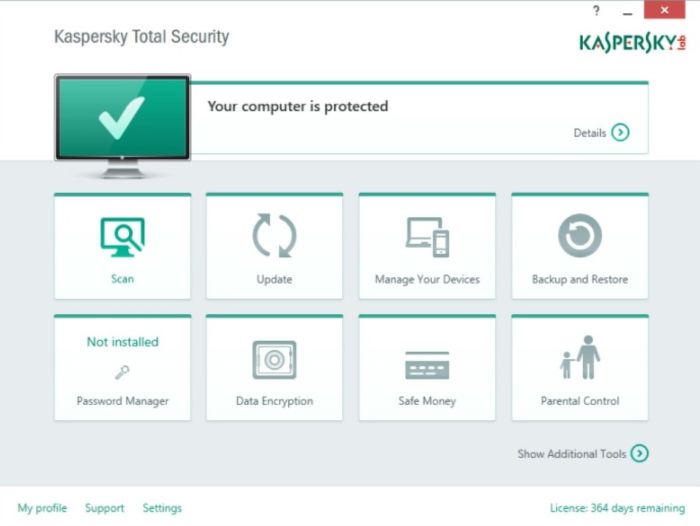 Winner: McAfee. McAfee's interface is slightly better and more intuitive than Kaspersky.
5. McAfee Vs Kaspersky: Pricing
Now let's dig into the prices from both companies and see which offers better value for money.
McAfee's Total Security costs $24.99 for one license. As you climb into the five-license bundle, it raises to $39.99, then $44.99 for ten licenses. The price increase goes down, proportionately, as you get more licenses.
McAfee LiveSafe, on the other hand, can be a bit expensive if you only need coverage on one computer, although it's more reasonable if you have a bunch of devices that need protection. LiveSafe costs $109.99 for a year.
Kaspersky's first paid coverage is found with the Anti-Virus suite, which costs $29.99 for 3 PCs only. The Internet Security suite extends to Macs or mobile devices and goes up to $39.99. Next up is the Total Security package, which also comes with 3 licenses and costs $49.99.
Finally, the Security Cloud suite comes in two versions, Personal and Family. The Personal edition comes at more or less the same price as Kaspersky Total Security, while the Family one protects up to 20 devices for $149.99/year.
Winner: McAfee. Overall, it's clear that McAfee is slightly cheaper than Kaspersky, especially if you want to protect multiple devices.
6. McAfee Vs Kaspersky: Popularity
McAfee and Kaspersky are two of the most popular companies in the antivirus industry. According to OPSWAT, a popular security company that regularly releases data on the market share held by leading antivirus products, both McAfee and Kaspersky are among the top five players.
According to its recent report, ESET currently dominates with a 13.1% market share, followed by McAfee (12.68%). Kaspersky is at the fifth position with a market share of 8.44%.
Winner: McAfee. McAfee enjoys a significantly larger market share than Kaspersky.
7. McAfee Vs Kaspersky: Customer Ratings
Finally, let's see how both companies compare in terms of customer satisfaction.
Customer reviews are usually an excellent way to see how people who've actually used certain products feel about their results.
The Better Business Bureau is an independent organization that collects customer feedback and organizes it into a star rating. McAfee received a 5-star rating from the BBB, while Kaspersky, unfortunately, only rates as a 1-star company.
The trend switches with consumeraffairs.org, another similar customer-feedback -collection site. On this site, McAfee drops much further than before, reaching a 2-star rating, while Kaspersky maintains a 2.5-star rating.
Winner: McAfee. Overall, customers tend to feel a little better about McAfee than Kaspersky, primarily due to the BBBs collected consumer reports.
Final Verdict
McAfee and Kaspersky are close in many areas. Kaspersky brings some great functionality to the table in the form of its VPN mode, backup utility, and parental controls. It's also great at defending your computer from malware threats, provided that you pay enough to reach a tier of coverage that includes all of the firewall's capabilities.
However, McAfee is the overall winner of this comparison, as it also offers top-of-the-line malware protection without putting a significant burden on system performance. It also offers more features (and utilities) in its security suites and it's extremely affordable to protect more devices with McAfee than its competitor. Plus, McAfee not only holds a bigger market share, but it also has better ratings from customers.