(Last updated on January 13th, 2021)
Kaspersky or Norton, which antivirus software is a better pick in 2021?
Our experts have put together this comprehensive Kaspersky versus Norton comparison to help you make a wise decision.
Getting the right internet security can be the difference between having a great time surfing the web and ruining your computer in days or weeks. Internet security is critical these days, considering the number of malware threats emerging every day.
The Equifax data breach, for example, affected almost 150 million people in 2017. That's not all. The number of malware variants has been skyrocketed by 88 percent since the same year. Attacks and the number of viruses that carry them out are only growing larger.
But don't worry. You can still surf the web and enjoy all that it has to offer. However, it's important to do so with excellent internet security, rather than free stuff that doesn't perform as advertised.
Editor's Note: We have spent over 150 hours examining all the top antivirus software out there, so you can get the best antivirus product for yourself and those you love.

At the moment, we think that Norton is the best antivirus software available in the market. It offers exceptional anti-malware security with minimal impact on system performance, as evidenced by the recent independent lab tests conducted by the AV-Test Institute.

Currently, Norton is offering an exclusive 70% discount to our readers for a limited time, so grab your copy of Norton before the sale ends.
Best Antivirus Software for 2021
---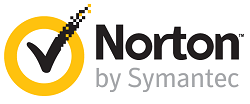 Unbeatable anti-malware protection
Minimal system impact
Exceptional value for money
Recommended by PC Mag, CNET & TechRadar
100% virus protection promise
60-day risk-free money-back guarantee
We can help you find the right internet security for your computer. In this detailed guide, we'll look at two highly regarded companies, Kaspersky and Norton, and show you how they fare in different categories.
Breakdown of the Comparison
Here's what we'll cover in this Kaspersky vs Norton comparison:
Features
Anti-Malware Protection
Impact on System Speed
User Interface
Pricing
Popularity
Customer Ratings
If you're in a hurry, check out our summary given below.
Comparison at a Glance
Features… Kaspersky has some good stuff, but Norton takes the field with its comprehensive firewall right from the start and its excellent spread of identity-protection tools.
Anti-Malware Protection… Both companies can protect your computer equally well, as shown by two different malware protection tests.
Impact on System Performance… Once again, both antivirus companies received equal scores in independent performance evaluations.
User Interface… Another tie, as both Kaspersky and Norton present a clean and streamlined interface.
Pricing… Kaspersky's suites are more affordable than Norton's.
Popularity… Norton holds a higher market share than its rivals.
Customer Ratings… Ratings from customer review companies show that both antivirus vendors are on an equal footing in this category.
The Winner
Paying for premium coverage through Norton is worth it thanks to its great features, better performance, and smooth, user-friendly interface.
2021's Top Antivirus Picks
---
#1 (Best Overall)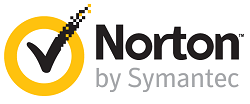 Extensive feature-set
Award-winning malware protection
Minimal system impact
competitive pricing structure
Intuitive user interface
100% virus protection promise
60-day money-back guarantee
#2 (Very Good)
Robust Feature-set
Excellent Anti-malware security
Zero System Slowdowns
Exceptional Value for Money
Intuitive User Interface
#3 (Very Good)

Impressive Feature-set
Good malware protection
Value for Money
1. Features
Let's dig into what exactly each software company can provide you in its packages.
Kaspersky's Features
The company starts with Kaspersky Free. It costs nothing, but at the same time offers limited malware protection. Its firewall, compared to Norton's isn't as detailed or in-depth, but in this case, it's sufficient if you need antivirus immediately and have no money at all.
The freeware also has the ability to protect you against phishing sites and can check USB drives for viruses. However, as expected, the package isn't equipped with advanced features required to give you complete protection.
The first paid offering from the company is Kaspersky Anti-Virus. The Windows-only product comes with everything that free version does, along with:
Firewall – a better, complete firewall.
Ransomware Protection – defends you against one of the most dangerous kinds of digital threats.
Vulnerability Scanner – checks for viruses already integrated into your computer.
Silent Mode – helps you get rid of notifications and distractions during movies or video games.
Next in line is Kaspersky Internet Security, which supports PCs, Macs and mobile devices.
Hardened Browser – perfect for checking out sites that appear to be suspicious at first glance.
Anti-Spam Module – prevents spam from entering your email with alarming regularity.
VPN – A limited VPN (200MB per device per day) for anonymous browsing.
Webcam and Microphone Protection – prevents anyone from spying on you through your laptop camera or microphone.
Kaspersky Total Security is a premium offering from Kaspersky. This comes with all of the above-mentioned features, plus:
Parental Controls – ultimate protection for your kids that helps you block adult content, manage screen time, locate your kids via GPS, etc.
Password Manager – stores your passwords, bank card details and other confidential information in a secure vault.
File Shredder – permanently removes sensitive files for good.
Keylogger Protection – stops hackers from tracking your keystrokes to steal your passwords, bank details, etc.
Supports PCs, Macs and smartphones.
The highest level of protection from the company is Kaspersky Security Cloud. Besides everything mentioned above, the Security Cloud suite offers:
App Permission Manager – keeps you posted about all the permissions used by apps on your smartphone.
Data Leak Checker – alerts you to leaks in your accounts and helps you resolve issues in this regard.
VPN – 500MB per day, per device of data traffic.
Supports PCs, Macs and smartphones.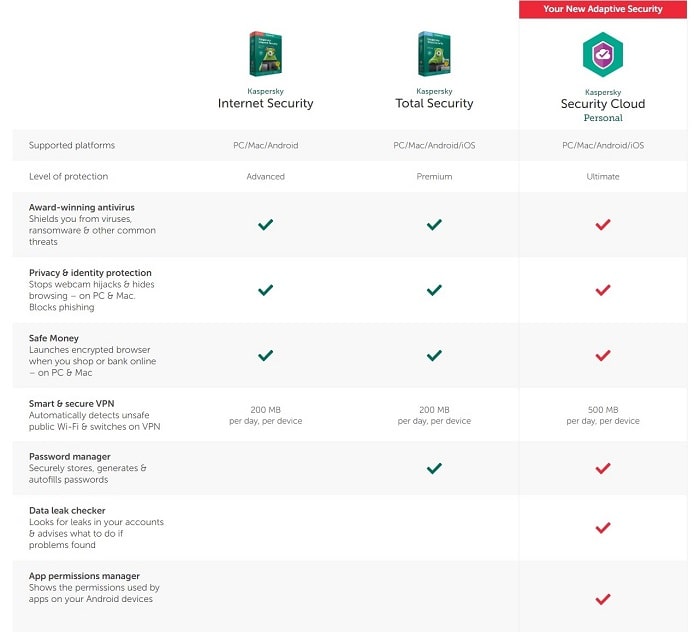 Norton's Features
Now let's take a look at Norton's feature set.
Norton's most basic package is called Norton Antivirus Plus. The suite comes with:
Smart Firewall – updated every day from Norton's centralized database so that it catches even newly emerging malware threats.
Scanner – identifies and deletes malware that has managed to get into your computer already.
Password Manager – securely stores your passwords so that you don't have to remember them.
The next step above Antivirus Plus is Norton 360 Standard. This, and Antivirus Plus, both have only one license for a Mac, PC, smartphone or tablet, meaning that if you're looking for packages for more than one computer, you'll need to go a bit higher.
The 360 Standard suite has everything that Plus has, along with:
Dark Web Monitoring – checks the Dark Web regularly to see that your information isn't being used elsewhere without your consent, as this is a common sign that your identity might be in danger of being stolen.
Cloud Space – 10GB of free cloud storage space.
Secure VPN – lets you browse the internet with anonymity.
Next, we have Norton 360 Deluxe, which is the five-license version of 360 Standard. To accommodate the larger number of computers it serves, it also comes with 50GB cloud storage.
Norton 360 Deluxe with LifeLock Select is the Premium Norton offering for five devices that has more LifeLock additions in its arsenal. These include:
Million Dollar Protection – if you face identity theft losses as a LifeLock member, Norton will not only reimburse you for personal expenses according to your plan, but it will also provide experts and lawyers up to $1 million to help resolve your case if need be.
Identity Alert System – informs you to a wide range of potential threats to your identity. You can get alerts via text, phone, email or mobile app.
Credit Monitoring – checks for your credit score, credit information and digital transactions to make sure that nothing is out of place.
Norton provides 24/7 customer support for all its premium suites.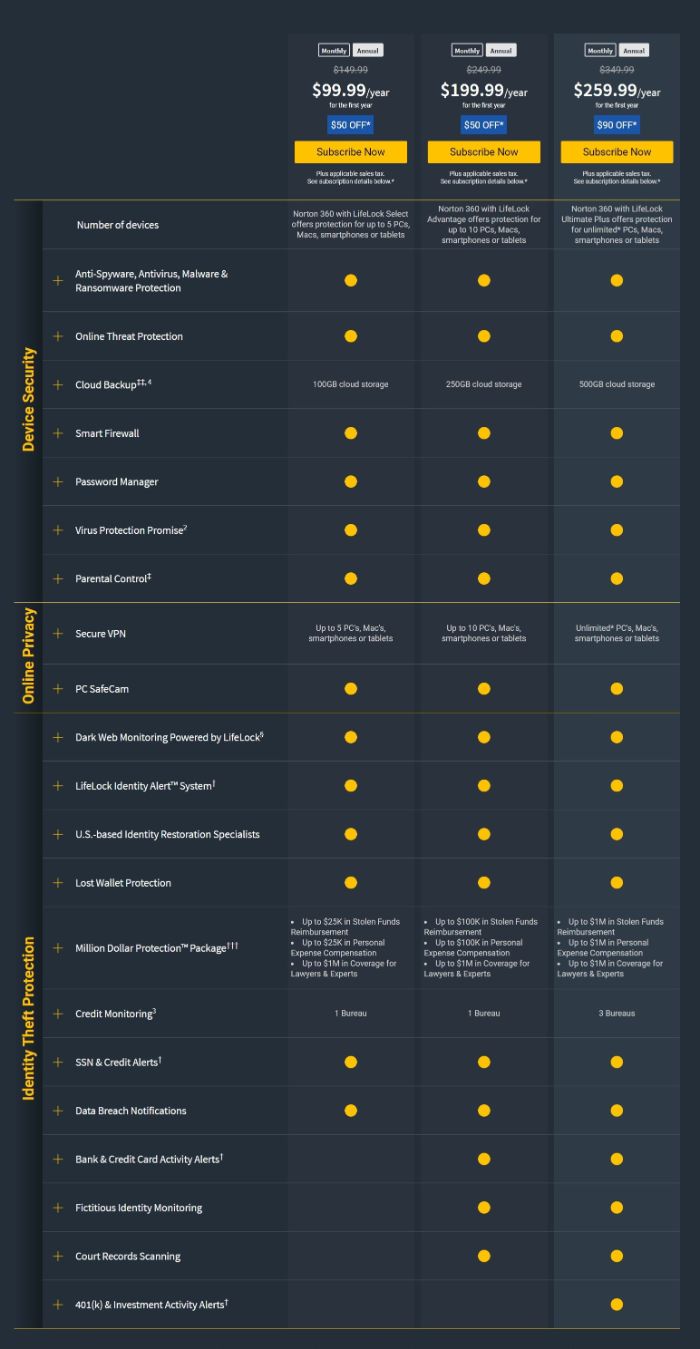 The Winner: Norton. Norton's features are superior to Kaspersky's, especially its identity theft protection offerings (especially the million-dollar protection package).
2. Anti-Malware Protection
Malware protection is the single most crucial factor when choosing antivirus software. After all, you're buying antivirus specifically to defend your computer against malware threats, right? So, let's see how both companies measure up in this critical regard to help influence our ultimate decision.
We'll use two companies that provide independent tests to reach a solid conclusion, as they test antivirus products on new computers running normal processes.
The first one is the AV-Test Institute, which runs tests for Protection, Performance and Usability. The testing lab rates antivirus companies on a scale of 1 to 6, with 6 being the best possible score.
In the latest AV-Test Protection evaluation (conducted in July-August 2019), both Kaspersky and Norton scored a perfect 6 out of 6 score, which indicates that both companies possess a great ability to protect your computer from all kinds of malware threats.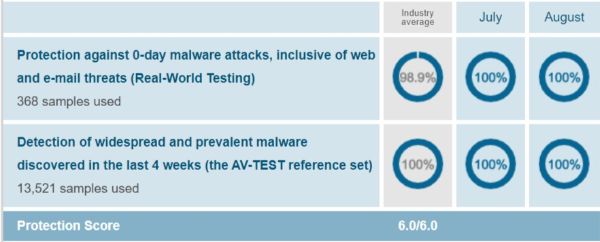 AV-Comparatives is another reputable company that provides feedback to antivirus companies based on rigorous tests. It conducts two kinds of protection tests, namely the Real-World Protection Test (web-based) and the Malware Protection Test (system-based).
In the June 2019 Real-World Protection Test, Kaspersky received the maximum ADVANCED+ (3-star) award, whereas Norton (Symantec) received the second-highest Advanced award, mainly because of higher false positives.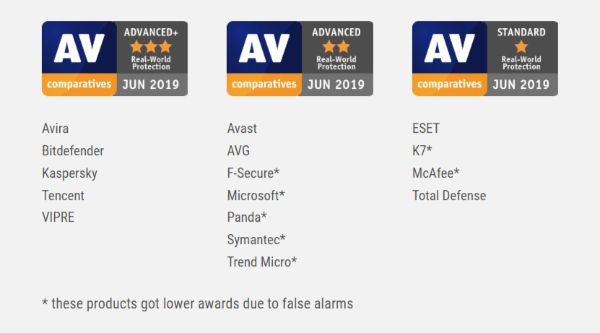 In the Malware Protection Test, whose results were announced in September 2019, the companies switched positions, as Kaspersky got the 2-star ADVANCED award comparted to the 3-star ADVANCED+ award by Norton.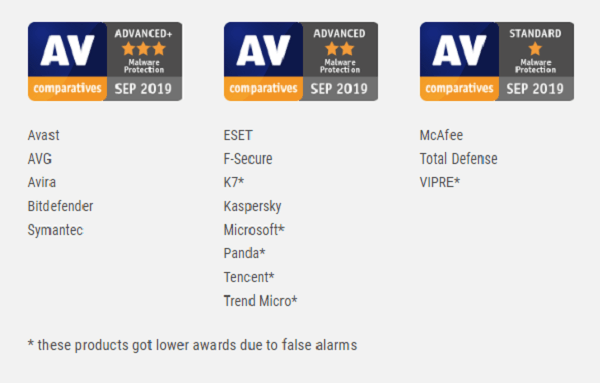 The Winner: Both. There is no winner here, as it's evident from the above three tests that both companies are on a par with each other when it comes to protecting your PC against malware attacks.
3. Impact on System Performance
How much an antivirus software package impacts the performance of your computer is another crucial factor to consider. A slow computer is one you can't really use, so let's see how Kaspersky and Norton fare in this department.
In the latest AV-Test Performance assessment, once again both Kaspersky and Norton bagged the highest 6 out 6 score.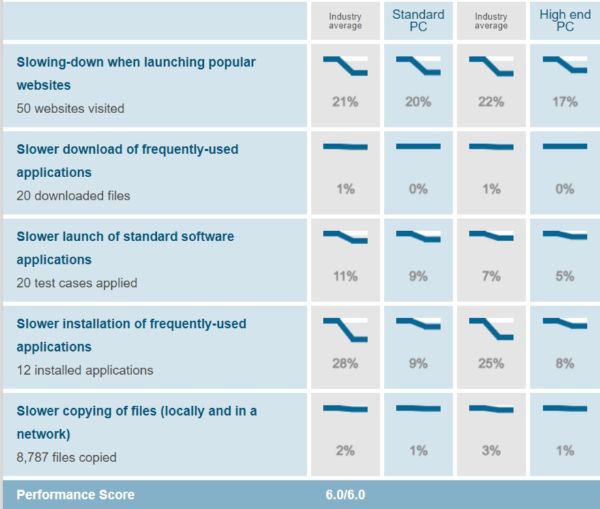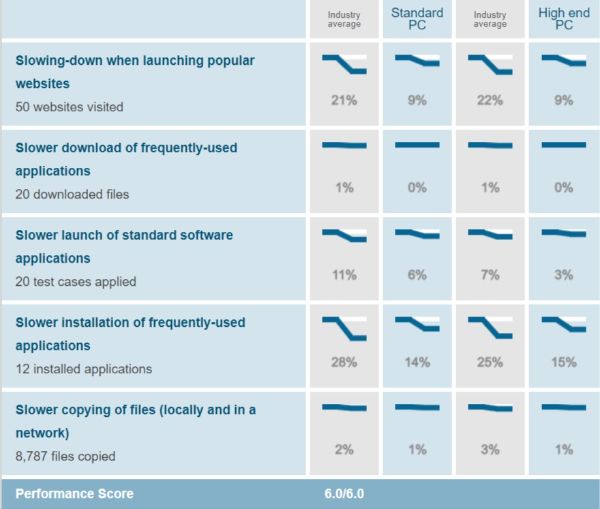 The AV-Comparatives' Performance test brought similar results, as both antivirus companies were in the top tier, receiving the 3-star ADVANCED+ award.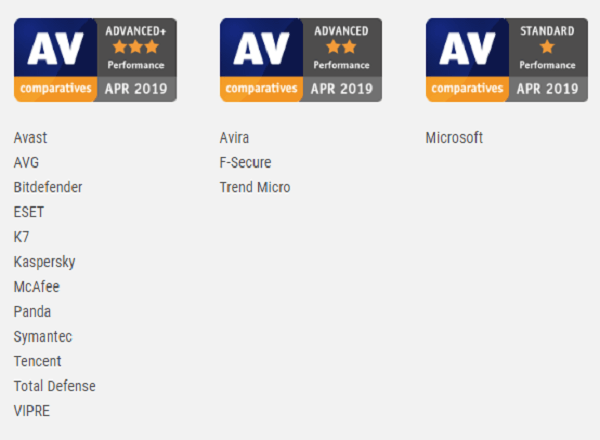 The Winner: Both. The test results show that both Kaspersky and Norton are exceptional in the system performance category.
4. User Interface
A good, intuitive control panel makes the use of antivirus easy and even pleasurable. Let's see which of the two companies has a better control scheme and which one is more friendly to an average user.
Kaspersky has a green-and-white user interface that's clean and organized. There's a main screen row and all of its icons are very easy to see.
On the dashboard, a green monitor with a white checkmark tells you that everything is okay. In case of a problem, the checkmark turns yellow or red depending on the level of threat.
Right below the protection status, you can see all the major features like Scan, Database Update, Safe Money, Privacy Protection, Parental Control, etc. You can access more features by clicking the More Tools button given below.
You can access Settings by clicking the gear icon at the bottom of the interface.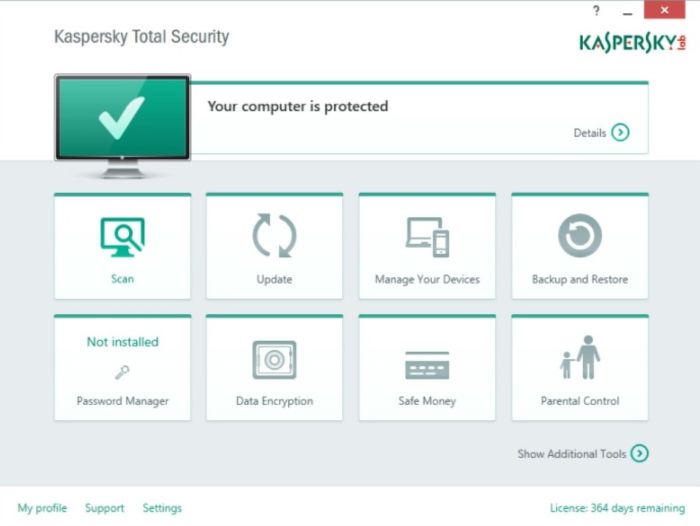 Now let's have a look at Norton's interface.
Norton's control panel is straightforward and streamlined. It's made to work the same way no matter what platform you're on, so it's minimalist and bold for tablet and computer use. The icons and symbols are all large and easy to follow and find.
It isn't very customizable, but if you're not very computer literate, you might find that the easy interface that Norton brings to the table is to your liking.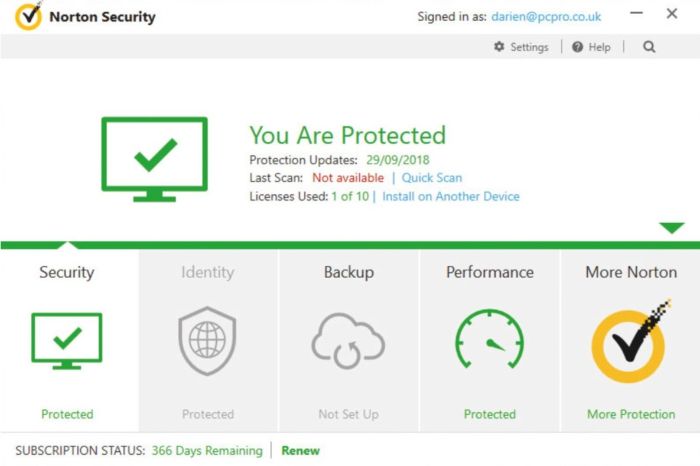 The Winner: Both. Both companies offer a modern and intuitive interface, and it is quite easy to access all major options.
5. Pricing
The two companies are pretty different in this category, as Kaspersky starts off free but eventually moves into paid protection. Norton is paid right from the start. Let's see the price points offered by both companies.
Kaspersky Anti-Virus costs $23.99 for the first year for 3 PC licenses. Internet Security costs $31.99 for the first year for 3 licenses for PCs, Macs or mobile devices. Total Security costs $39.99 and $59.99 for the first year for 5 and 10 devices, respectively.
| Kaspersky Products | Regular Price | Discounted Price |
| --- | --- | --- |
| Kaspersky Anti-Virus | $59.99/year | Check here |
| Kaspersky Internet Security | $79.99/year | Check here |
| Kaspersky Total Security | $99.99/year | Check here |
| Kaspersky Security Cloud (Personal) | $89.99/year | Check here |
| Kaspersky Security Cloud (Family) | $149.99/year | Check here |
| Kaspersky Small Office Security | $149.99/year | Check here |
| Kaspersky End Point Security Cloud | $300.00/year | Check here |
Norton Antivirus Plus costs $19.99 for 1 computer license or $39.99 for 1 device license. Norton 360 Standard costs $39.99 per year for 1 device. Norton 360 Deluxe comes at $49.99 per year for 5 devices or $54.99 for 10 devices. Norton 360 Deluxe with LifeLock Select costs $99.99 for 5 licenses that include tablets and mobile devices as well.
| Norton Products | Regular Price | Discounted Price |
| --- | --- | --- |
| Norton Antivirus Plus | $59.99/year | Check here |
| Norton 360 Standard | $79.99/year | Check here |
| Norton 360 Deluxe | $99.99/year | Check here |
| Norton 360 with Lifelock Select | $149.99/year | Check here |
| Norton 360 with Utimate Plus | $349.99/year | Check here |
| Norton Small Business Security | Varies | Check here |
The Winner: Kaspersky. Kaspersky's products are clearly more affordable than Norton's, and it's quite economical to cover more devices with Kaspersky.
6. Popularity
Let's see which among Kaspersky and Norton has a higher market share, which will tell us about their overall popularity.
For this purpose, we are going to use survey reports from two famous companies: OPSWAT and Statista.
According to OPSWAT's latest figures released in September 2019, Norton (Symantec) is overall the third-largest company with a market share of 11.98%. By contrast, Kaspersky is at fifth position with a market share of 8.44%.
According to another source, Statista, Norton enjoys a market share of 10.27% compared to Kaspersky's 8.14%.

The Winner. Norton. Clearly, Norton captures a larger share of the pie according to both independent sources.
7. Customer Ratings
The final factor to consider before making an ultimate judgment is the popularity of both companies by their customers. We can turn to outside, unbiased organizations for this as well.
The Better Business Bureau, or BBB, grades companies on an A to F scale based on overall customer satisfaction. Kaspersky did not have enough customer complaints or reviews to warrant a full letter grade, although they do have a 1-star rating as an addendum to the main scoring metric.
Norton's BBB rating is a whopping A+, indicating that customers feel more satisfied with Norton than Kaspersky, according to this organization.
Consumeraffairs.org is a similar company that also collects customer data and compiles it for easy understanding. It rates companies out of 5 stars. Kaspersky has a 3-star rating, whereas Norton has a terrible 1-star rating.
The Winner: Both. Ratings from both websites indicate mixed results, which is why this category is another tie.
Bottom Line
This is one of the closest comparisons we have done so far, as both antivirus companies are on a par with each other in most categories, including critical ones like malware protection and impact on system performance.
However, we have to declare Kaspersky the overall winner. Although Norton offers very advanced features, it's Kaspersky that comes with great pricing plans and offers excellent value for money.