(Last updated on January 12th, 2021)
Bitdefender or Norton, which antivirus software is a better pick in 2021?
Our experts have put together this comprehensive Bitdefender versus Norton comparison to help you make a wise decision.
Some folks think that you can get away with using free internet security, that lacks a comprehensive firewall, even in the modern digital world of today. They couldn't be more wrong.
In 2017 alone, 412 million different user accounts were stolen from popular FriendFinder sites, and that number has only gone up since then. You see, the incidents of malware attacks are only growing in number.
So much so that the global crime damages are expected to cost up to $6 trillion annually by 2021. Moreover, the AV-TEST Institute registers over 350,000 new malware samples every single day?
So, if you wish to stay safe online, the time to invest in your future security and get yourself proper antivirus protection is now. Don't settle for something cheap that won't adequately protect you; get something worthwhile and worth your money.
Editor's Note: We have spent over 150 hours examining all the top antivirus software out there, so you can get the best antivirus product for yourself and those you love.

At the moment, we think that Norton is the best antivirus software available in the market. It offers exceptional anti-malware security with minimal impact on system performance, as evidenced by the recent independent lab tests conducted by the AV-Test Institute.

Currently, Norton is offering an exclusive 70% discount to our readers for a limited time, so grab your copy of Norton before the sale ends.
Best Antivirus Software for 2021
---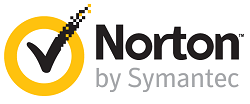 Unbeatable anti-malware protection
Minimal system impact
Exceptional value for money
Recommended by PC Mag, CNET & TechRadar
100% virus protection promise
60-day risk-free money-back guarantee
But how can you know which antivirus product to choose? Let us help. In our guide today, we'll examine Bitdefender and Norton, two top-tier antivirus companies, to see which one provides better protection.
Breakdown of the Comparison
Here's what we'll cover in this Bitdefender vs. Norton comparison:
Features
Anti-Malware Protection
Impact on System Speed
User Interface
Pricing
Popularity
Customer Ratings
In a hurry? Take a sneak peek at the comparison to find out the winners in each category.
Comparison at a Glance
Features… Bitdefender has a selection of great features, but Norton specializes in identity and financial protection. What you will prefer depends on your use of the internet.
Anti-Malware Protection… It's close, but Bitdefender edges ahead of Norton in one of our unbiased tests. In the other, they tie, so we have to give the edge to Bitdefender.
Impact on System Speed… Both companies perform equally well here and don't negatively impact performance on standard computers.
User Interface… Bitdefender and Norton both have streamlined, simple interfaces. But Bitdefender offers more customization for seasoned users.
Pricing… You get more licenses for less money with Bitdefender, whereas Norton appears to be rather expensive in comparison.
Popularity… Independent survey reports put Norton slightly ahead of Bitdefender in overall market share and popularity.
Customer Ratings… Both companies rate Bitdefender and Norton as superior to each other. However, in the bird's eye view, Bitdefender is slightly better than Norton at customer support.
The Winner
Bitdefender has a better protective capability that comes for less money than Norton. This edge makes Bitdefender a no-brainer for most folks, although if you do business online, you might still consider Norton for its specific features.
2021's Top Antivirus Picks
---
#1 (Best Overall)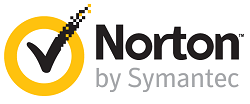 Extensive feature-set
Award-winning malware protection
Minimal system impact
competitive pricing structure
Intuitive user interface
100% virus protection promise
60-day money-back guarantee
#2 (Very Good)
Robust Feature-set
Excellent Anti-malware security
Zero System Slowdowns
Exceptional Value for Money
Intuitive User Interface
#3 (Very Good)

Impressive Feature-set
Good malware protection
Value for Money
Let's get into details now.
1. Features
First off, we'll get into what each antivirus company brings to the table in terms of features and perks. We'll start with Bitdefender.
Bitdefender's Features
The first product from Bitdefender is a freeware called Bitdefender Free Edition. It's a Windows-only software that provides some protection against malware threats but doesn't offer much in terms of advanced features.
The first paid coverage from the company comes with Bitdefender Antivirus Plus 2021, another Windows-only suite. This product comes with a number of useful features:
Firewall – provides complete protection against all kinds of malicious cyber-attacks.
In-depth Scanner – allows you to eliminate viruses that might have already infiltrated your computer's files.
Secure Internet Browser – provides protections from phishing and fraudulent sites.
Ransomware Filter – guards against financial frauds and can be automatically added to your email.
Password Manager – saves and secures all your login and password information to prevent misuse by hackers.
Limited-use VPN – lets you temporarily browse the internet with anonymity.
Bitdefender Internet Security 2021 is the next tier of coverage offered by the company. This package includes everything from the Antivirus Plus suite as well as some additional features:
File Encryption – secures the transmission of data to prevent interception by hackers.
Parental Controls – keeps track of your kids' browsing habits and limits their access to unwanted websites and apps.
Vulnerability Checker – scans your network for security loopholes and the presence of outdated software.
Webcam Protection – protects you and your family from being spied on by hackers.
Bitdefender Total Security 2021 is the premium coverage by Bitdefender. This suite has everything from previous packages plus some extra features:
Anti-Theft Function – lets you locate any missing or stolen devices that have Total Security installed on them.
Optimizer – improves the overall speed and fluidity of your computer by removing and organizing junk or temporary files that might take up valuable RAM.
Bitdefender Photon – monitors and examines your computer's hardware and software, optimizing their functioning as an Optimizer does. However, Photon goes even deeper for better results.
Rescue Mode – acts as a reset button for your computer without wiping away your valuable files. This feature can be particularly useful if a harmful virus manages to lodge into your computer's core code, and the scanner can't remove it.
Wi-Fi Security Advisor – alerts you to unsecured Wi-Fi networks and generates recommendations based upon security threats.
Bitdefender's best features come with its upper antivirus echelons, but its lower tiers also leave you a little lacking compared to many competitors.
Bitdefender Total Security provides the best value for your money, considering all of its functions. But if you want a single subscription to ensure all your family's' malware protection needs, you can go for Bitdefender Family Pack 2021 instead. The family suite offers 10 licenses with the option to add more.
For Macs specifically, you can check out Bitdefender Antivirus for Mac. This product provides several key security perks for users of Apple products. All of Bitdefender's security suites come with unlimited customer service through email, online chat, and phone call options.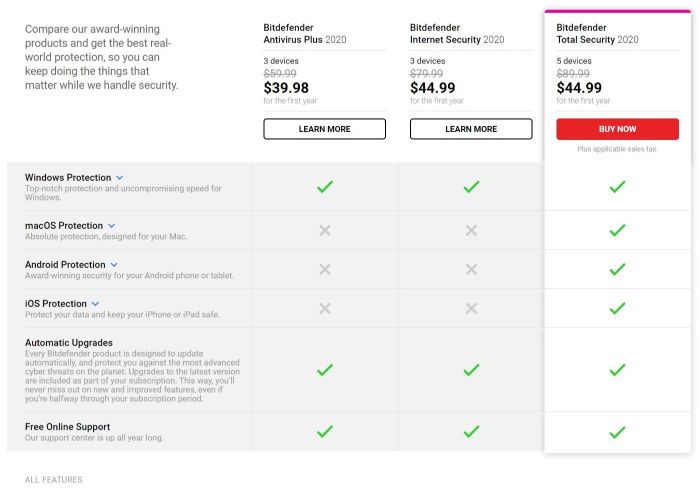 Norton's Features
Now let's see what Norton provides you in its packages.
Norton's tiers of protection begin with Norton Antivirus Plus. The product provides many cool features:
Smart Firewall – provides real-time monitoring and protection against all kinds of malware threats. The firewall receives daily updates for new malware definitions.
Ransomware Protection – prevents your financial information and private data from becoming a victim of hacking attacks.
Antispyware Protection – keeps hackers from misusing your device through malicious apps as well.
Password Protector – keeps your passwords and login credentials secure from being stolen.
Social Media Protection – checks any Facebook links you put up, as well as your email attachments, ensuring that nothing gets through without you knowing about it.
Cloud Backup – 2GB of cloud storage is available for Windows devices so you can store a backup of your important files with access from any device.
Norton 360 Standard is the next tier of coverage from Norton. This suite comes with everything that Antivirus Plus offers. There are some additional features as well, such as:
Secure VPN – lets you mask your online identity and surf with more anonymity than usual. This feature also gives access to region-specific content.
Dark Web Monitoring – provides webcam protection and constant monitoring, powered by LifeLock functionality, to secure sensitive information on the dark web, pages hidden behind passwords or firewalls. The feature instantly alerts you if your information is being used without consent.
Cloud Backup – the package includes 10 GB of cloud storage space.
Norton 360 Deluxe is the next step up, and this is a five-license package that comes with the same 360 Standard suite features and 50GB of cloud storage. It's basically 360 Standard for 5 devices with the addition of:
Full-blown Parental Controls – monitor your children's online activities and limit their access to inappropriate websites. This feature helps provide a healthy and safe online experience for your children.
Norton 360 Deluxe with LifeLock Select is the next offering. It's same as the previous suite, plus it has supercharged LifeLock features for 5 devices. This package also includes:
LifeLock Identity Alert System – lets you know if your identity is being used elsewhere across the internet, cutting off attempts to financially harm you.
Credit Monitoring – serves a similar purpose for your credit as the identity alert system along with a finance protection scanner for monitoring your digital transactions.
Million Dollar Protection Package – provides insurance for up to $1 million in case of stolen funds (conditions apply).
Cloud Backup – This suite includes 100GB of Cloud Backup.
If you do a lot of business on the internet, this package is a great pick simply because of all the focused security that surrounds that kind of lifestyle.
Norton provides 24/7 customer support for all its premium products.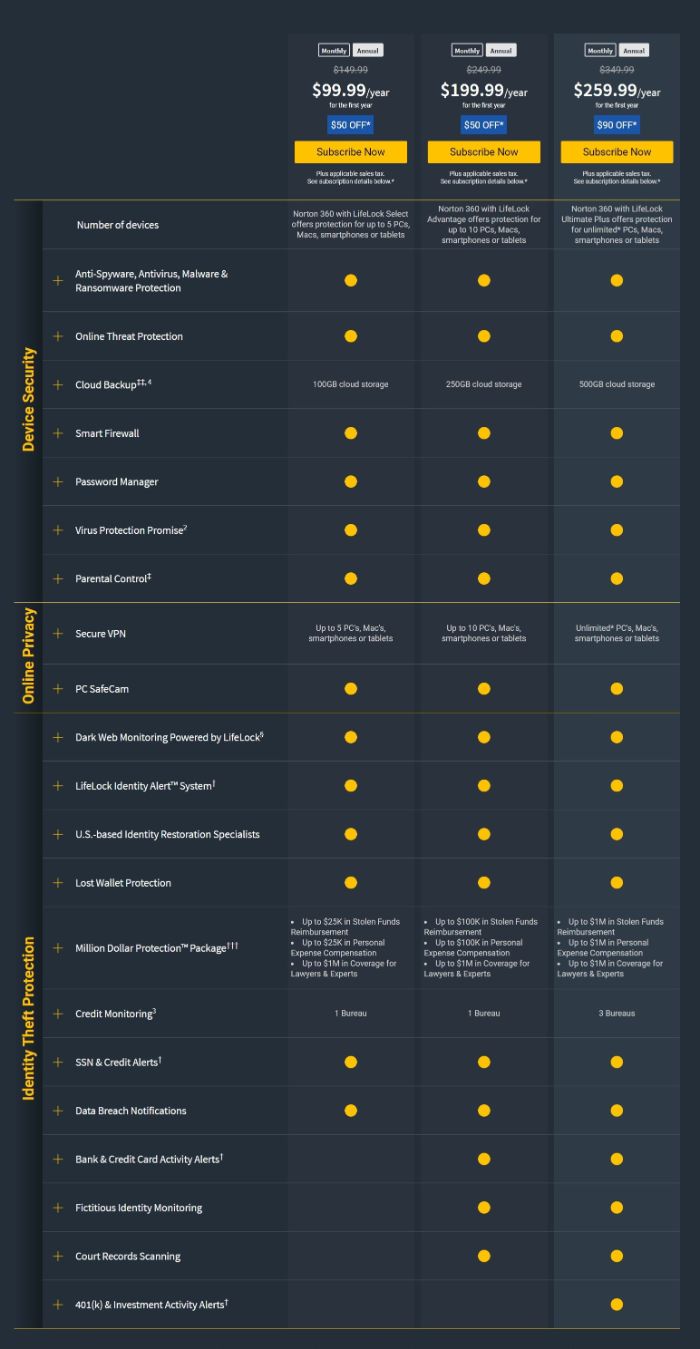 The Winner: Both. The features are different, not better, between the two companies. Bitdefender has better features for everyday use by most people. But if you spend a lot of time doing financial work online, you'll love what Norton has to offer. This category is a tie, and your preference depends on what you use the internet for.
2. Anti-Malware Protection
An antivirus software's greatest asset is its malware protection capacity. So we'll examine both Bitdefender and Norton to see which one provides better coverage in this regard.
To find that out, we're going to look at independent tests from two different organizations with a reputation for unbiased testing and rigorous standards.
The first of these, The AV-TEST Institute, conducts three tests in Protection, Performance, and Usability categories; each of which has a rating from 1-6 points, with 6 being the best.
For the Protection test, Bitdefender scored a perfect 6 out of 6.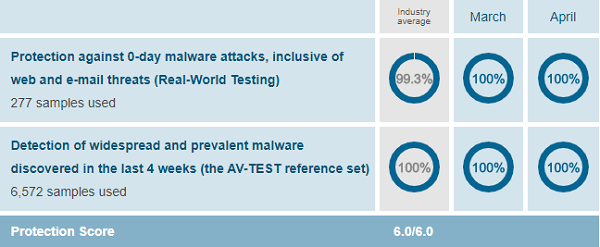 Norton easily matched Bitdefender with a 6 out of 6 of their own. Both companies performed equally well here.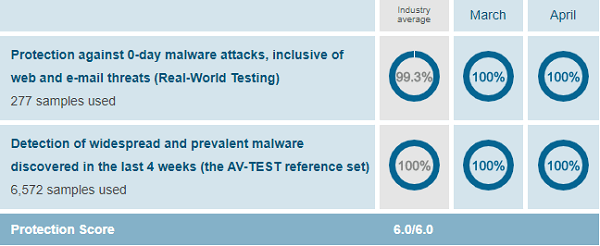 AV-Comparatives, another testing organization, scores the competitors through awards. For their Real-World Protection Test, Bitdefender received an ADVANCED+ (3 stars) award for Protection.
However, Norton received only an ADVANCED (2 stars) award from the company, indicating that its protective capabilities are somewhat lacking compared to Bitdefender's.
Another protection test run by AV-Comparatives is called the Malware Protection Test, gauging transmission of viruses through network drives and USB keys.
Here too, Bitdefender was ahead of the game with the ADVANCED+ award while Norton received the ADVANCED award once again, mainly due to the high frequency of false alarms.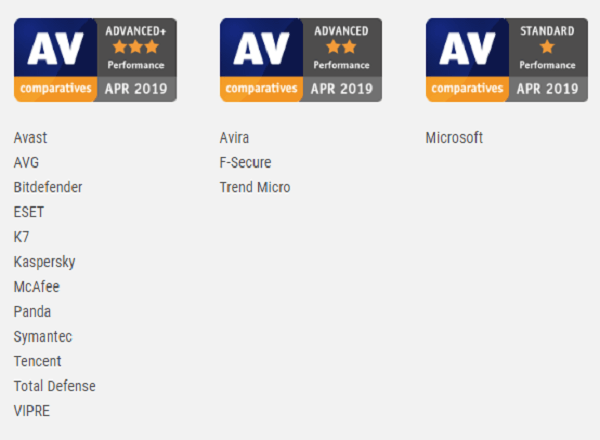 The Winner: Bitdefender. Staying ahead of Norton in 2 out of 3 tests, it's clear that Bitdefender is better at pure system protection than Norton.
3. Impact on System Speed
The next most important factor to consider when choosing antivirus software is its tendency to affect your computer's daily performance. If you can't enjoy or use the computer as well as before installation, your antivirus software might have slowed your computer just as much as real malware!
Let's look at some more unbiased tests to find out how Bitdefender and Norton measure up in this area.
AV-TEST Institute ran its Performance Test for both companies, once again with a 6 out of 6 metric. Bitdefender scored a perfect 6 out of 6, just like it did with the Protection test.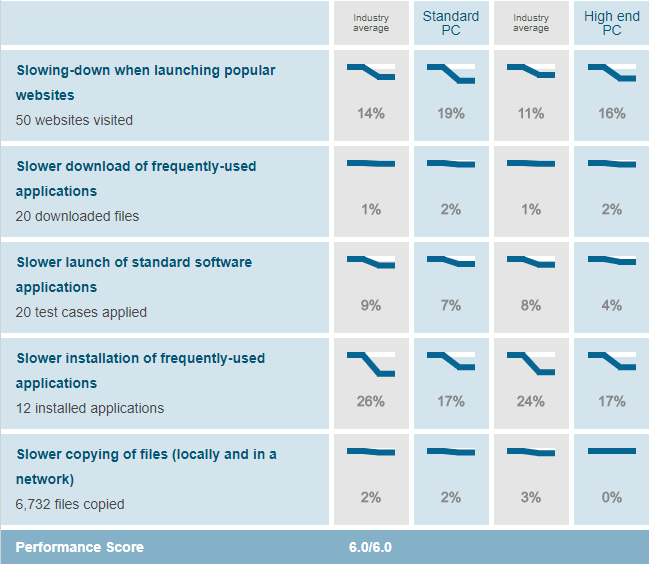 Norton matched them once again and also got a 6 out of 6, indicating that both companies perform well on standard computers.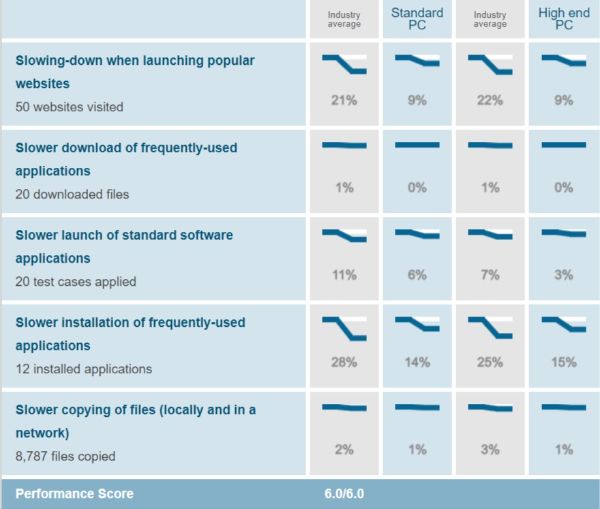 AV-Comparatives carried out their Performance Test, where Bitdefender got another ADVANCED+ award. Norton also received an ADVANCED+ award, showing that it can keep up with Bitdefender in this regard.
The Winner: Both. Both companies performed exceptionally on both performance tests and proved to be each other's equal in this category.
4. User Interface
After protection and performance, now we turn our attention to see how user-friendly each software's interface is. After all, it affects your enjoyment and productivity day in and day out. The more user-friendly an interface is, the better it can serve your needs.
Bitdefender has a single module that you activate from your desktop and can be modified with smaller panels called "quick actions."
You can personalize these shortcuts to optimize your use of the antivirus operations. For instance, if you like running a daily scan, you can have a quick action panel specifically for that function.
An autopilot setting can help you find recommended actions based on Bitdefender's analysis. Furthermore, Bitdefender's controls are even more customizable thanks to the ability to pair or group actions together into tiles or combinations.
Basically, with this interface, you can streamline all your daily activities on your antivirus control panel to better suit your preferences.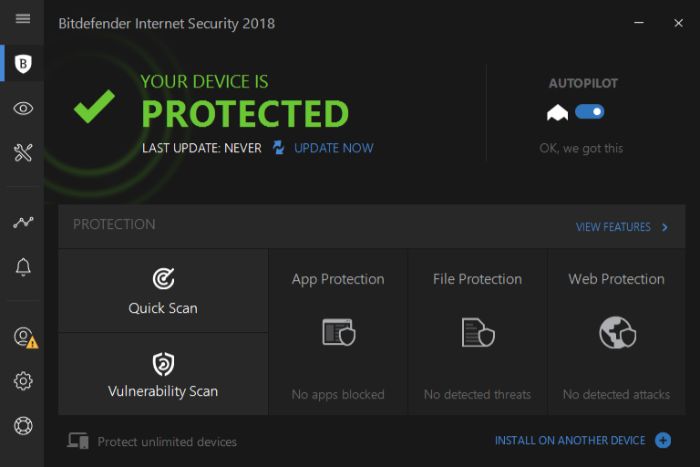 Let's see how Norton compares to Bitdefender's high customizability.
Norton's central hub is pretty similar to Bitdefender's, except that Norton uses pop-ups to alert you when it thinks something is amiss. That can be annoying or helpful, depending on your perspective.
Norton's overall interface is excellent for mobile devices, or tablets use since it's clean, simple, and minimal. The buttons and icons are big in size, and flipping through screens is easy since everything is clearly marked.
Norton, being a little simpler, doesn't have the customizability of Bitdefender's panels. However, all of its functions are distinctly organized for easy access, on the left-hand side of the interface. Those who aren't very computer literate will appreciate this functionality.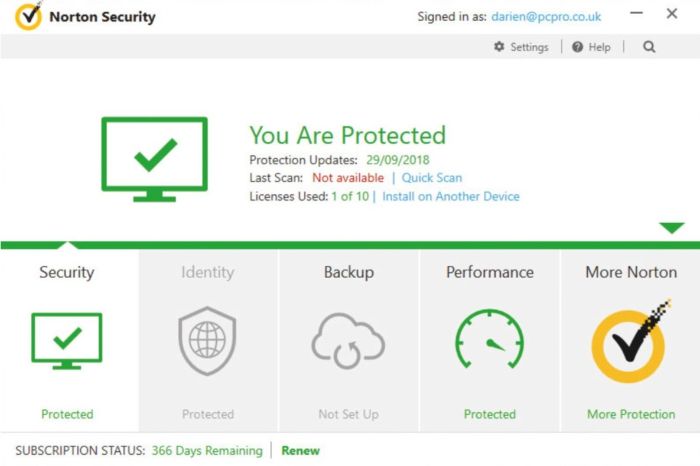 The Winner: Bitdefender. Bitdefender offers amazing customizability that Norton lacks in its design.
5. Pricing
Now let's take a look at how these two companies compare according to your wallet. Pricing is a huge determinant in making a purchase decision and, therefore, an important aspect to consider.
Bitdefender Products
Regular Price
Discounted Price
Bitdefender Antivirus Plus
$59.99/year
Check here
Bitdefender Internet Security
$79.99/year

Check he

re
Bitdefender Total Security
$89.99/year

Check here

Bitdefender Family Pack
$119.99/year

Check here

Bitdefender Antivirus for Mac
$59.99/year

Check here

Bitdefender Small Office Security
Varies

Check here

Bitdefender GravityZone Business AV
Varies

Check here
| Norton Products | Regular Price | Discounted Price |
| --- | --- | --- |
| Norton Antivirus Plus | $59.99/year | Check here |
| Norton 360 Standard | $79.99/year | Check here |
| Norton 360 Deluxe | $99.99/year | Check here |
| Norton 360 with Lifelock Select | $149.99/year | Check here |
| Norton 360 with Utimate Plus | $349.99/year | Check here |
| Norton Small Business Security | Varies | Check here |
Bitdefender Total Security seems to be the best choice by far, costing only $44.99 for 5 licenses with top-quality protection features, which is why it's our favorite too. Moreover, this suite is also fit for all Windows, Macs, and mobile devices.
The Winner: Bitdefender. Bitdefender wins here; you get so much bang for your buck that it's hard to compare against Norton's pricing model. You get more licenses for less money at every tier with Bitdefender than you do with Norton.
6. Popularity
Now we're going to see which company has a higher market share to gauge their overall popularity among users. For this purpose, we are going to use survey reports from two famous companies: OPSWAT and Statista.
As per OPSWAT's recent Windows Anti-Malware Market Share Report, Bitdefender holds a good 11.2% market share. However, Norton is just ahead of Bitdefender, with an 11.98% share.
Looking into the August 2019 survey report from Statista, we find Bitdefender and Norton at the same positions with Bitdefender at 10.17% share, just short of Norton's 10.27% market share.

The Winner: Norton. It is evident from the survey reports that Norton is slightly more popular than Bitdefender.
7. Customer Ratings
Finally, let's look at how actual customers consider these antivirus companies to get a measure of their overall popularity.
First, we'll check the Better Business Bureau (BBB), a rating company that collects customers' reviews and averages the results into a final alphabetic score from A to F.
According to the BBB, Bitdefender stands aside with a mediocre C rating as Norton manages to score an amazing A+ from the organization, indicating greater customer satisfaction.
However, this picture changes drastically with Consumeraffairs.org, a customer rating company that does similar services as the BBB but ranks products on a 5-star scale. Bitdefender, it turns out, has four out of five stars here. Norton, on the other hand, has only a poor 1-star rating, indicating a high number of customer complaints.
The Winner: Bitdefender. Bitdefender wins here with a slightly better rating from one source against Norton's disappointing score from the other. However, it seems that customers generally enjoy both companies, but there are some outspoken complaints against both as well.
Bottom Line
It's a close call. Norton offers a lot of value with its amazing features that are optimized for identity and financial protection. Ideal, if you're in online business or do a lot of transactions digitally. However, Bitdefender is the better choice for almost everyone due to their better pricing model and slightly better overall security, which comes packed with amazing perks.