(Last updated on February 26th, 2021)
Bitdefender or Malwarebytes, which antivirus software is a better pick in 2021?
Our experts have put together this comprehensive Bitdefender vs. Malwarebytes comparison to help you make a wise decision.
In today's world, the need for a reliable antivirus suite is much more crucial than ever. While the practice of sharing our sensitive data online has become significantly more commonplace now than ever before, malware attacks and identity-theft run rampant all across the internet.
In 2018, for instance, 800 million new malware samples were created by hackers. And as findings suggest, this number isn't likely to improve either; in fact, it's getting worse. It's entirely possible that things will become even direr in the future, and the internet will become further inundated by malware threats as coding technologies improve.
It's critical that you take action to safeguard your data, privacy, and what matters to you. We recommend investing in a full-blown security suite, like Norton, for excellent value for money and peace of mind.
Never rely on a freeware. Free versions are limited products from a company that mostly only work as disinfection tools. They provide some protection from known malware samples but lack the advanced features of the paid premium products.
Premium security programs come fully packed with cutting-edge technology and state-of-the-art features to provide real-time monitoring and complete protection against all kinds of existing and emerging malware threats. Also, additional features such as Parental Controls, Identity theft, and Anti-Spyware modules provide multi-layer protection for your loved ones and yourself.
Editor's Note: We have spent over 150 hours examining all the top antivirus software out there, so you can get the best antivirus product for yourself and those you love.

At the moment, we think that Norton is the best antivirus software available in the market. It offers exceptional anti-malware security with minimal impact on system performance, as evidenced by the recent independent lab tests conducted by the AV-Test Institute.

Currently, Norton is offering an exclusive 70% discount to our readers for a limited time, so grab your copy of Norton before the sale ends.
Best Antivirus Software for 2021
---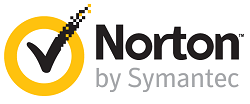 Unbeatable anti-malware protection
Minimal system impact
Exceptional value for money
Recommended by PC Mag, CNET & TechRadar
100% virus protection promise
60-day risk-free money-back guarantee
In this detailed Bitdefender vs. Malwarebytes comparison, we are going to compare two of the best antivirus software programs available on the market. By testing them in a head-to-head battle, we can assess which one is truly better.
Breakdown of this Comparison
Here's what we'll cover in this Bitdefender and Malwarebytes comparison:
Features
Anti-Malware Protection
Impact on System Speed
User Interface
Pricing
Popularity
Customer Ratings
We'll take both software through a systematic examination, analyzing all the critical components and see how they measure up in direct, unbiased tests.
In a hurry? Take a sneak peek at the comparison to find out the winners in each category.
Bitdefender vs Malwarebytes: Comparison at a Glance
1. Features
Winner: Bitdefender. Bitdefender offers a more comprehensive set of features and utilities in its security suites than Malwarebytes.
2. Anti-Malware Protection
Winner: Bitdefender. Bitdefender is better than Malwarebytes in terms of malware protection, as evidenced by several independent tests from different sources.
3. Impact on System Speed
Winner: Bitdefender. Bitdefender got perfect or near-perfect scores in all the recent performance tests, while Malwarebytes' results were not so impressive.
4. User Interface
Winner: Bitdefender. Bitdefender offers an intuitive user interface that is ideal for both new users and experienced users.
5. Pricing
Winner: Bitdefender. You get more bang for your buck from Bitdefender's software packages, given the number of licenses you get per dollar spent.
6. Popularity
Winner: Bitdefender. According to independent resources, Bitdefender holds a significantly higher market share compared to Malwarebytes.
7.Customer Ratings
Winner: Malwarebytes. According to two different independent review sites, Malwarebytes performs better in this category than Bitdefender.
The Verdict
Bitdefender is a full-blown antivirus software that comes with all the advanced features and utilities, whereas Malwarebytes only provides a bare minimum level of protection. Bitdefender consistently earns excellent scores on independent tests, while Malwarebytes doesn't rate well with the independent testing labs.
2021's Top Antivirus Picks
---
#1 (Best Overall)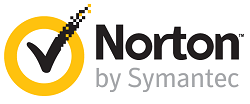 Extensive feature-set
Award-winning malware protection
Minimal system impact
competitive pricing structure
Intuitive user interface
100% virus protection promise
60-day money-back guarantee
#2 (Very Good)
Robust Feature-set
Excellent Anti-malware security
Zero System Slowdowns
Exceptional Value for Money
Intuitive User Interface
#3 (Very Good)

Impressive Feature-set
Good malware protection
Value for Money
Let's look at the details.
1. Features
Let's take a look at the features and utilities, both Bitdefender and Malwarebytes, offer in their security suites. We'll start with Bitdefender.
Bitdefender's Features
Bitdefender offers a wide selection of security products, with its best features coming in higher-level suites.
Bitdefender Free Edition is the company's Windows-only freeware, a barebones security solution. While it can defend against malware threats, it doesn't hold a candle to the higher tiers of paid subscriptions.
Bitdefender Antivirus Plus 2021, another Windows-only suite, is the company's first paid coverage. Besides providing top-of-the-line malware protection against all kinds of malware, the suite boasts a host of advanced features and utilities such as:
Password Manager – stores all your login details to provide hassle-free web experience and protection against the misuse of sensitive information.
File Shredder – prevents hackers from gaining access to your private data by permanently erasing any files that are too sensitive or important.
Limited VPN – makes you anonymous online and, therefore, invisible to hackers. It also gives access to region-specific content.
Hardened Browser – offers secure online shopping/banking experience as well as protection against malicious/phishing sites.
Bitdefender Internet Security 2021 is the next tier of coverage offered by this company. This suite offers everything that comes with the "Plus" package and some extra features like:
Two-Way firewall – monitors your home network and blocks malicious traffic across this channel.
File Vault – encrypts the sensitive data that you don't want to get leaked or stolen.
Parental Controls – Keep track of your children's online activities, restrict their access to unwanted content, and ensure a safe browsing experience for them.
Webcam Protection – shields you from being spied on as you work or browse.
Vulnerability Checker – scans your network for any vulnerabilities or outdated software currently exposing your computer to threats.
Another level up is Bitdefender Total Security 2021, the company's multi-platform compatible offering. This suite offers the full extent of protection provided by Bitdefender, including:
Anti-Theft Module – an extremely useful feature that helps you locate any stolen or lost devices.
Optimization Tools – enhance your system performance and ensure hassle-free daily usage.
A single license of this suite provides comprehensive protection for up to 5 devices (PCs, Macs, Android, and iOS).
In terms of value for money, Bitdefender Total Security 2021 is by far the best choice.
If you have more than five devices, you can find a more economical deal in the Bitdefender Family Pack 2021. This package will protect all your family devices, including Macs and smartphones, with the Bitdefender Total Security suite.
If interested in Mac-only protection, you can check out Bitdefender Antivirus for Mac. This product provides excellent security solutions for Apple products.
All of Bitdefender's suites come with 24/7 customer service through a variety of helpful channels, including online, by phone, or by email.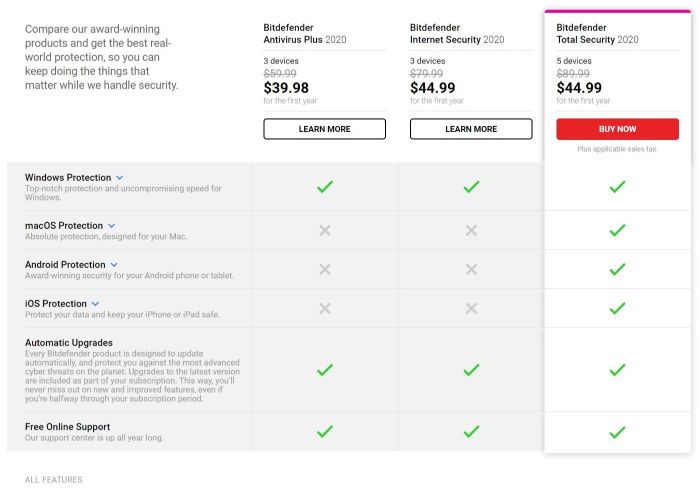 Malwarebytes' Features
Malwarebytes also offers a freeware, called Malwarebytes Free. This package doesn't provide real-time malware protection, which means it can only be used as a disinfection tool.
The company's first paid coverage is called Malwarebytes Premium for You. This package offers a license for only one device, although you can use it for Windows, Mac, or mobile devices right off the bat. The advanced features and utilities included in the suite are:
Smart Two-Way Firewall – protects your system from malicious attacks such as ransomware, spyware, rootkits, and worms.
Safe Browser – makes your online shopping/banking experience safe and secure.
Remediation Tool – disinfects your computer system of any previous viruses.
Automatic and Schedules Scans – allow you to set your scans around your work routine or personal preference.
Identity Protection – keeps your personal information secure from phishing websites and during online transactions.
Finally, there's Malwarebytes Premium for Home, which contains three licenses instead of one. You can upgrade the number of licenses to 10, making this a more cost-effective option if you need to protect all your family devices.
This package has essentially the same features as the previous suite, the major difference being that the number of licenses can be extended to cover more devices.
You get excellent customer service from Malwarebytes as well, through email, phone, or chat.
The Winner: Bitdefender. Overall, Bitdefender's features are more robust and comprehensive than those offered by Malwarebytes.
2. Anti-Malware Protection
Malware protection is arguably the most important aspect of any antivirus software, as it's directly responsible for how guarded your computer is against a plethora of malware threats.
To see whether Bitdefender or Malwarebytes is better at protecting your computer against threats, we'll examine the recent independent lab examinations conducted by AV-Test and AV-Comparatives; both laboratories are well-known and respected in the antivirus space.
AV-Test rates a product on a scale of 1 to 6 (with 6 being the highest possible score) in three comprehensive tests: Protection, Performance, and Usability.
In the recent evaluations, Bitdefender scored a perfect 6 out of 6 in the Protection category.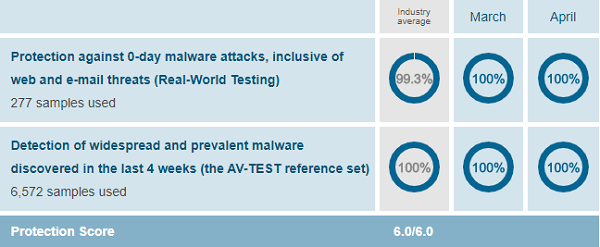 Malwarebytes, on the other hand, was slightly behind with a 5.5 out of 6 score.
AV-Comparatives is another reputable independent organization that we can look to for answers as to who's better in terms of malware protection.
The Real-World Protection Test report released by AV-Comparatives proves that Bitdefender is 'perfect' at detecting all sorts of malware threats. Bitdefender received the highest ADVANCED+ award because of its excellent protection rate with a low number of false positives.
[***False positive refers to the event when a security product falsely flags a clean file/URL as malicious.]
On the other hand, Malwarebytes did not participate in this study, which may indicate an unwillingness to showcase the results to the public.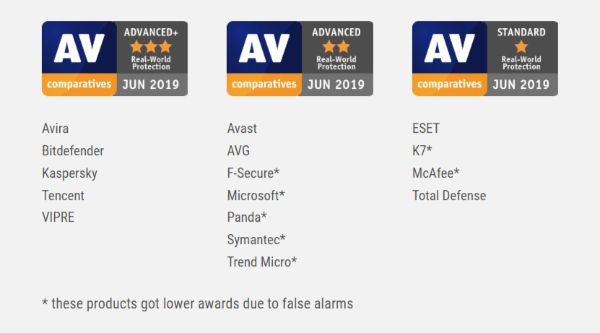 Malware Protection Test is another evaluation by AV-Comparatives that tests antivirus software for protection against malicious files that enter a system through network drives and USB.
Once again, in this test, Bitdefender is ahead of the game with an Advanced+ award. Malwarebytes did not appear for this evaluation, as well.
The Winner: Bitdefender. Overall, it's clear that Bitdefender is far ahead of Malwarebytes in terms of malware protection.
3. Impact on System Speed
While malware protection is important, it's equally essential that security software doesn't slow down your system to a significant degree.
Let's look at how both products fared in the recent performance tests.
In the Performance category of AV-Test evaluations, Bitdefender once again scored a perfect 6 out of 6, indicating a minimal impact on the system.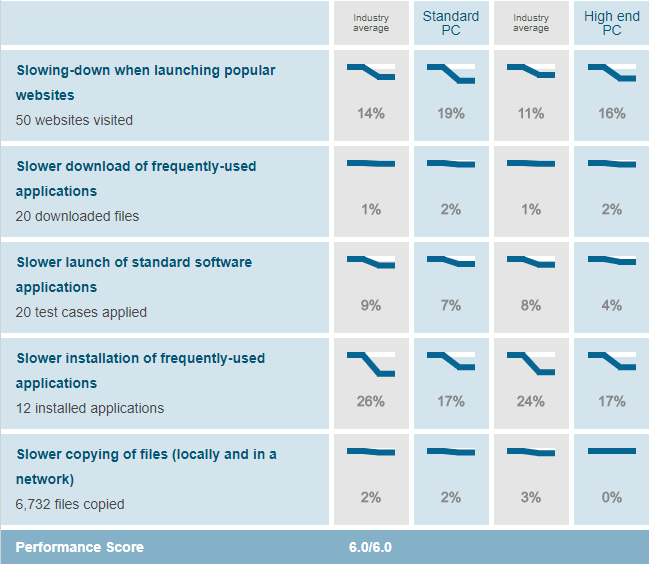 Malwarebytes scored 5.5 out of 6 once again, which is decent but still behind Bitdefender.
The experts at AV-Comparatives also conducted a Performance Test to see how well antivirus companies perform in this regard.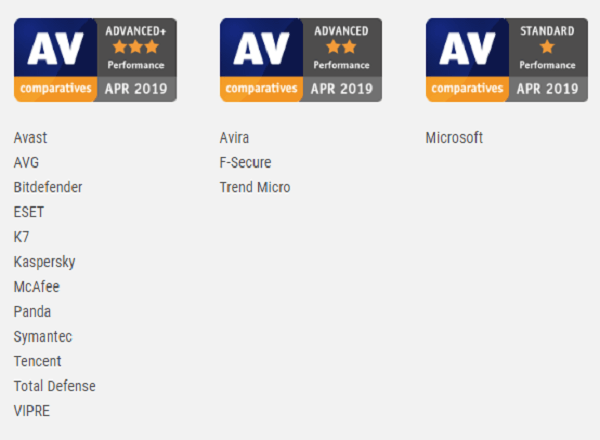 Bitdefender received another ADVANCED+ award for its impact on system speed, while Malwarebytes, as mentioned above, did not participate in the recent AV-Comparatives examinations.
The Winner: Bitdefender. It's evident from independent tests that Bitdefender is better than Malwarebytes in terms of impact on system speed as well.
4. User Interface
Being able to use your antivirus with ease is just as important as how well it protects you. So, let's examine each software's user interface and try to determine which serves you better in this regard.
Bitdefender primarily utilizes one central control panel that offers all the major features in organized blocks and rows.
You can fine-tune your own experience by customizing "quick access" slots where you can drag favored or everyday tasks for easy access. This allows you to prioritize modules or functions that are important to you.
You can also combine tiles or make them into groups to further customize your experience. Streamlining or increasing the complexity are both possible with Bitdefender's interface. We think that anyone who enjoys experimenting with their software or truly making it their own will appreciate this aspect.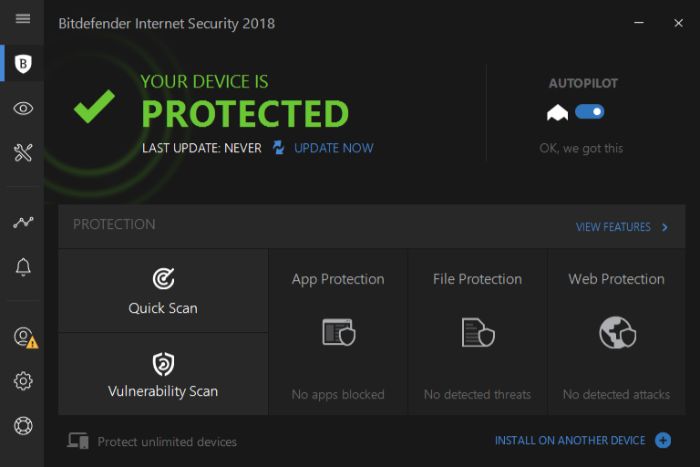 But what about Malwarebytes' interface?
Malwarebytes' interface has a dashboard that utilizes a host of horizontal bars that are responsible for delivering all the pertinent information. Different buttons on a black rail along the left-hand side allow you to switch between major functions.
A big checkmark in the middle of the screen indicates if your system is secure, turning green if this is the case. It will flash or change color if there's a threat.
Each of the buttons is relatively straightforward and self-explanatory, meaning that even computer novices will be able to navigate the interface rather easily.
The Winner: Bitdefender. Overall, Malwarebytes' interface is streamlined and simplistic, while Bitdefender's interface is intuitive and customizable.
5. Pricing
Pricing is another crucial aspect to consider, and it may be the deciding factor for some folks. The truth is that good antivirus also provides exceptional value for money; otherwise, you might be paying too much for something not worth the money.
Let's see how Bitdefender and Malwarebytes compare in this regard.
Bitdefender Antivirus Plus costs $34.99 per year for up to 3 Windows devices. Bitdefender Antivirus Plus costs $34.99 per year for up to 3 Windows devices.
Bitdefender Total Security is our recommended antivirus suite at $44.99 per year. As you can use this suite with Windows, Macs, and mobile devices, making it an ideal solution for virtually any combination of computers or browsers.
Bitdefender Products
Regular Price
Discounted Price
Bitdefender Antivirus Plus
$59.99/year
Check here
Bitdefender Internet Security
$79.99/year

Check he

re
Bitdefender Total Security
$89.99/year

Check here

Bitdefender Family Pack
$119.99/year

Check here

Bitdefender Antivirus for Mac
$59.99/year

Check here

Bitdefender Small Office Security
Varies

Check here

Bitdefender GravityZone Business AV
Varies

Check here
Malwarebytes Premium for You runs for $39.99 per year for only one license to cover one Windows, Mac, Chromebook or Android device.
| Malwarebytes Products | Regular Price | Discounted Price |
| --- | --- | --- |
| Malwarebytes Premium for PCs | $39.99/year | Check here |
| Malwarebytes Premium for Mac | $39.99/year | Check here |
| Malwarebytes Business Products | Varies | Check here |
The Winner: Bitdefender. Overall, Bitdefender is the clear winner as it offers more bang for your buck at almost every tier of antivirus coverage.
6. Popularity
Both Bitdefender and Malwarebytes are popular brands. But let's have a look at market share reports from third-party organizations to see which product is more popular.
First, we'll look at the OPSWAT Windows Anti-Malware Market Share Report as of September 2019. Here, Bitdefender holds 11.2% of the market share, whereas Malwarebytes stands at 7.01%.

We can also look at the findings from Statista, which shows that Bitdefender has a 10.17% market share among the Windows anti-malware application vendors worldwide. Malwarebytes, on the other hand, holds a 7.29% market share only.
The Winner: Bitdefender. The above statistics show that Bitdefender is far more popular than Malwarebytes.
7. Customer Ratings
Before we make our final decision, let's see how both companies compare in terms of customer satisfaction.
The Better Business Bureau (BBB) is an excellent resource that collects customer reviews and averages them out into an A to F metric. When checked, Bitdefender has a decent C rating from the BBB, while Malwarebytes received a much higher A+.
Another platform we can check for customer feedback is Consumeraffairs.org. The site gathers customer feedback in a similar manner and grades companies on a five-star scale. When examined, Bitdefender received three out of five stars from consumeraffairs.org, while Malwarebytes received 3.9 stars out of 5.
The Winner: Bitdefender. Malwarebytes received better customer ratings from both independent sources indicating better customer support than Bitdefender.
Bottom line
While it's a close call, Malwarebytes falls behind on several important categories. Thus, Bitdefender is a much better choice with exceptional anti-malware and system performance, as well as an extensive feature-set and a competitive pricing plan.
Hope you enjoyed reading this Bitdefender vs Malwarebytes comparison. Do share your thoughts in the comments section down below.