(Last updated on January 13th, 2021)
Our experts have put together this comprehensive Avast versus Kaspersky comparison to help you make a wise decision.
During the last decade, the cybersecurity industry has seen a continuous rise in the magnitude of cybercrimes per year. So much so, that by 2021, global cybercrimes damages are expected to reach up to a staggering $6 trillion annually.
Moreover, the cybercrimes marketplace is also expanding at an alarming rate. As per a 2018 Threat Landscape Report, just 25 Dark Web sites that provided access to tools and information for cyber attacks had a customer base of over 3 million registered users.
So, the wise thing is to make yourself safe against these cyber crimes by getting robust antivirus protection. Remember that your free antivirus tool can't provide you proper protection against the emerging malware and sophisticated digital threats.
Your safety lies with a premium antivirus software that provides complete security against all kinds of malware and cyber threats, including phishing attacks, ransomware, Trojan Horses, identity theft attacks, botnets, worms, and more.
Editor's Note: We have spent over 150 hours examining all the top antivirus software out there, so you can get the best antivirus product for yourself and those you love.

At the moment, we think that Norton is the best antivirus software available in the market. It offers exceptional anti-malware security with minimal impact on system performance, as evidenced by the recent independent lab tests conducted by the AV-Test Institute.

Currently, Norton is offering an exclusive 70% discount to our readers for a limited time, so grab your copy of Norton before the sale ends.
Best Antivirus Software for 2021
---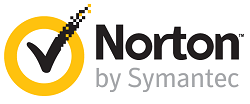 Unbeatable anti-malware protection
Minimal system impact
Exceptional value for money
Recommended by PC Mag, CNET & TechRadar
100% virus protection promise
60-day risk-free money-back guarantee
In today's guide, we present a head-to-head comparison between two of the cybersecurity giants: Avast and Kaspersky.
This detailed review will provide you many insights into the antivirus protection features and functionalities and also help you make a smart choice for your antivirus security product.
Breakdown of the Comparison
Here's what we'll cover in this Avast vs. Kaspersky comparison:
Features
Anti-Malware Protection
Impact on System Speed
User Interface
Pricing
Popularity
Customer Ratings
We'll examine our products on these metrics and see how they perform as per independent evaluations, reviews, and survey reports. We'll also include our conclusive remarks for the winning product.
In a hurry? Take a sneak peek at the comparison below to find out the winners in each category.
Comparison at a Glance
Features… Kaspersky has a more extensive range of advanced features compared to Avast.
Anti-Malware Protection… Kaspersky demonstrated a better performance than Avast in one of the independent assessments while tied with it in the rest.
Impact on System Speed… Kaspersky was ahead of Avast in the AV-Test performance evaluation.
User Interface… Both interfaces are simple, intuitive, and offer the same functionality.
Pricing… Kaspersky gives a better value vs. money ratio than Avast.
Popularity… As per the independent market survey report, Avast is ahead of Kaspersky in popularity.
Customer Ratings… Overall, both companies received similar customer satisfaction ratings.
The Winner
Kaspersky won four major categories while tying the remaining two with Avast. Overall, Kaspersky has proven to be the better antivirus product out of the two.
2021's Top Antivirus Picks
---
#1 (Best Overall)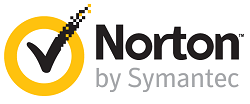 Extensive feature-set
Award-winning malware protection
Minimal system impact
competitive pricing structure
Intuitive user interface
100% virus protection promise
60-day money-back guarantee
#2 (Very Good)
Robust Feature-set
Excellent Anti-malware security
Zero System Slowdowns
Exceptional Value for Money
Intuitive User Interface
#3 (Very Good)

Impressive Feature-set
Good malware protection
Value for Money
Let's get into details.
1. Features
A comprehensive premium antivirus solution must incorporate top-of-the-line, relevant features that make it stand out from the competition. Let's have a look at both Avast and Kaspersky's feature-sets and see which one is better.
We'll start with Avast.
Avast's Features
Avast Free Antivirus is the free version of the company. Other than barebones malware protection, this software doesn't have much to offer. To review the advanced security features from Avast, we'll move on to their paid products.
The first paid offering from Avast is the Avast Premium Security package. This product offers complete protection against malware and cyber threats. It also includes other useful features, such as:
Firewall – monitors the activity on your network for cyber threats and instantly notifies you if there's an issue.
Sandbox Feature – allows you to open suspicious files in the safe mode so that your system stays unharmed by any malicious content disguised as legit documents.
Anti-Spam Utility – secures your inbox from spam and malicious emails.
Real Site – protects you from landing on fake malicious websites, which can happen due to Domain Name Server (DNS) hijacking.
Webcam Shield – secures your webcam from any apps trying to make unauthorized changes to its settings.
Ransomware Shield – encrypts your private information online so that hackers can't misuse it against you.
Password Manager and Protector – save and protect your passwords and login information on different websites.
Wi-Fi Inspector – alerts you to unsafe public Wi-Fi networks.
File Shredder – permanently deletes any files from your system memory that you've sent to the recycle bin.
The final tier of coverage from Avast comes with Avast Ultimate. This product collects all the features from premium suites and individual offerings into a single package and offers:
Secure VPN – lets you browse anonymously on the internet and make you unidentifiable to hackers.
Clean-up Tool – cleans your system of junk files and keeps your device working at optimal speed.
Passwords Premium – Provides fast-tracked login to websites as well as instantly alerts you if unauthorized users are using your password.
For Mac users, the company offers Avast Security for Mac. This software comes in two versions: a free and a premium version.
There's nothing much to look forward to with the free edition. But the premium version contains many cool features that encompass complete malware protection against Mac-specific cyber threats.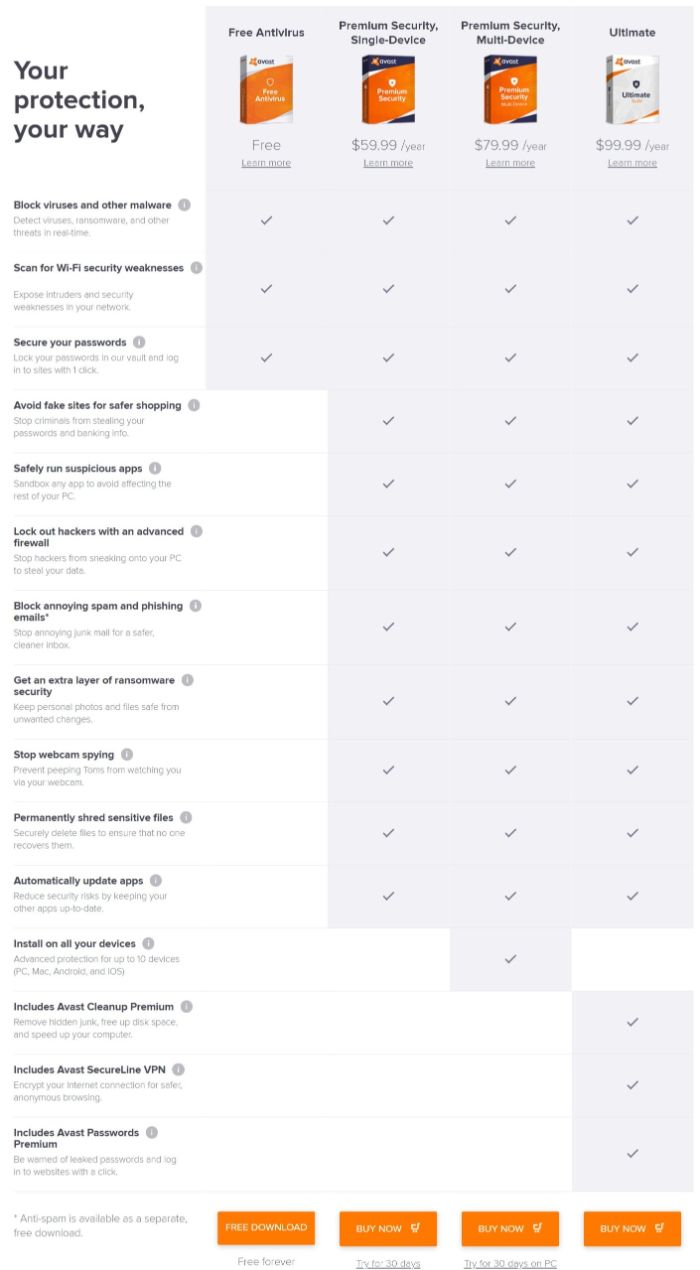 Kaspersky's Features
Kaspersky also has a free software called Kaspersky Free. It provides a basic level of security against some malware types but is largely inefficient against the latest malicious threats.
The first paid product from the company is called Kaspersky Antivirus. This is a Windows-only software that includes the following advanced features:
Firewall – provides cutting-edge protection against all kinds of digital and malware threats.
Multilayer Ransomware Protection – secures your family and yourself against cybercrimes involving ransomware attacks.
Gamer Mode – ensures uninterrupted gaming or movie time for you by pausing pop-up notifications.
Vulnerability Scanner – monitors your network for security gaps and fixes them before a virus can enter your PC.
Kaspersky Internet Security – makes up the second tier of protection. This package includes everything from the Antivirus suite plus some more features, such as:
Hardened Internet Browser – provides safety for personal and financial information during online shopping or banking transactions.
Secure VPN – lets you surf the internet anonymously from a virtual location as well as access geographically restricted content.
Wi-Fi Network Securer – monitors your home network for security vulnerabilities and prevents hackers from tapping into your security system.
Multiplatform Coverage – offers coverage for Windows, Mac, and Android devices.
Kaspersky Total Security is the flagship product from this company and provides the most premium tier of coverage. This suite offers a few extra features along with everything from previous products:
Safe Kids – this is the parental control module that lets you, monitor, manage, and control your children's online activities and usage.
Password Manager – secures all your passwords on your device and makes them inaccessible to unauthorized users.
File Shredder – permanently deletes the sensitive files or personal data that you don't want to be discovered by anyone.
Cloud Backup – includes 2GB of Dropbox storage for your important files.
Kaspersky Security Cloud – is another high-end product from Kaspersky. The only difference between this suite and the Total Security package is the cloud-based technology it uses that entails:
Adaptive Technology – modifies and adjusts your software settings according to a change in your online usage behavior.
Central Management – allows you to manage all your connected devices from a central, remote location.
This suite is available in two versions: Personal and Family.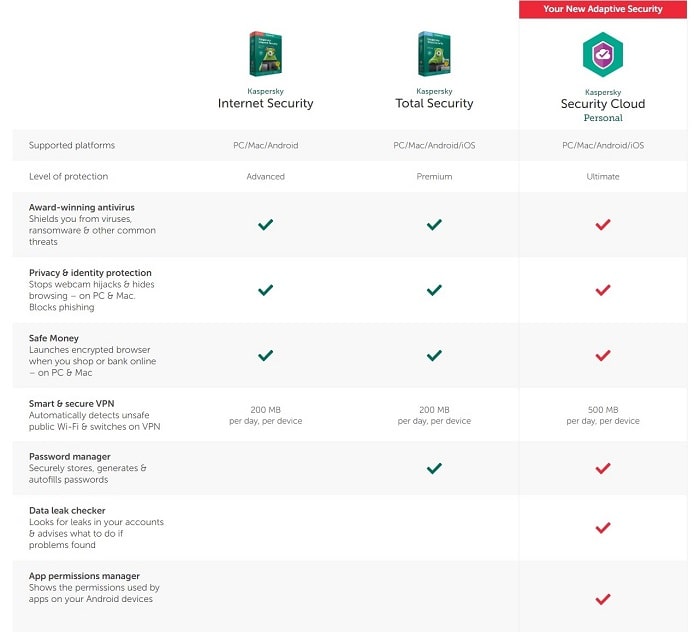 Winner: Kaspersky. Both products offer a host of cool features. Still, Kaspersky has a little edge over Avast with features like Parental Controls (Safe Kids), the Adaptive Technology, and the Gamer Mode.
2. Anti-Malware Protection
Features are only as useful as they perform. And for an antivirus product, the most important function is the anti-malware protection it offers. So, let's analyze this ability of our products with the help of independent tests from the AV-Test Institute and AV-Comparatives.
According to the Protection Test results by AV-Test, Avast achieved a perfect rating with a 6/6 score for its excellent malware performance.
Kaspersky was just as good and bagged the full 6/6 score as well.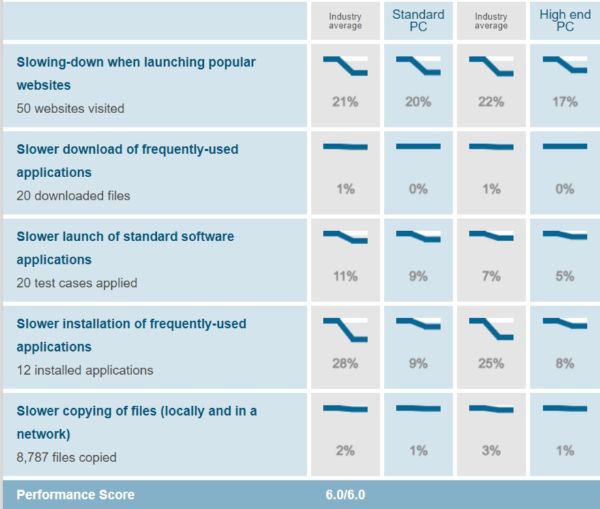 Now let's see how AV-Comparatives has rated the two products on their Real-World Protection Test. This organization uses an award system to rank companies for their performance.
AV-Comparatives gave Avast the ADVANCED award on this test, which is the second-place award. However, Kaspersky received the highest ranking with the ADVANCED+ award.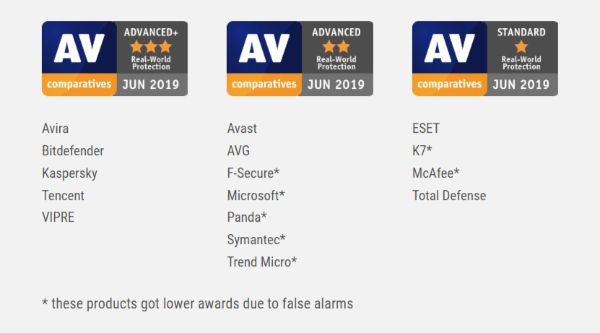 Another assessment we can consider is the Malware Protection Test by the same organization. In this assessment, the company measures malware protection against viruses that transfer over network routes or removable media.
Avast was once again in second place and received the ADVANCED award. This time the reason was a high number of false positives.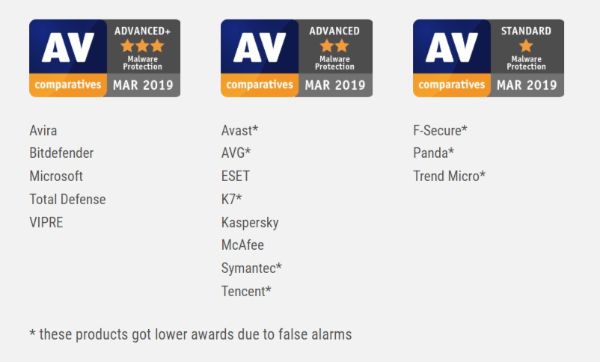 Kaspersky was also in the same position and received the ADVANCED award, as well.
Winner: Kaspersky. Both companies got an equal rating in two independent assessments, but Kaspersky was ahead of Avast in one of the three tests. That's why Kaspersky wins this category.
3. Impact on System Speed
After malware protection, the other most crucial benchmark for a product is its impact on a computer's performance. Sometimes, antivirus software can be the reason to slow down a system, which is completely unacceptable in today's fast-paced world.
That's why now we're going to look at the independent test evaluations from our trusted organizations for system performance. So, let's see how both Avast and Kaspersky impact a computer's speed.
Once again, we'll first look at the Performance Test by AV-Test Institute. Here, the organization gave Avast an almost perfect 5.5/6 score.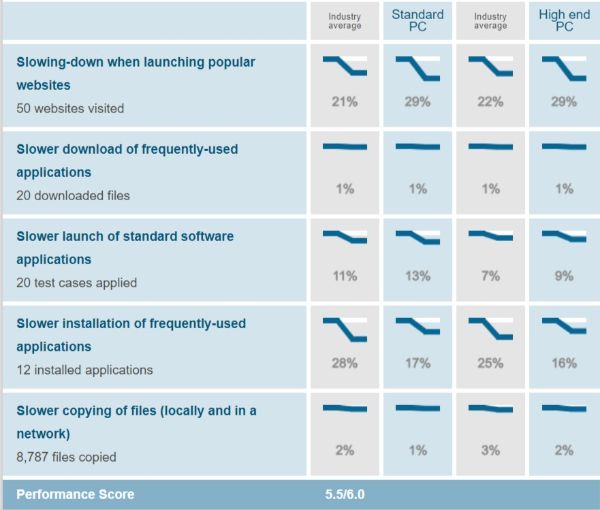 Kaspersky left Avast behind with the perfect 6/6 rating.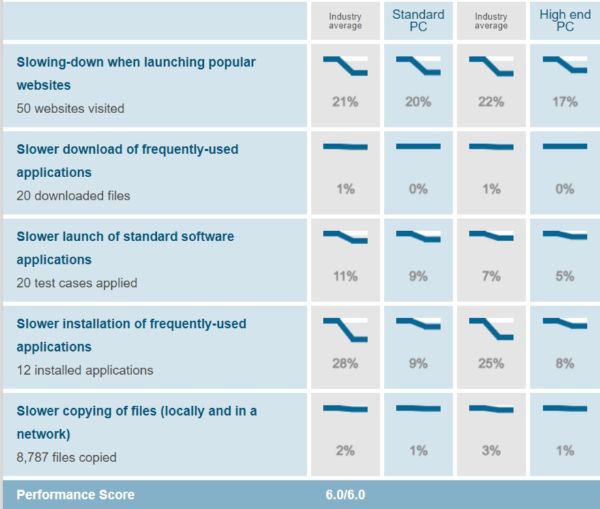 Next, let's have a look at the Performance Test results from AV-Comparatives. In this test, both Avast and Kaspersky gave an amazing performance and bagged the ADVANCED+ awards for themselves.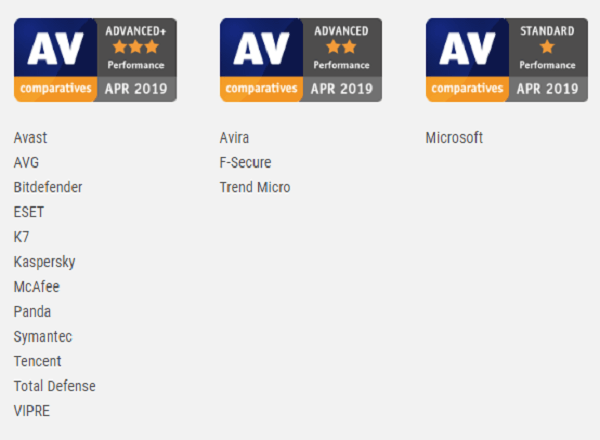 Winner: Kaspersky. Both companies gave a fantastic performance on the two independent tests. However, Kaspersky was slightly ahead of Avast in the AV-Test evaluation. That's why Kaspersky secures this category as well.
4. User Interface
The interface is the only part of a software that a user directly and regularly interacts with. That's why an ideal interface is both intuitive and practical so that users can enjoy an optimal experience managing their software.
Let's look at both companies' interfaces and see which one brings a better experience for their users.
Avast uses a straight-forward design for its interface with a dark grey background and bright accent colors for the screen contents.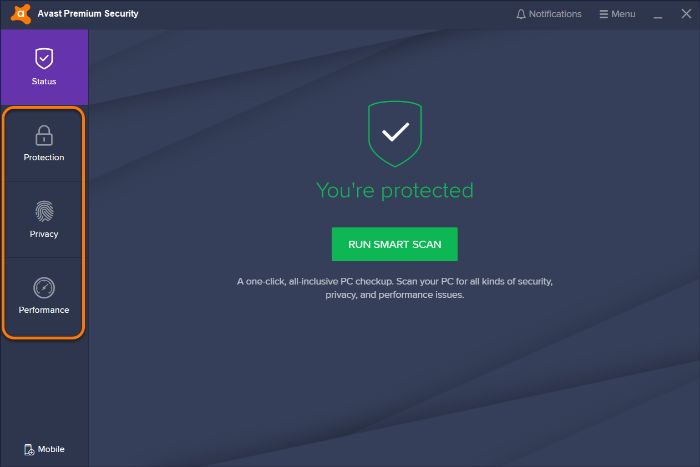 All the features and functions are accessible through a left side rail. A top bar gives access to notifications or updates and a menu that will take you to further settings.
You find the current security status right in the middle of the screen. Beneath it, you can click on a button to start a detailed scan of your PC.
This interface is intuitive and very user-friendly. The simple layout makes it easy to operate and unchallenging for even the most novice users.
Now let's see what Kaspersky's interface looks like.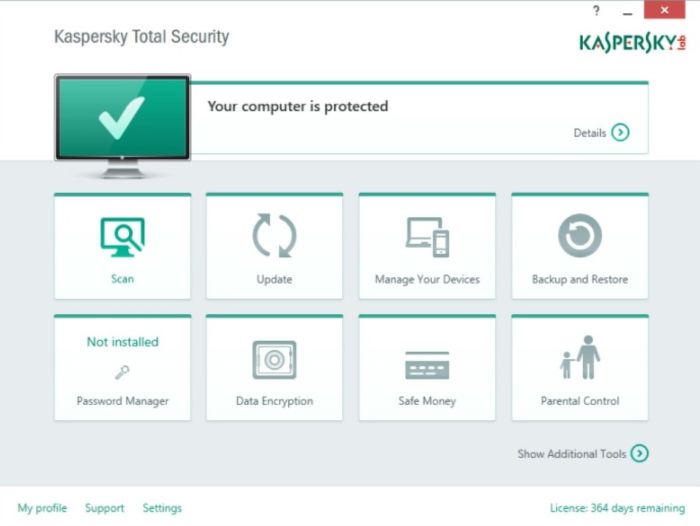 Kaspersky has an extremely minimalistic interface that is simple but still contains all the access buttons for different features right there on the Home screen.
At the top of the screen, the interface shows the security status of your device. Below it, most of the screen is taken up by big blocks, each containing a different function. You can click on these to access more detailed tasks and settings particular to that function.
To access any additional, less frequently used tools, you can click on the "Show Additional Tools" button at the bottom right corner of the interface.
Finally, a sleek bar at the bottom of the interface displays your subscription status. Kaspersky interface is fairly intuitive, easy to use, and poses no challenges for even casual computer users.
Winner: Both. Both interfaces are intuitive and minimalistic in design. And despite the apparent difference in their layout, provide the same kind of functionality. Therefore, both win this category.
5. Pricing
Pricing is of acute importance for a company since it always must be drafted with a broader demographic in mind. And most people are reluctant to pay higher for a product if they have a choice to pay less for the alternative.
So, let's compare the pricing plans of both Avast and Kaspersky, and see which one has a better budgetary appeal. Avast Premium Security costs
Avast Premium Security costs
$69.99 per year for 1 device.
$89.99 per year for up to 10 devices (Multi-device).Avast Security for Mac costs $59.99 for 1 Mac.
| Avast Products | Regular Price | Discounted Price |
| --- | --- | --- |
| Avast Internet Security | $47.99/year | Check here |
| Avast Premium Security (1 Device) | $69.99/year | Check here |
| Avast Premium Security (Multi-Device) | $89.99/year | Check here |
| Avast Ultimate | $99.99/year | Check here |
| Avast Business Antivirus | Varies | Check here |
Kaspersky Antivirus costs $29.99 per year for 3 PC-only licenses. Kaspersky Security Cloud Personal comes at $49.99 per year. Kaspersky Internet Security costs $39.99 per year for 3 licenses. Kaspersky Total Security costs you $49.99 per year, for 3 universal licenses. Kaspersky Security Cloud Family comes at $149.99 per year for 20 universal licenses.
| Kaspersky Products | Regular Price | Discounted Price |
| --- | --- | --- |
| Kaspersky Anti-Virus | $59.99/year | Check here |
| Kaspersky Internet Security | $79.99/year | Check here |
| Kaspersky Total Security | $99.99/year | Check here |
| Kaspersky Security Cloud (Personal) | $89.99/year | Check here |
| Kaspersky Security Cloud (Family) | $149.99/year | Check here |
| Kaspersky Small Office Security | $149.99/year | Check here |
| Kaspersky End Point Security Cloud | $300.00/year | Check here |
One look at the comparison above will tell you that Kaspersky has priced its products quite reasonably compared to Avast, whose first product costs more than double the price of Kaspersky's entry-level product.
We observe the same price difference in the later tiers as well.
Winner: Kaspersky. Kaspersky offers much more affordable pricing and higher value for your money compared to Avast.
6. Popularity
The market share ratio of a company is largely indicative of how well-received a product is among the users. That's why we're going to look at market survey reports from OPSWAT and Statista to examine which product commands a more significant share.
First, we'll look at the market survey report from OPSWAT. As per this report, Avast commands a market share of 8.37%, while Kaspersky is just ahead by a margin of 0.7% with an 8.44% share.

Let's also see the results of the survey report from Statista. Here, however, the dynamics seem to change, with both companies swapping their positions. Avast is at 10.09% market share, whereas Kaspersky is at 8.14%. Although, here the difference between the two ratios gets wider and Avast leads Kaspersky by a margin of 1.95%
Winner: Avast. Although both companies come in the lead according to the two independent surveys. But Avast has a bigger lead in the second survey report, so this category goes to Avast.
7. Customer Ratings
Finally, we are going to evaluate how average customer rates their interaction with Avast and Kaspersky. For this purpose, we'll look at the customer satisfaction ratings on the review websites and see which one of our products is more loved by the users.
These review websites collect customer responses on different products and calculate the average feedback into a rating.
The first review website we're going to probe is the Consumeraffairs.com. This website uses a 5-star scale to rate different products. Both Avast and Kaspersky received a 3-star rating on this site, indicating overall neutral feedback from customers.
However, Avast got more 1-stars than Kaspersky in individual responses.
We'll also look at customer ratings from a second source. The G2 website provides a similar service and rates products on a 5-star scale as well as a 1-5 points system, where 5 is the highest score.
This website gave Avast a 4.6 score, while Kaspersky was slightly behind with a 4.5 rating.
Winner: Both. Both companies achieved a similar overall rating. That's why this category belongs to both Avast and Kaspersky.
Bottom Line
Although, Avast managed to win one category and tied on two sections with Kaspersky. But Kaspersky left Avast behind by winning four main categories of features, malware protection, impact on system performance, and pricing. That's why Kaspersky wins today's comparison.