(Last updated on January 12th, 2021)
Bitdefender or Webroot, which antivirus software is a better pick in 2021?
Our experts have put together this comprehensive Bitdefender versus Webroot comparison to help you make a wise decision.
With the prevalence of e-commerce, many of us seem to have thrown caution to the wind. We are becoming more and more relaxed (read carelessly) about sharing our financial information on different sites. According to statistics, we now share more sensitive information online than ever.
Even though the most reliable networks are being targeted for malware attacks. Did you know that Stripe users have recently been targeted in a phishing attack that steals banking information? In fact, phishing attacks are expected to become more rampant in the upcoming year.
Therefore, if you wish to enjoy safe shopping or banking online, you must invest in a premium antivirus software that can guarantee complete protection against advanced malware attacks. But remember not to fall for free software. A freeware simply doesn't have the advanced features or firewalls to guard against today's meticulously designed malware attacks.
On the other hand, a premium product may cost you a few bucks, but it will also provide you and your family with the peace of mind you deserve.
Editor's Note: We have spent over 150 hours examining all the top antivirus software out there, so you can get the best antivirus product for yourself and those you love.

At the moment, we think that Norton is the best antivirus software available in the market. It offers exceptional anti-malware security with minimal impact on system performance, as evidenced by the recent independent lab tests conducted by the AV-Test Institute.

Currently, Norton is offering an exclusive 70% discount to our readers for a limited time, so grab your copy of Norton before the sale ends.
Best Antivirus Software for 2021
---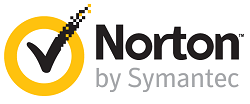 Unbeatable anti-malware protection
Minimal system impact
Exceptional value for money
Recommended by PC Mag, CNET & TechRadar
100% virus protection promise
60-day risk-free money-back guarantee
We have put together a detailed review here comparing Bitdefender and Webroot to see which product gives you higher value and more bang for your buck.
Breakdown of the Comparison
Here's what we'll cover in this Bitdefender versus Webroot comparison:
Features
Anti-Malware Protection
Impact on System Speed
User Interface
Pricing
Popularity
Customer Ratings
We'll take help from independent reports by testing organizations to see how consistently these products perform in different scenarios.
In a hurry? Take a sneak peek at the comparison below to find out the winners in each category.
Comparison at a Glance
Features… Bitdefender offers a much more extensive array of features through its products than those provided by Webroot.
Anti-Malware Protection… Bitdefender gave a perfect performance in all the independent evaluations receiving the highest ratings. But Webroot was not available for any of them.
Impact on System Speed… Once again, Bitdefender got the highest ratings with Webroot nowhere to be seen.
User Interface… Both interfaces are different but equally good in terms of intuitiveness, functionality, and customizability.
Pricing… Bitdefender provides much more value for its pricing than that offered by Webroot.
Popularity… As per the survey reports, Bitdefender is doubly as popular as Webroot.
Customer Ratings… According to the review collecting websites, Webroot has a better overall customer satisfaction rating than Bitdefender. So, this category goes to Webroot.
The Winner
2021's Top Antivirus Picks
---
#1 (Best Overall)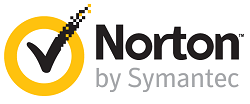 Extensive feature-set
Award-winning malware protection
Minimal system impact
competitive pricing structure
Intuitive user interface
100% virus protection promise
60-day money-back guarantee
#2 (Very Good)
Robust Feature-set
Excellent Anti-malware security
Zero System Slowdowns
Exceptional Value for Money
Intuitive User Interface
#3 (Very Good)

Impressive Feature-set
Good malware protection
Value for Money
Let's get into details.
1. Features
First off, we'll get into what each antivirus company brings to the table in terms of features and perks. We'll start with Bitdefender.
Bitdefender's Features
The first product from Bitdefender is a freeware called Bitdefender Free Edition. This is a Windows-only software that provides some protection against malware threats but doesn't offer much in terms of advanced features.
The first paid coverage from the company comes with Bitdefender Antivirus Plus 2021, another Windows-only suite. This product comes with a number of useful features:
Firewall – provides complete protection against all kinds of malicious cyber-attacks.
In-depth Scanner – allows you to eliminate viruses that might have already infiltrated your computer's files.
Secure Internet Browser – protects from phishing and fraudulent sites.
Ransomware Filter – guards against financial frauds and can be automatically added to your email.
Password Manager – stores all your login and password information safely to prevent misuse by hackers.
Limited-use VPN – lets you temporarily browse the internet with anonymity.
Bitdefender Internet Security 2021 is the next tier of coverage offered by Bitdefender. This package includes everything from the Antivirus Plus suite as well as some additional features:
File Encryption – secures the transmission of data to prevent interception by hackers.
Parental Controls – keep track of your kids' browsing habits and limit their access to unwanted websites and apps.
Vulnerability Checker – scans your network for security loopholes and the presence of outdated software.
Webcam Protection – protects you and your family from being spied on by hackers.
Bitdefender Total Security 2021 is the full-blown, premium package offered by the company. This suite has everything from previous suites plus some extra features:
Anti-Theft function – lets you locate any missing or stolen devices that have Total Security installed on them.
Optimizer – improves the overall speed and fluidity of your computer by removing and organizing junk or temporary files that might take up valuable RAM.
Bitdefender Photon – monitors and examines your computer's hardware and software, optimizing their functioning as an Optimizer does. However, Photon goes even deeper for better results.
Rescue Mode – acts as a reset button for your computer without wiping away your valuable files. This utility can be particularly useful if a harmful virus manages to worm its way deep into your computer's core code such that the scanner cannot remove it.
Wi-Fi Security Advisor – alerts you to unsecured Wi-Fi networks and generates recommendations based upon security threats.
If you want a single subscription to provide all your family's' malware protection needs, you can go for Bitdefender Family Pack instead, which protects up to 15 devices with the top-shelf Total Security product.
For Macs specifically, you can check out Bitdefender Antivirus for Mac. This suite provides a number of crucial security perks for users of Apple products. All of Bitdefender's security suites come with unlimited customer service through email, online chat, and phone call options.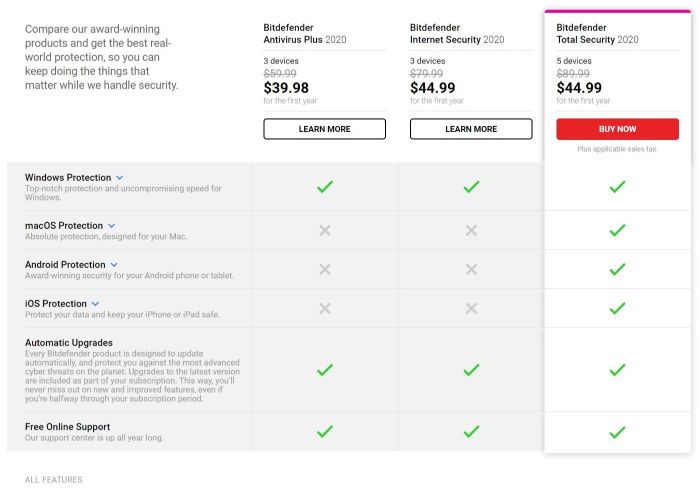 Webroot's Features
Webroot Antivirus is the company's entry-level premium software, which protects 1 PC or 1 Mac. Its salient features include:
Advanced Malware Protection – comprehensive malware and ransomware protection.
Identity Protection – provides real-time monitoring and protects your data and identity on the internet.
Fast Scans – facilitates thorough, but quick scans that take no more than 20 seconds.
Anti-Phishing Tool – prevents malicious and fake websites from tricking you into giving away confidential data.
Next comes Webroot Internet Security Plus package, which comes with all the features included in the previous product and some more features:
Password Manager – stores and protects your login information and prevents its misuse.
Multi-Platform Protection – You can protect up to 3 devices with this suite, including smartphones and tablets.
The final layer of protection from the company comes in the form of Webroot Internet Security Complete. It's a full-blown offering and the flagship product by Webroot. It comes packed with a few extra features, such as:
Optimizer Tool – frees up system resources to enhance processing power and speed up your devices.
Smart Security – eliminates traces of your online activity preventing hackers from tracking your online behavior.
Online Storage – offers 25GB of secure online storage, which is accessible anytime, anywhere.
A single license of the suite protects up to 5 devices (PCs, Macs, tablets, or smartphones).
All Webroot products come with premium 24/7 customer support.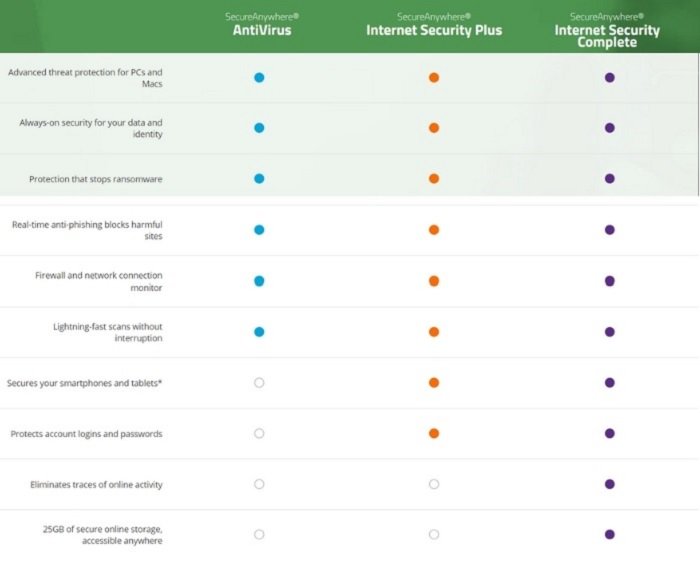 Winner: Bitdefender. Webroot offers a nice spread of features, but overall the products aren't as feature-rich as those provided by Bitdefender.
2. Anti-Malware Protection
Now we'll compare both companies for their efficiency in terms of in anti-malware protection.
For this purpose, we're going to look at independent reports from AV-Test and AV-Comparatives, two organizations with a reputation for unbiased testing and rigorous standards.
The AV-TEST Institute runs three different tests in its evaluations, including Protection, Performance, and Usability tests. These evaluations are rated on a scale from 1-6, 6 indicating the best performance.
For the Protection test, Bitdefender received a perfect 6 out of 6 score although Webroot did not participate in the AV-Test assessments for some reason.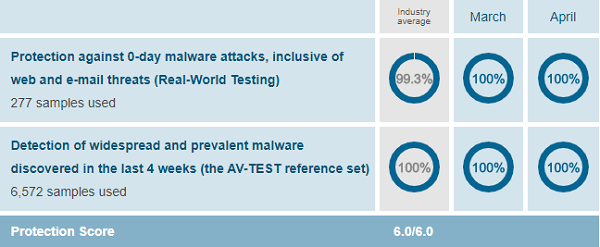 In a similar test released by AV-Comparatives in June 2019, called the Real-World Protection Test, Bitdefender received the best award from the organization i.e., the ADVANCED+ award. However, as before, Webroot was absent from AV-Comparatives evaluations as well for reasons best known to the company.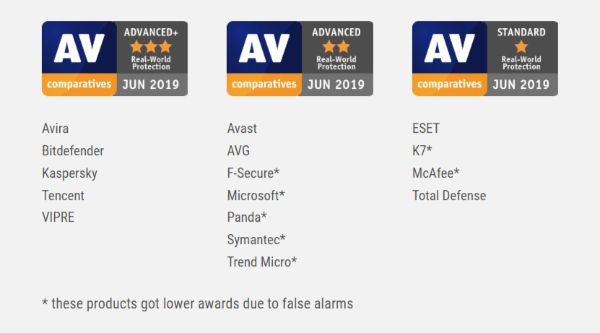 Another protection test organized by AV-Comparatives is the Malware Protection Test, assessing the transfer of malware through network drives and USB keys. Here too, Bitdefender was conveniently able to bag the ADVANCED+ award.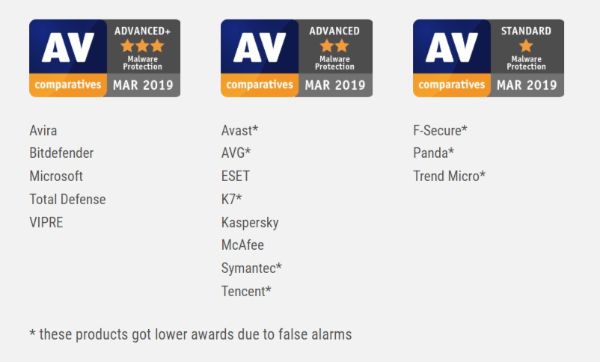 Winner: Bitdefender. As Webroot doesn't show up for any of the assessments, there isn't even a comparison. Bitdefender wins with a fantastic performance throughout.
3. Impact on System Speed
Excellent system performance is just as critical for an antivirus product as malware protection. So, now we're going to see how both products impact the system performance of standard computers.
The Performance Test from the AV-TEST Institute awarded Bitdefender with an incredible 6 out of 6 score, just like in the Protection Test.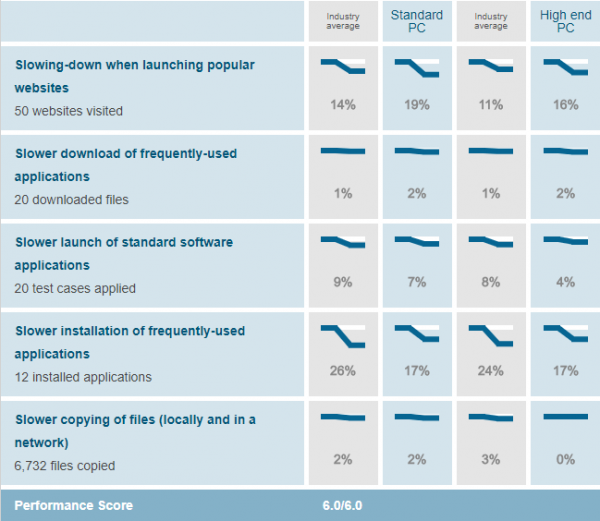 AV-Comparatives also issued their own Performance Test results. Once again, Bitdefender got the highest ADVANCED+ award, indicating a minimal impact on system performance.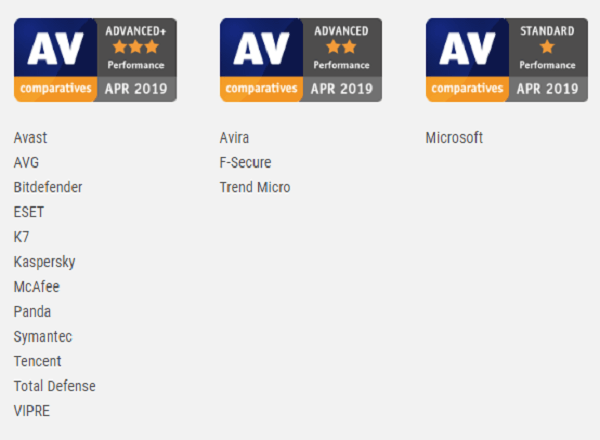 Once again, Webroot didn't participate in these evaluations.
Winner: Bitdefender. Bitdefender also wins this category with no competition from Webroot at all.
4. User Interface
After protection and performance, we are going to see what kind of user interfaces are offered by both Bitdefender and Webroot. So, let's check them out.
Bitdefender's interface has a sleek design, which is extremely intuitive. This interface comprises two distinct sections divided between a black panel on the life side and a wide screen on the right.
Both panels give access to different features, functions, and settings. You can customize the look and settings of these sections to show the options you prefer. The great thing about this design is that you can keep it simple or make it a bit more detailed according to your requirements.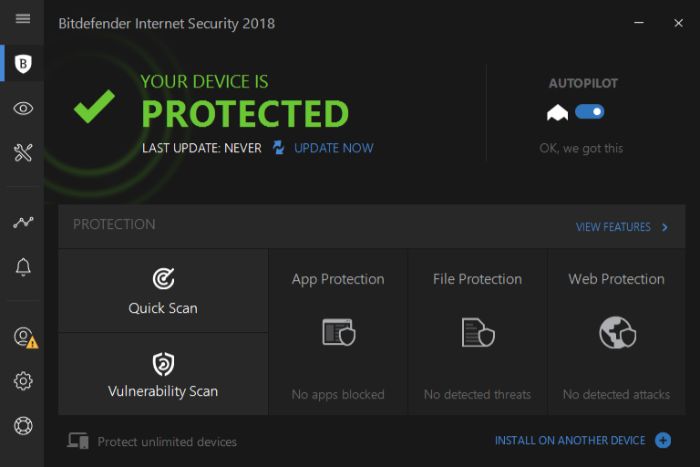 Now, let's see how Webroot's interface compares.
Webroot interface has a unique design, which is the right mix of simplicity and essential information. A big white block on the home screen shows the security information of your device and the scan history.
On the right-hand side, the upper half of a sleek panel displays the activity status of different functions. The lower half provides access buttons to various utilities.
This interface is pretty intuitive and easy to operate. Even casual users won't find it challenging. Webroot also offers some degree of personalization in its design.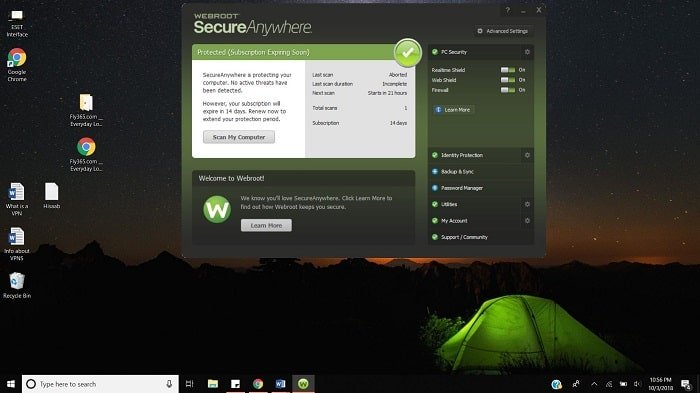 Winner: Both. Both interfaces have unique designs compared to each other. Both are intuitive, functional, and customizable.
5. Pricing
Now let's take a look at how these two companies compare on the pricing front as it is always e a huge determinant in making a purchase decision.
Bitdefender Products
Regular Price
Discounted Price
Bitdefender Antivirus Plus
$59.99/year
Check here
Bitdefender Internet Security
$79.99/year

Check he

re
Bitdefender Total Security
$89.99/year

Check here

Bitdefender Family Pack
$119.99/year

Check here

Bitdefender Antivirus for Mac
$59.99/year

Check here

Bitdefender Small Office Security
Varies

Check here

Bitdefender GravityZone Business AV
Varies

Check here
| Webroot Products | Regular Price | Discounted Price |
| --- | --- | --- |
| Webroot Antivirus | $39.99/year | No Discount |
| Webroot Internet Security Plus | $59.99/year | No Discount |
| Webroot Internet Security Complete | $79.99/year | No Discount |
| Webroot Business Products | $150.00/year | No Discount |
The entry-level products from both companies cost the same. However, Webroot's later tiers are much costlier compared to Bitdefender.
Bitdefender Total Security stands out as the best choice by far, costing only $39.99 for 5 different devices with top-quality protection features.
Winner: Bitdefender. This comparison clearly shows that Bitdefender provides more bang for your buck with each additional tier when compared to Webroot.
6. Popularity
Now we're going to assess which company has a higher market share and popularity index among users. For this purpose, we'll look at the latest survey reports from two leading companies: OPSWAT and Statista.
As per OPSWAT's recent Windows Anti-Malware Market Share Report, Bitdefender holds a good 11.2% market share while Webroot stands at 5.65%, almost down by half of Bitdefender's.

We can also look at the August 2019 survey report from Statista. Here we find that Bitdefender command
s 10.17% market share, whereas Webroot has a 4.87% share.
Winner: Bitdefender. Both survey reports show that Bitdefender is twice as popular as Webroot, winning this category hands-down.
7. Customer Ratings
We've got to the final stage of today's comparison i.e., customer satisfaction. Let's see what existing customers think of our brands.
First, we'll check out Consumeraffairs.org, a review collecting company that averages out the collective feedback on a 5-star scale. Bitdefender got 3-stars from this website, a modest rating. Whereas, Webroot received a decent 4-star rating.
Next, we'll turn to G2 for some more evidence. These company rates products on a 5-star or 1- 5 scale. Here, Bitdefender has an almost perfect 4.8 score, while Webroot was just a tad bit behind with a 4.7 rating.
Winner: Webroot. Both companies got better ratings from one of the sources. However, overall, Webroot seems to be keeping its customers happier. So Webroot is the winner here.
Bottom Line
Bitdefender beat Webroot in 5 out of 7 categories, including major areas, such as features, malware protection, system performance, and pricing. Webroot needs to focus more attention on its reputation and participate in independent evaluations so customers can learn about its performance in different areas.