(Last updated on January 13th, 2021)
Windows Defender or Bitdefender, which antivirus software is a better pick in 2021?
Our experts have put together this comprehensive Windows Defender versus Bitdefender comparison to help you make a wise decision.
Every device we use today, for personal or professional use, is supported by hackable technology: our phones, computers, credit cards, bank accounts, social media accounts, even smart home appliances, and home security systems.
Everything is within easy reach of hackers UNLESS … you are well protected.
There's a hacker attack every 39 seconds that affects one in three Americans each year. In 2018, around 700 million people became victims of one or another type of cyber-attack.
In such a situation, it's crucial that you get yourself top-quality protection if you want to be safe in today's digital environment. And this security can only come from a premium antivirus software.
But what about the free software you already have installed on your device? Well, that's not enough. Freeware only provides an elementary level of protection against some known malware types. But it lacks the advanced security solutions that only premium software can offer, such as ransomware protection, behavioral analysis, multi-layer protection, etc.
Editor's Note: We have spent over 150 hours examining all the top antivirus software out there, so you can get the best antivirus product for yourself and those you love.

At the moment, we think that Norton is the best antivirus software available in the market. It offers exceptional anti-malware security with minimal impact on system performance, as evidenced by the recent independent lab tests conducted by the AV-Test Institute.

Currently, Norton is offering an exclusive 70% discount to our readers for a limited time, so grab your copy of Norton before the sale ends.
Best Antivirus Software for 2021
---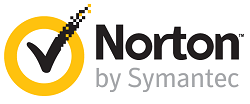 Unbeatable anti-malware protection
Minimal system impact
Exceptional value for money
Recommended by PC Mag, CNET & TechRadar
100% virus protection promise
60-day risk-free money-back guarantee
Our today's guide gives you a detailed comparison between two famous brands i.e., Windows Defender and Bitdefender. Let's find out which one of these is better at protecting you against malware and cyber-attacks.
Breakdown of the Comparison
Here's what we'll cover in this Windows Defender vs. Bitdefender comparison:
Features
Anti-Malware Protection
Impact on System Speed
User Interface
Pricing
Popularity
Customer Ratings
We'll take help from our trusted independent testing organizations, AV-Test and AV-Comparatives, using their reports and our extensive research to test our brands for the above criteria.
In a hurry? Take a sneak peek at the comparison below to find out the winners in each category.
Comparison at a Glance
Features… Bitdefender offers a much more extensive array of security features compared to Windows Defender.
Anti-Malware Protection… Both brands remained head to head in two out of three evaluations, but Bitdefender left Windows Defender behind in one.
Impact on System Speed… Bitdefender exhibited a consistent performance in both performance assessments, whereas Window Defender received varying ratings.
User Interface… Bitdefender user interface is customizable and overall offers greater functionality compared to the Windows Defender interface.
Pricing… Windows Defender comes free of cost, but it lacks a lot of features that you can easily subscribe to for a little amount with Bitdefender.
Popularity… Bitdefender shows up among top products in both independent survey reports, whereas Windows Defender doesn't even make it on that list.
Customer Ratings… Bitdefender received an overall decent customer satisfaction rating, whereas Windows Defender wasn't rated on the reviewing websites.
The Winner
Bitdefender has stood out against Windows Defender in all the categories, demonstrating brilliant performance in both malware protection and impact on system performance. If you want to make a wise investment, you should definitely go for Bitdefender.
2021's Top Antivirus Picks
---
#1 (Best Overall)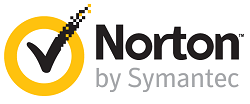 Extensive feature-set
Award-winning malware protection
Minimal system impact
competitive pricing structure
Intuitive user interface
100% virus protection promise
60-day money-back guarantee
#2 (Very Good)
Robust Feature-set
Excellent Anti-malware security
Zero System Slowdowns
Exceptional Value for Money
Intuitive User Interface
#3 (Very Good)

Impressive Feature-set
Good malware protection
Value for Money
Let's get into details.
1. Features
Features are one of the first things a customer notices about antivirus software. As more features mean better protection, we are going to explore which of our products offers a more comprehensive feature set.
Windows Defender's Features
Windows Defender is the built-in antivirus program for Microsoft Windows users. So if you're already a Windows user, you don't need to install this program. You may need to update your software if you're using an older version.
If, however, you wish to install another antivirus program, Windows Defender will automatically turn off and you can run the new software without any interference.
Windows Defender only offers a single built-in version that provides the following features:
Firewall – guards against malware and hacking attacks.
Malware Definition Updates – probably the only free software that gets regular malware definition updates against emerging threats.
SmartScreen – blocks phishing websites and corrupt downloads. However, this feature is only compatible with Microsoft Edge Browser.
Find My Device Function – helps to locate stolen PCs or laptops. You can also use this function to lock your device or erase your sensitive data.
Parental Controls – monitor the online activities of your children and block their access to harmful content or unwanted websites.
Bitdefender's Features
The first product from Bitdefender is a freeware called Bitdefender Free Edition. This program is only compatible with PCs and offers barebones protection against malware attacks compared to paid tiers that start with Antivirus Plus.
Bitdefender Antivirus Plus is a PC-only program, but it provides a number of useful features against the latest malware crimes:
Advanced Firewall – provides complete and proper protection against all kinds of malware attacks, including botnets, rootkits, Trojan horses, phishing attacks, and worms.
Ransomware Protection – shields against ransomware attacks by encrypting your personal and financial information on the internet.
Limited VPN – offers temporary anonymity while browsing as well as hides your actual location.
Secure Internet Browser – saves you from phishing and fraudulent websites.
Password Manager – saves your passwords and other related information in a digital space to protect it from hackers.
The next product from the company is the Bitdefender Internet Security suite. Along with everything from the previous product, this suite also offers some additional features such as:
File Encryption – encrypts your important files and documents and blocks unauthorized access to them.
Vulnerability Checker – scans your home network for security gaps and fixes them instantly.
Parental Controls – Save your kids from unpleasant digital experiences by monitoring their online activities and restricting their access to unwanted content.
Webcam Protection – prevents your family against webcam malware attacks by restricting unsanctioned access to camera settings.
The next tier of protection comes with Bitdefender Total Security, the most premium product from the company. This suite comprises the most advanced features and comprehensive protection from the company. Features included are:
Anti-Theft Function – locates missing or stolen devices that are subscribed to Total Security.
Wi-Fi Advisor – notifies about unsafe public Wi-Fi networks and secures against malicious threats across these channels.
Optimizer – frees up valuable system space by organizing temporary files and deleting junk data.
Photon Technology – this feature functions a few steps ahead of an optimizer by analyzing both hardware and software to free up system resources so the users can experience the optimal processing power of the device.
Rescue Mode – reboots the system if it detects a virus has managed to lodge itself on your computer's core code without deleting essential files on your system.
Total Security is also available in the family version if you want all of your home devices protected under a single subscription, called Bitdefender Family Pack. This suite provides complete peace of mind for your entire family.
For Mac-users, Bitdefender offers Antivirus for Mac. This product provides complete protection against Mac-related cyber threats.
All Bitdefender users can enjoy top-quality customer services by contacting the company via phone, online chat, or email.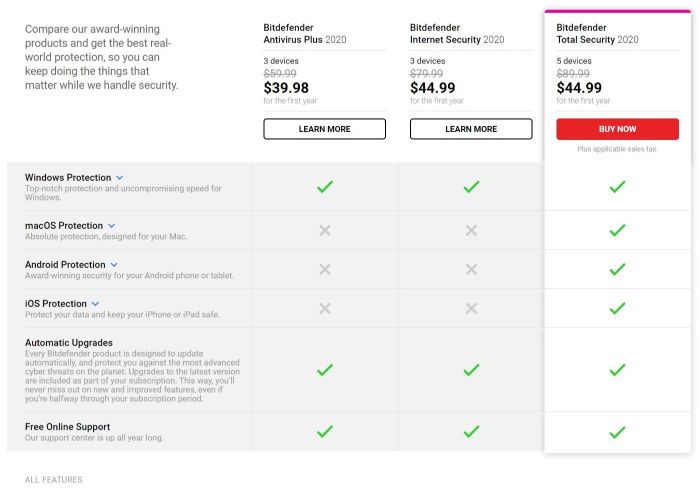 Winner: Bitdefender. It is evident from the above comparison that Bitdefender offers complete, all-encompassing security solutions compared to Windows Defender's limited features.
2. Anti-Malware Protection
Naturally, antivirus software should provide top-notch anti-malware security. We'll look at some independent tests to see how both products fare in this area.
We'll first look at the Protection Test results from the AV-TEST Institute that conducts evaluations in Protection, Performance, and Usability categories. All categories are rated on a scale from 1 to 6.
Windows Defender scored a perfect 6/6 score on the Protection test.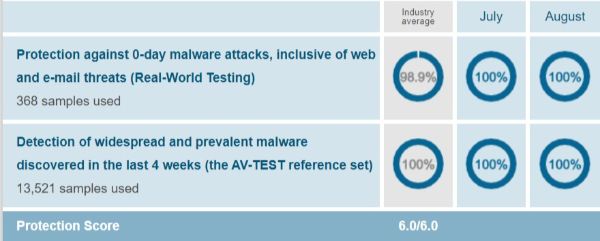 Bitdefender wasn't behind because it also gave a super performance with a 6/6 score.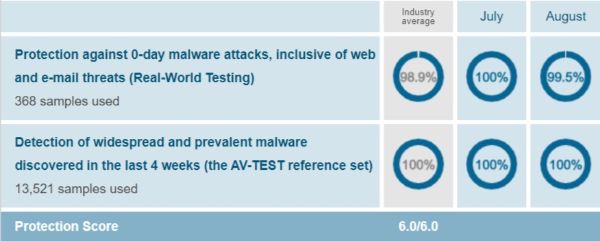 Next, we'll consider two different evaluations from the AV-Comparatives, another testing organization. This organization rates the contenders in the form of awards. For their Real-World Protection Test, Windows Defender was in second place with the ADVANCED award, while Bitdefender got the highest rating from this source as well with an ADVANCED+ award.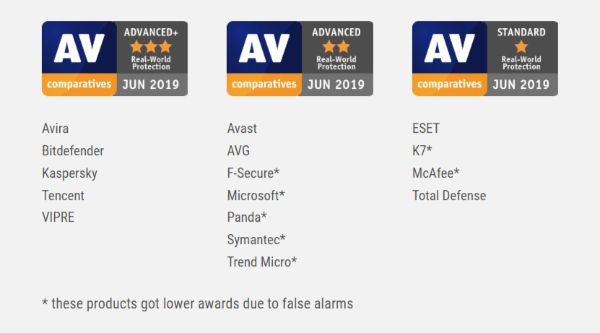 The other assessment from the same organization is the Malware Protection Test. This assessment puts antivirus software to the test against malware types transported via network routes or removable media.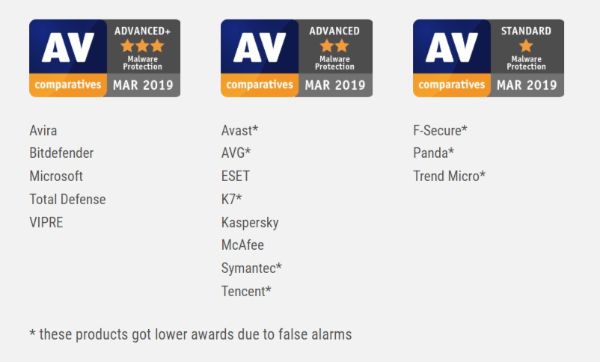 In this test, both Windows Defender and Bitdefender were at par receiving the ADVANCED+ awards.
Winner: Bitdefender. Windows Defender gave excellent performance in two independent tests, but Bitdefender was at the top in all three evaluations.
3. Impact on System Speed
Sometimes an antivirus program tends to drag your system speed just as much as a virus would do. But of course, you wouldn't want that, would you?
So, let's see what kind of impact both Windows Defender and Bitdefender have on the system speed.
In the Performance Test by the AV-TEST Institute, Windows Defender was just short of the perfect score with a 5.5/6 rating.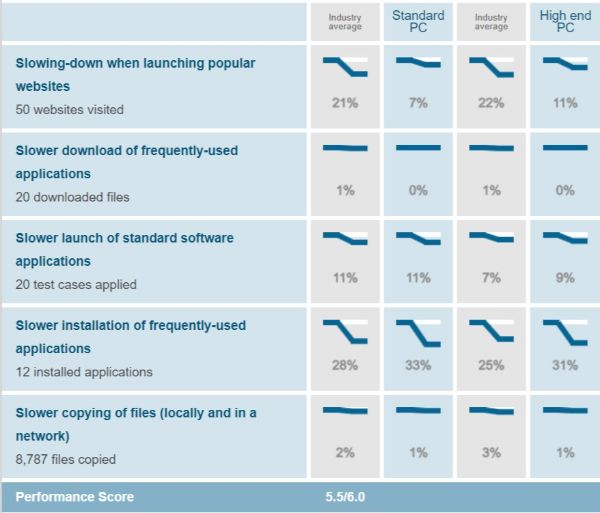 Bitdefender received a full score with 6/6 points.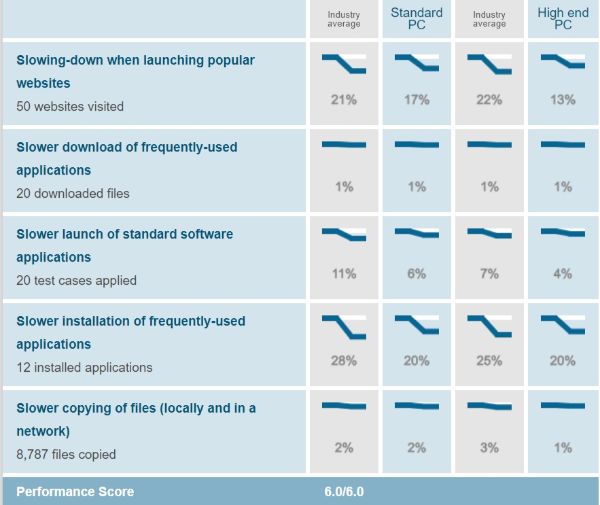 Next, we'll have a look at the Performance Test results from AV-Comparatives. Here, Windows Defender was not so impressive as it received the third-place STANDARD award. However, Bitdefender remained in the lead with the highest ADVANCED+ award.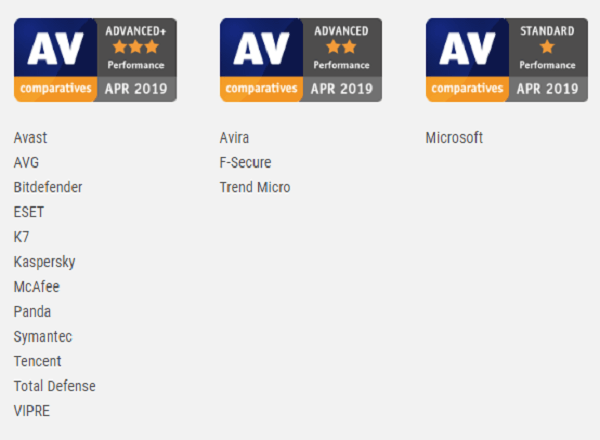 Winner: Bitdefender. Bitdefender consistently demonstrated in the evaluations that it had minimal effect on system performance, whereas Windows Defender was inconsistent in its performance ratings.
4. User Interface
The user-interface doesn't affect the working of antivirus software, but it does affect what the user perceives about it. Naturally, a user would favor a product that has a more functional interface.
Let's see how Windows Defender and Bitdefender compare on this metric.
Windows Defender has a pretty simple user interface that displays all the primary functions on the Home screen with their updates. The same functions can also be accessed from the panel on the left-hand side of the screen.
There's a button at the bottom of the screen to start a quick scan. Using this interface is quite easy as it doesn't offer any challenges in terms of layout.
However, you can't customize the interface, nor can you pre-schedule your scans. You'll have to start a scan manually every time you want to see a threat analysis.
Now let's have a look at Bitdefender's interface.
Bitdefender is known for its sleek interface and neat look. You can access most of the major functions from the Home screen, including "Quick Scan" as well as "Vulnerability Scan." A narrow side panel gives access to other features and utilities.
Bitdefender also provides the option to customize the look of the software interface completely. You can also schedule your scans according to your preferred time. Overall, the interface is highly intuitive, easy to operate, and ideal for all kinds of users.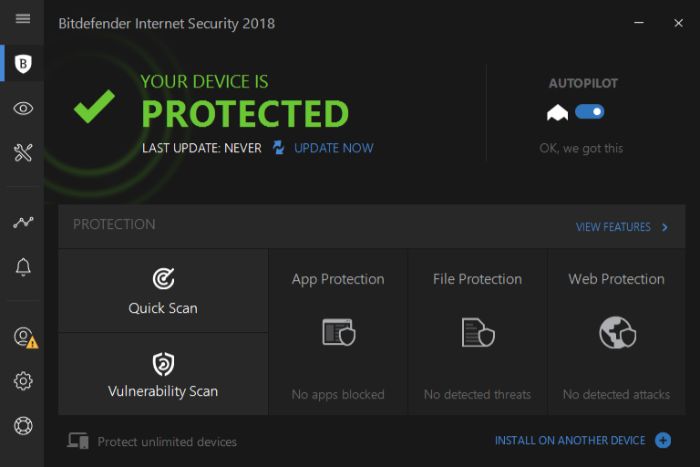 Winner: Bitdefender. Bitdefender fulfills where Windows Defender lacks. Not only do you get the customization option from Bitdefender, but you also get the choice to schedule your scans as required.
5. Pricing
Pricing is something every user is conscious about. When you're paying for something, you want it to give you a justifiable value for your money. Let's see how today's products impact our wallets.
Bitdefender Antivirus Plus costs $29.99 for the first year for up to 3 Windows devices. Bitdefender Internet Security costs $34.99 for the first year for 3 Windows. Bitdefender Total Security costs $39.99 for the first year for 5 Windows, Macs, and mobile devices. Bitdefender Family Pack costs $54.99 for the first year for 15 Windows, Macs, and mobile devices.
Bitdefender Products
Regular Price
Discounted Price
Bitdefender Antivirus Plus
$59.99/year
Check here
Bitdefender Internet Security
$79.99/year

Check he

re
Bitdefender Total Security
$89.99/year

Check here

Bitdefender Family Pack
$119.99/year

Check here

Bitdefender Antivirus for Mac
$59.99/year

Check here

Bitdefender Small Office Security
Varies

Check here

Bitdefender GravityZone Business AV
Varies

Check here
Windows defender is a free-of-cost program that comes built-in with Windows operating systems.
Winner: Bitdefender. You don't have to pay anything with Windows Defender. Still, in terms of the value, you also don't get as much as you do with Bitdefender that provides top-grade security for extremely reasonable pricing.
6. Popularity
Now we'll see what percentage of antivirus market share is held by both our products. We can find that out by looking at survey reports from two well-known organizations that regularly conduct market survey i.e., OPSWAT and STATISTA.
First, we'll consider the market survey report from OPSWAT that shows Bitdefender at a market share of 11.2%. However, Windows Defender falls somewhere at the bottom with several other brands, all holding a collective market share of 10.66%.
Now let's see what Statista survey report presents in its August 2019 edition. According to this report, Bitdefender holds a share of 10.17%, whereas Windows Defender is once again nowhere to be seen among the top-ranking brands.

Winner: Bitdefender. The above survey reports leave no doubt in our minds that Bitdefender is one of the most popular brands, whereas Windows Defender doesn't even come close in recognition.
7. Customer Ratings
Next, we come to the actual existing users of these products and see how satisfied they are with their overall experience. Let's look at the customer satisfaction ratings from two reviewing websites to compare our brands.
The first of these organizations is Consumeraffairs.org. This website gathers customers' feedback and averages it out on to a 5-star scale. Bitdefender scored a modest 3-star rating on this website.
Windows Defender was not rated on this website, probably for the lack of customer responses.
Now let's look at G2 for its antivirus ratings that are spread on a 1-5 point system as well as a 5-star scale. Here, Bitdefender scored a close to perfect score with 4.8 points.
Unfortunately, Windows Defender wasn't rated on this website, as well.
Winner: Bitdefender. Once again, Bitdefender is ahead of the game, scoring favorable ratings from two different sources, whereas Windows Defender was nowhere to be seen.
Bottom Line
We have seen that Bitdefender has consistently won all the categories against Windows Defender with exceptional ratings in Malware Protection and System Performance. This shows that Bitdefender is undoubtedly a much better product compared to Windows Defender.