(Last updated on January 13th, 2021)
McAfee or Malwarebytes, which antivirus software is a better pick in 2021?
Our experts have put together this comprehensive McAfee versus Malwarebytes comparison to help you make a wise decision.
Protecting yourself and your loved ones against a growing number of malware attacks is just impossible without an excellent antivirus suite.
You are indeed less likely to be a cyber-attack victim if you remain watchful, but you can't beat cybercriminals on your own.
Related: Video Review of Best Antivirus Software for 2021
In just the first six months of 2019, more than 4.8 billion malware attacks were recorded by security firm SonicWall.
Similarly, 110.9 million ransomware attacks and 19.2 million web app attacks were registered during the same period.
You see, it's a kind of industry, and the bad guys are dedicating their time and efforts to invade your privacy and steal your personal data.
Therefore, if you want to stay safe online, you should invest in a comprehensive antivirus suite that outsmarts cybercriminals and is always one step ahead of them.
Several security packages are available online for free, but you shouldn't settle for something of inferior quality when your data and privacy are at stake. Free antivirus programs provide only necessary protection and have no or very few useful features, such as parental controls and password manager.
In contrast, premium software comes with all the necessary tools and utilities that not only give you protection but also complete peace of mind.
Now that you are aware of how essential a premium antivirus suite is for your digital life, you must be wondering which software to buy from dozens of popular antivirus suites available out there.
Editor's Note: We have spent over 150 hours examining all the top antivirus software out there, so you can get the best antivirus product for yourself and those you love.

At the moment, we think that Norton is the best antivirus software available in the market. It offers exceptional anti-malware security with minimal impact on system performance, as evidenced by the recent independent lab tests conducted by the AV-Test Institute.

Currently, Norton is offering an exclusive 70% discount to our readers for a limited time, so grab your copy of Norton before the sale ends.
Best Antivirus Software for 2021
---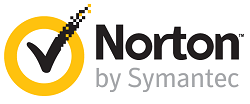 Unbeatable anti-malware protection
Minimal system impact
Exceptional value for money
Recommended by PC Mag, CNET & TechRadar
100% virus protection promise
60-day risk-free money-back guarantee
This is where we step in. We have compared several antivirus suites using different key metrics to find out which of them offer great value for money. In this comprehensive guide, we are going to compare McAfee and Malwarebytes, two well-known brands, to see which of them is a better overall choice.
Breakdown of the Comparison
Here's what we'll cover in this McAfee versus Malwarebytes comparison:
Features
Anti-Malware Protection
Impact on System Speed
User Interface
Pricing
Popularity
Customer Ratings
In a rush? Below is a quick rundown of winners in each category.
Comparison at a Glance
Features… Malwarebytes offers some useful features in its security products, but McAfee's products come with a more comprehensive feature set.
Anti-Malware Protection… Independent lab tests prove that McAfee is better than Malwarebytes in terms of malware protection.
Impact on System Speed… McAfee wins this round of comparison because of its excellent performance in all the recent independent tests.
User Interface… Both McAfee and Malwarebytes offer a simple, easy-to-use user interface.
Pricing… McAfee provides you with more licenses for less money than Malwarebytes.
Popularity… McAfee holds a larger market share than Malwarebytes according to third-party data.
Customer Ratings… Malwarebytes enjoys slightly better ratings from its customers.
The Winner
Malwarebytes is competitive, but McAfee offers a more comprehensive feature-set and better malware protection with minimal system impact. Also, McAfee provides better value for money than Malwarebytes.
2021's Top Antivirus Picks
---
#1 (Best Overall)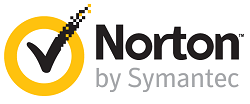 Extensive feature-set
Award-winning malware protection
Minimal system impact
competitive pricing structure
Intuitive user interface
100% virus protection promise
60-day money-back guarantee
#2 (Very Good)
Robust Feature-set
Excellent Anti-malware security
Zero System Slowdowns
Exceptional Value for Money
Intuitive User Interface
#3 (Very Good)

Impressive Feature-set
Good malware protection
Value for Money
Now, let's dig into the details.
1. Features
These days, most cyber-security companies offer a range of advanced features and utilities in their premium suites.
First, we'll examine McAfee's security products.
McAfee's Features
The company's most popular product is McAfee Total Protection (compatible with PCs, Macs, and smartphones). This suite can be purchased for 1, 5 or 10 devices depending on your need.
The package comes with virtually everything you can expect to find in a top-tier antivirus suite:
Two-way firewall – monitors all incoming and outgoing connections for malicious behavior.
File Lock – guards sensitive files/folders against ransomware.
Full-blown password manager – stores passwords and other sensitive information.
Vulnerability Scanner – checks for outdated software and other security flaws on your device.
File shredder – safely deletes your sensitive data without leaving any traces.
Network Manager – defends your Wi-Fi network against hackers and intruders.
Parental controls – allow you to monitor the browsing habits of your children and implement website filtering to prevent them from age-inappropriate content. You can even limit the number of hours your kids can be online, which might be helpful for some parents.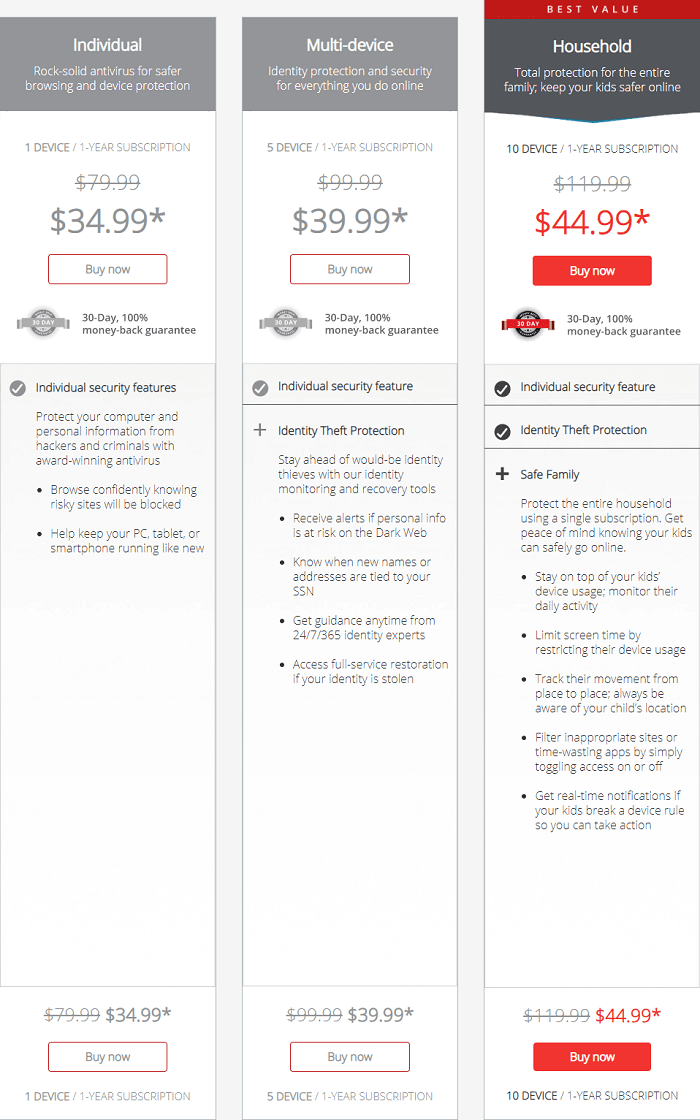 Another product that the company offers is McAfee LiveSafe. In the McAfee 2021 range, there is no difference between McAfee Total Protection and McAfee LiveSafe in terms of features, but the latter comes at a higher price point and is only available with OEM deals.
McAfee also offers a range of business security products for both small and large businesses. You can find out more about these particular offerings here.
All McAfee products come with excellent customer support, which is offered through email, online chat and phone.
Malwarebytes' Features
Let's see what's included in Malwarebytes' products.
Malwarebytes has a freemium option which is called Malwarebytes Free. While this is handy in a pinch, the truth is that free antivirus is relatively barebones and doesn't offer very good protection or features. Paid software is always the way to go.
Malwarebytes Premium For You is the first paid subscription tier from Malwarebytes. This has a license for 1 device, just like McAfee's first choice, and it is also capable of working for Windows, Macs or mobile devices right away. Its features include:
Firewall – defends against malware and ransomware threats.
Scheduled scans – lets you run scans at a set time or at automatic intervals depending on your preference. Once the scans are concluded, Premium can then eliminate any viral threats that have been detected.
Secure web browser – detects harmful apps that may have been installed beforehand.
Updates – updates firewall's virus definitions automatically.
Malwarebytes Premium for Home is the highest tier of coverage from this company. It comes with licenses for 3 devices by default instead of 1, and you can increase this number up to 10 in total. This can be cost-effective if you need protection for a family's worth of devices.
Malwarebytes Premium for Home basically has everything that Premium For Home included, just with more licenses.
Malwarebytes also provides constant customer service through email, online chat, or phone communication at any time.
The Winner: McAfee. McAfee gives a much better spread of features and offers simplicity since it has one major flagship product. Its features will be more useful for the average web surfer.
2. Anti-Malware Protection
Malware defense is a critical component of any antivirus software, but good antivirus software needs to go above and beyond basic protection. We'll need to examine both options to determine which is more adept at protecting your computer from all varieties of digital threats.
We can examine results from tests that were issued from independent testing organizations to find our answers. We'll look at two different companies and see what conclusions they drew to find which is best.
The AV-Test Institute gave out a Protection test to both types of antivirus, using a scoring rubric of 1 to 6, with 6 being the highest possible. McAfee was issued a test in August 2019 and received a perfect 6 out of 6 rating from the experts at AV-Test.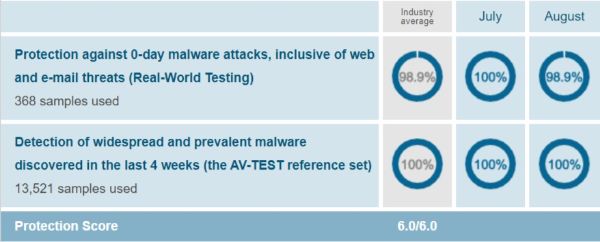 Malwarebytes, on the other hand, received only 4 out of 6, indicating that it's not as good at defense as McAfee.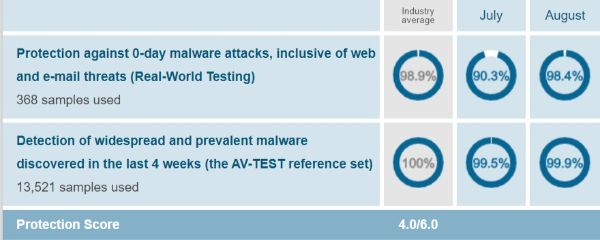 AV-Comparatives is another unbiased resource we can look to for evidence of malware defensive capability. In the most recent Real-World Protection Test issued by AV-Comparatives, McAfee received the STANDARD award, which is the lowest possible defense rating given out by AV-Comparatives.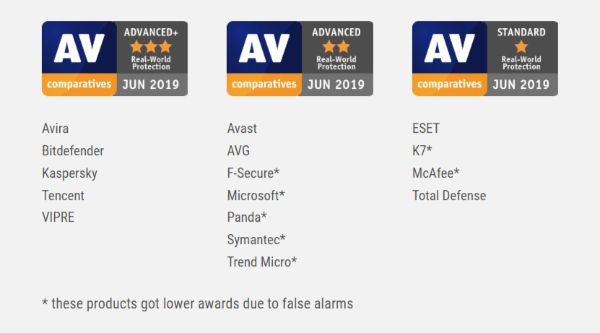 Another protection test conducted by AV-Comparatives is the Malware Protection Test, which measures the transmission of viruses through network drives and USB keys. In that test, McAfee received the second-highest ADVANCED award (2 stars).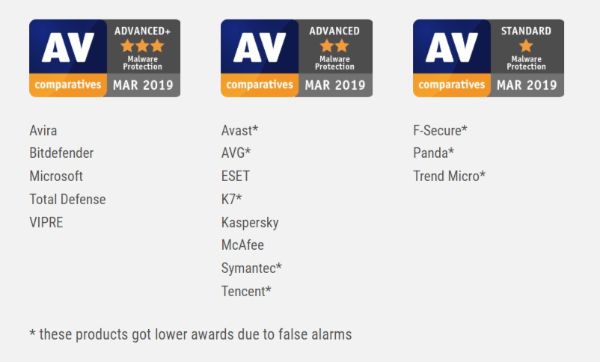 Malwarebytes didn't participate in both the above tests, showing that the company either wasn't ready or wasn't confident in its software's abilities for that competition.
The Winner: McAfee. Since Malwarebytes abstained from two tests and McAfee did much better in one evaluation, there's no doubt that McAfee can protect against malware threats much more effectively.
3. Impact on System Performance
An antivirus that makes your computer slow is one you'll want to avoid. Therefore, finding out how both antivirus companies measure up in terms of their impact on your computer is just as important as their defensive capability.
Let's see what those independent testing organizations found for this category.
AV-Test also issued a Performance test in August 2019 using the same scoring metric. McAfee once again measured well and got a 6 out of 6 perfect score, indicating that its impact on your computer's performance will be low.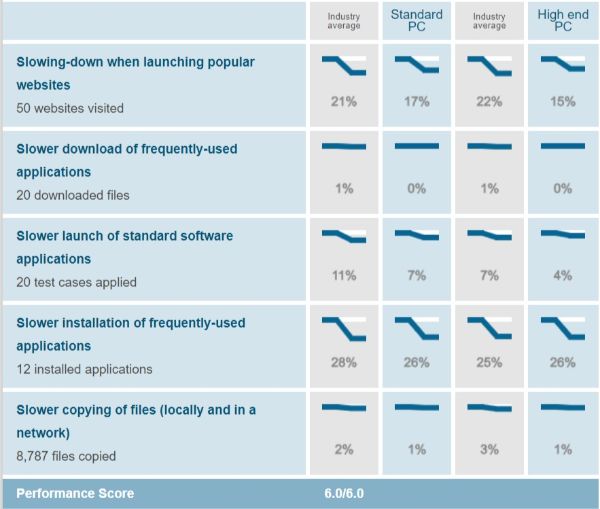 In comparison, Malwarebytes scored 5 out of 6.
AV-Comparatives also has a Performance test. In McAfee's case, the antivirus performed well again, receiving the highest ADVANCED+ award. Malwarebytes once again abstained from this competition, possibly for reasons of unpreparedness.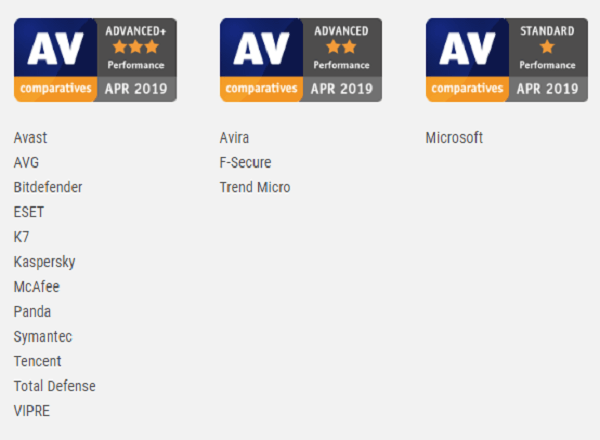 The Winner: McAfee. Once again, McAfee does better in one test and Malwarebytes abstains from the other. In terms of impact on a computer, McAfee is clearly the winner.
4. User Interface
Excellent antivirus software is also easy to use and intuitive to grasp. Let's take a look at both McAfee's and Malwarebytes' interfaces to see how user-friendly they are.
McAfee uses a central security panel that can be accessed by their host computer's desktop. You can perform all of the major scanning, maintenance, and virus removal processes from this one dashboard. A left-hand rail is present that allows you to easily switch between its main menus and which keeps its processes organized into general groups.
The rest of McAfee's interface is filled with buttons and menus that are easy to navigate and understand. Most of McAfee's actions are fairly simple to initiate, although there are some more complicated nuts and bolts that you can get into if you want to take more direct control over its processes.
McAfee makes use of pop-ups to alert you when threats are detected or when it believes that a file you downloaded or a site that you visited is a potential danger. This allows you to act on the possible threat immediately and prevent it from starting any damage to your computer.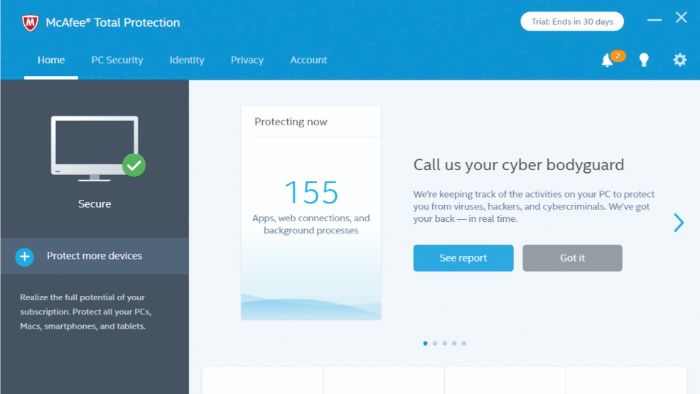 Let's see what Malwarebytes is like to use.
The main dashboard for Malwarebytes has a series of horizontal bars that contain all of the most relevant information. These are categorized by major groups so that you can find what you're looking for quickly and easily.
One larger bar can flash if your system is secure or in danger. It remains green if everything is good, but it turns to other colors if there's an issue that needs to be addressed. All of its buttons and consoles are large and easy to identify, making it a good fit for new antivirus users or those who aren't very computer literate.
If you're on a lesser version of Malwarebytes, you may have to deal with annoying advertisements that take up a lot of space.
The Winner: McAfee. Both interfaces are streamlined and great for use by anyone.
5. Pricing
Pricing is just as important as the nitty-gritty and technical aspects of a good antivirus program. It directly measures how much bang for your buck you get and where the ultimate value for money lies. Let's take a close look at what each option costs and which is more economically worthwhile.
| McAfee Products | Regular Price | Discounted Price |
| --- | --- | --- |
| McAfee Total Protection (1 Device) | $79.99/year | Check here |
| McAfee Total Protection (5 Device) | $99.99/year | Check here |
| McAfee Total Protection (10 Device) | $119.99/year | Check here |
| Malwarebytes Products | Regular Price | Discounted Price |
| --- | --- | --- |
| Malwarebytes Premium for PCs | $39.99/year | Check here |
| Malwarebytes Premium for Mac | $39.99/year | Check here |
| Malwarebytes Business Products | Varies | Check here |
The Winner: McAfee. McAfee provides much better bang for your buck since you can get more licenses for less money at every tier of subscription. While Malwarebytes does offer some freeware, it's not very effective and a poor substitute for real antivirus protection.
6. Popularity
Let's see which of the two companies has a bigger market share to gauge their popularity. For this, we can look at the latest data from OPSWAT.
It can generally be understood as to how much of the economic competition each company has control over. This, in turn, is a good representation of general popularity for each antivirus company. McAfee has a 12.66% market share at the moment, whereas Malwarebytes has 7.01%.

The Winner: McAfee. It is clear from the survey report that McAfee is more popular than Malwarebytes.
7. Customer Ratings
All of the previous categories are revealing, but how do actual customers feel about both antivirus products? We can look at certain review-collecting companies to see how overall feedback feels.
The Better Business Bureau is one independent company that rates companies on an A to F scale based on overall customer feedback. Both McAfee and Malwarebytes hold an astounding A+ rating from the BBB, showing great customer satisfaction. This means that customers generally like both companies the same, which is pretty well.
According to another source, Consumeraffairs.org, McAfee has a 3-star rating based on 826 customer reviews while Malwarebytes has a 4-star rating based on 46 reviews.
The Winner. Malwarebytes. Malwarebytes has a slightly better rating from customers according to one source, which makes it the winner in this category.
Bottom Line
While it's an exciting battle, there's no doubt that McAfee is far and away the better choice for top-tier internet security. It provides excellent features and protection for good prices, particularly once you start getting into the higher numbers of licenses. For exceptional defense in today's dangerous digital landscapes, McAfee is a great pick for anyone.