(Last updated on January 13th, 2021)
Bitdefender or Kaspersky, which antivirus software is a better pick in 2021?
Our experts have put together this comprehensive Bitdefender versus Kaspersky comparison to help you make a wise decision.
Anyone who goes onto the Internet without some antivirus protection is asking for trouble. Even when you limit your web surfing to known and trusted websites, the possibility remains that you could pick up a virus or some other type of malware.
The choice of an antivirus software package to safeguard your system is a critical one. It is not a matter to be taken lightly. Those who take adequate antivirus protection for granted often regret their oversight later on.
According to SafetyDetective.com, malware infections have been on the rise over the past decade. The United States is the top target for major incidents. And the situation is not getting any better.
In 2018 alone, global malware volume hit 10.52 billion, according to security firm SonicWall.
Similarly, it has been estimated that a business will fall victim to a ransomware attack every 14 seconds in 2019. More worryingly, the duration is expected to further reduce to 11 seconds by 2021.
One mistake that people make is to depend on free software to deal with potential viruses. But there are two problems with that. First, free antivirus applications tend to lag behind paid software in the latest virus definitions. Second, premium antivirus software usually comes with a slew of additional functions and features to deal with a whole host of malware concerns.
So which premium antivirus software should you choose? It can be hard to decide. One way to figure out what to do is to compare individual antivirus programs side by side.
Editor's Note: We have spent over 150 hours examining all the top antivirus software out there, so you can get the best antivirus product for yourself and those you love.

At the moment, we think that Norton is the best antivirus software available in the market. It offers exceptional anti-malware security with minimal impact on system performance, as evidenced by the recent independent lab tests conducted by the AV-Test Institute.

Currently, Norton is offering an exclusive 70% discount to our readers for a limited time, so grab your copy of Norton before the sale ends.
Best Antivirus Software for 2021
---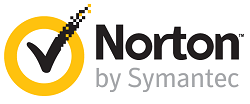 Unbeatable anti-malware protection
Minimal system impact
Exceptional value for money
Recommended by PC Mag, CNET & TechRadar
100% virus protection promise
60-day risk-free money-back guarantee
To help you with that, we've created a series of blog articles pitting one anti-malware package against another. This article compares two offerings that are both popular and critically acclaimed: Bitdefender and Kaspersky.
Breakdown of the Comparison
Here's what we'll cover in this Bitdefender vs Kaspersky comparison:
Features
Anti-Malware Protection
Impact on System Speed
User Interface
Pricing
Popularity
Customer Ratings
In a hurry? Take a look at the comparison to find out the winners in each category.
Comparison at a Glance
Features… Bitdefender offers a larger array of features within a much larger family of security products.
Anti-Malware Protection… Bitdefender was slightly ahead of Kaspersky in recent protection tests conducted by independent labs.
Impact on System Performance… Security products of both antivirus vendors perform equally well in this category according to independent evaluations.
User Interface… Both antivirus programs are easier to manage and navigate.
Pricing… Bitdefender provides protection for more devices in less money.
Popularity… Bitdefender takes a larger share of the antivirus market.
Customer Ratings… Both companies have average reviews from customers, but Bitdefender is slightly ahead of its competitor.
The Winner
2021's Top Antivirus Picks
---
#1 (Best Overall)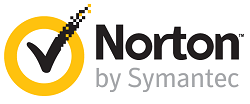 Extensive feature-set
Award-winning malware protection
Minimal system impact
competitive pricing structure
Intuitive user interface
100% virus protection promise
60-day money-back guarantee
#2 (Very Good)
Robust Feature-set
Excellent Anti-malware security
Zero System Slowdowns
Exceptional Value for Money
Intuitive User Interface
#3 (Very Good)

Impressive Feature-set
Good malware protection
Value for Money
Let's dive into details.
1. Features
Features are probably the first thing one should look at to have a better overall idea about a product.
Bitdefender's Features
Bitdefender offers several security products for home users. Let's discuss them one by one.
Bitdefender's product line starts with its free version called Bitdefender Antivirus Free. This suite protects your PC against malware threats but doesn't offer much in terms of advanced features.
The first paid offering from the company is Bitdefender Antivirus Plus, which includes some of the basic features that you would expect in a premium antivirus suite:
Real-time Protection – safeguards your PC against various kinds of malware, notably ransomware.
Safe Online Banking – offers a dedicated, secure browser that stops hackers from stealing your banking information.
Password Manager – safely stores all your digital passwords in one place.
Limited VPN – 200MB per day of VPN data traffic to protect you on public Wi-Fi networks.
The next level of protection from the company is Bitdefender Internet Security. This package comes with a lot more features, including:
Privacy Firewall – filters your network traffic and stops intruders.
Parental Controls – helps you keep a watchful eye on your kids' browsing activity and limit their access to unwanted websites and apps.
File Encryption – helps you create password-protected folders for sensitive files and documents.
Webcam and Microphone Protection – prevents eavesdroppers from hijacking your webcam and microphone.
The full version of Bitdefender's antivirus protection is Bitdefender Total Security, which promises complete security to protect you against any eventuality. The package comes with all the features mentioned above, plus several other protection, performance and privacy tools:
Behavioral Threat Detection – monitors active apps in real-time and takes prompt action in case of unusual activity.
Anti-Theft Function – helps you trace lost or stolen devices.
Rescue Mode – removes threats like rootkits that are not usually detected through standard scans. This feature actually provides you protection even before Windows starts.
OneClick Optimizer – boosts your system speed by removing hidden junk and freeing up space.
Bitdefender Photon – another unique and useful speed optimization tool that helps the Bitdefender Total Security suite adapt to your system configuration, thus saving processing power.
If you have a large family that needs anti-malware protection, then you should probably go for Bitdefender Family Pack. It offers the same features like the Total Security suite, but you can protect up to 15 devices with the family pack.
If you decide to go for the Total Security suite, you are opting for the best protection available out there. For lower tiers, Bitdefender offers specialized products for Mac, iOS and Android users.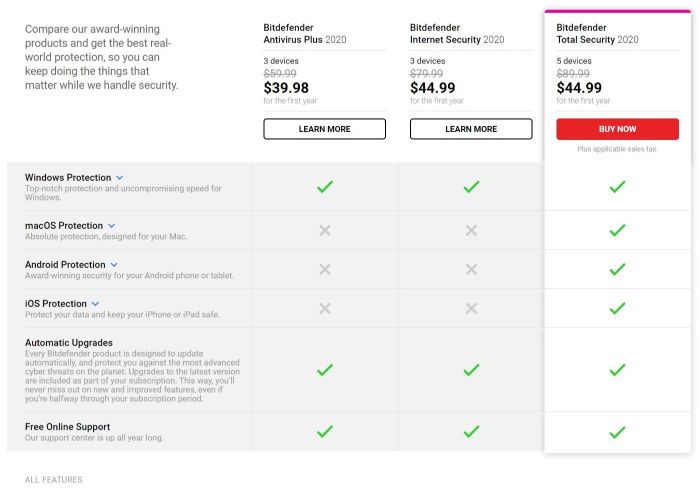 Kaspersky's Features
Like Bitdefender, Kaspersky also offers its free version called Kaspersky Free. The freeware does offer decent malware protection and a scanner for USB drives, but it lacks several protection, performance and privacy tools like file shredder, parental controls, password manager, etc.
The first paid offering by the company is Kaspersky Anti-Virus. This basic version of Kaspersky offers essential system protection for Windows only. Its features include:
Real-Time Protection – Defends your PC against viruses, ransomware and other malware threats.
Vulnerability Scanner – checks your computer for known vulnerabilities and alerts you to potential security threats.
Gaming Mode – blocks notifications and free up CPU resources whenever you are using an application in full-screen mode, such as watching movies or playing video games.
Next up is Kaspersky Internet Security, which supports PCs as well as Macs and smartphones. In addition to the above features, this package offers:
Webcam Protection – prevents bad guys from hijacking your webcam for eavesdropping.
Phishing Defense – safeguards you against phishing attacks, which are aimed at stealing your sensitive data like banking details.
Safe Money – protects you during online shopping and banking through an encrypted browser.
Smart VPN – limited VPN (200MB per device, per day) that turns on automatically when you are on unsecured public Wi-Fi networks.
Another level up is Kaspersky Total Security, which includes everything mentioned above, plus three additional premium features:
Parental Controls – help you supervise your kids' online activity, block harmful content and include a GPS tracker.
Password Manager – stores and syncs all your logins across all devices.
File Protection – backs up important photos and documents on your PC.
The highest level of protection offered by the company for home users is Kaspersky Security Cloud. Its features include:
Data Leak Protection – alerts you if details of any of your accounts get leaked and offers advice on what to do next in case of a problem.
Apps Permissions Manager – this feature for Android lets you know about permissions used by all the apps.
Better VPN – A VPN with an increased limit of 500MB per day, per device.
The Winner: Bitdefender. Bitdefender offers better and unique features, even with low tiers of coverage.
2. Anti-Malware Protection
Malware, short for malicious software, includes any software that can infiltrate and damage a user's computer system. That might consist of worms, viruses, adware, spyware, ransomware, trojan horses, or any piece of software code that could disrupt a user's experience or steal or damage important data.
Therefore, detecting and removing malware is the primary job of an antivirus package. Let's see how these two antivirus software vendors perform when it comes to defeating malware. The best way to find out is to see how independent testing labs rate these products.
One such lab is the Germany-based AV-Test Institute. It maintains an extensive collection of malware samples, which it employs in rigorous tests to assess the effectiveness of software security products.
In its latest Protection evaluation conducted in July-August 2019, AV-Test awarded both Bitdefender and Kaspersky a perfect 6/6 score.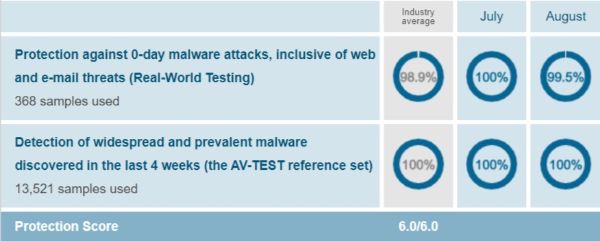 Another independent testing organization is Austrian lab AV-Comparatives, which conducts two protection tests, i.e. the Real-World Protection Test (web-based) and the Malware Protection Test (system-based).
Bitdefender was a star performer in both the latest evaluations, taking home 3-star ADVANCED+ award, which is the highest rating given by AV-Comparatives.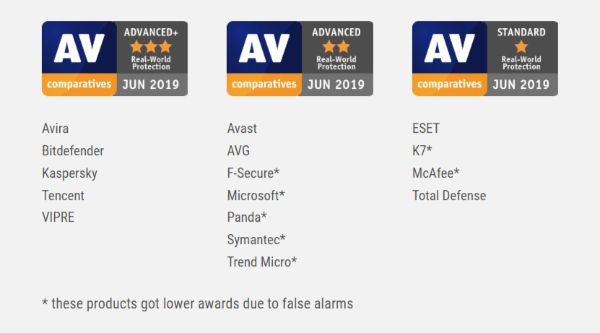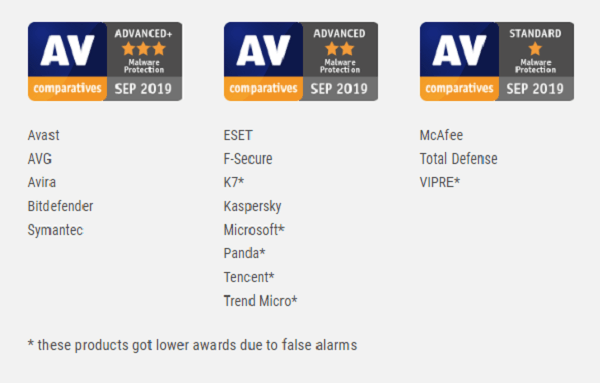 Kaspersky, in contrast, did achieve the highest ADVANCED+ award in the Real-World Protection Test, but it fell behind Bitdefender in the Malware Protection Test as it received the second-highest ADVANCED award (2 stars).
The Winner: Bitdefender. It was a tough competition. However, the fact that Kaspersky was bested by Bitdefender in one of the three tests makes the latter the winner of this category.
3. Impact on a System
Performance is another key measure while evaluating the overall usefulness of an antivirus software package. This may be especially true for antivirus programs, which generally run continually in the background.
Resident software like this can become a significant drag on system resources. Consequently, users may find their computers slow down considerably due to constant virus monitoring.
A July-August 2019 Performance assessment by the AV-Test Institute gives us an idea of how Bitdefender and Kaspersky impact their host computer systems.
Once again, both Bitdefender and Kaspersky aced the AV-Test evaluation with a perfect 6 out of 6 score, showing outstanding capabilities in the performance department.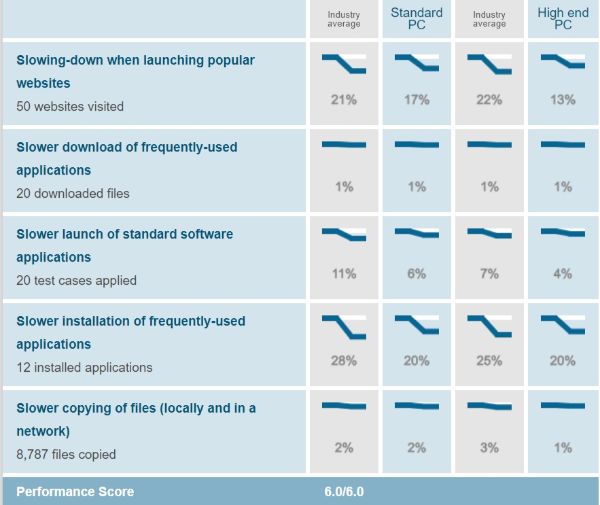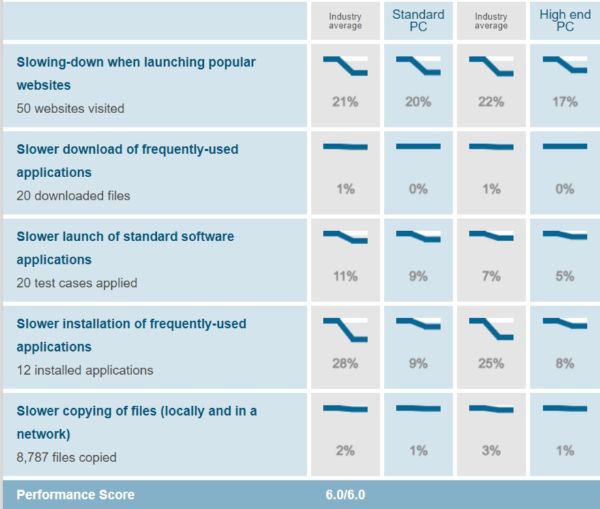 The results were no different in the AV-Comparatives' Performance test, in which both antivirus companies were awarded the 3-star ADVANCED+ rating.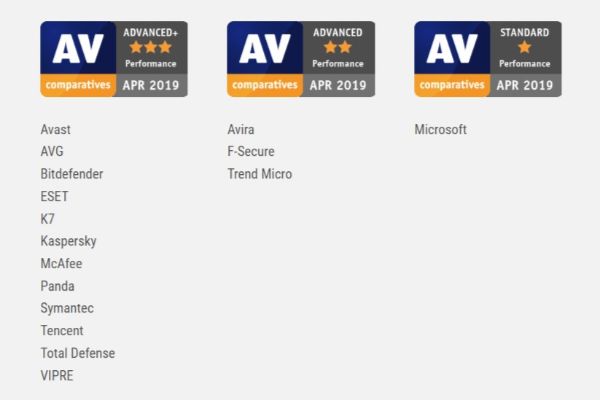 The Winner: Both. The two evaluations showed that both antivirus products have almost no influence of system resources.
4. User Interface
What makes software user-friendly? The term has become a cliché, but it's still an important factor when choosing from different software options.
A user-friendly application might be easy to install, easy to use and easy to remove. And when it comes to troubleshooting, user-friendliness means there are no unnecessary complications.
Just because a technology is sophisticated does not mean it has to be cumbersome. Easy to use is another term we might use as a synonym for user-friendly.
Bitdefender's interface has an easy-to-use dashboard and menu system. From the main screen, you can see the status of your system plus a quick link to vulnerability recommendations.
You can also configure some blocks on the screen with links of your own choosing, such as Quick Scan, System Scan, or VPN. The Protection, Privacy, and Utilities menu choices also allow you to see similar blocks of system settings for further configuration of the software.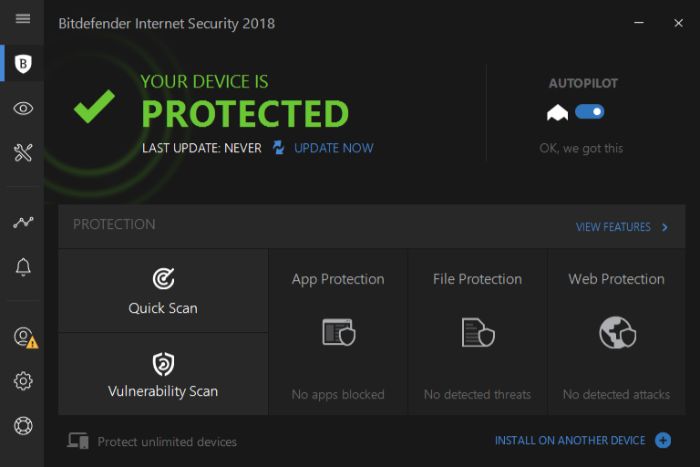 Kaspersky users will see a main screen that includes six modules: Scan, Database Update, SafeMoney, Privacy Protection, Parental Control, and Protection.
The Kaspersky interface is simple and easy to use. It's not crowded, and you can see at a glance whether or not your system is fully protected. And if there are any problems, the software will make it clear with a bright red banner.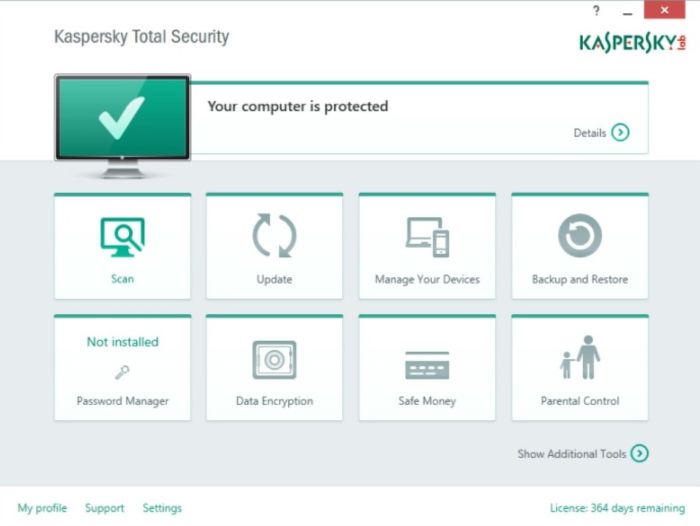 The Winner: Both. Both Bitdefender and Kaspersky appear to be good choices if you are looking for an antivirus product with good user experience. The designs are quite different, but both programs are easy to install and navigate.
5. Pricing
The question of price, of course, depends on which level of service you are shopping for. One vendor may offer a bargain for the entry-level product but seem to charge way too much for the high-end offering.
The real question you need to ask yourself is: How much are you willing to pay for what you really want?
Let's see how Bitdefender and Kaspersky price their products.
Bitdefender Products
Regular Price
Discounted Price
Bitdefender Antivirus Plus
$59.99/year
Check here
Bitdefender Internet Security
$79.99/year

Check he

re
Bitdefender Total Security
$89.99/year

Check here

Bitdefender Family Pack
$119.99/year

Check here

Bitdefender Antivirus for Mac
$59.99/year

Check here

Bitdefender Small Office Security
Varies

Check here

Bitdefender GravityZone Business AV
Varies

Check here
The Winner: Bitdefender. Bitdefender seems to have a slight edge over its rival, as you can protect more devices with less money through Bitdefender security suites.
6. Popularity
The popularity factor is another metric that gives us some indication of a product's value. If no one buys a piece of software at all, you would be wise to steer clear of it.
Let's see which among Bitdefender and Kaspersky holds a larger market share according to independent survey reports.
According to the latest data released by security firm OPSWAT, Bitdefender holds a market share of 11.2% compared to 8.44% by Kaspersky.
According to another data-gathering company, Statista, Bitdefender's market share at 10.17% is larger than Kaspersky's 8.14%.

The Winner: Bitdefender. It is clear from both data sources that Bitdefender is more popular than Kaspersky.
7. Customer Ratings
Finally, let's see how existing customers of both companies rate their products. Many third-party websites collect consumer feedback and issue a rating based on this. Two such sources are the Better Business Bureau (BBB) and Consumeraffairs.org.
First, we'll check the BBB, which uses an A to F scale to rate companies. On this website, Bitdefender holds an average C rating, whereas Kaspersky is not rated by the BBB.
Another reputable consumer review source is Consumeraffairs.org, which gives ratings on a scale of 1 to 5 stars.
According to this website, both Bitdefender and Kaspersky hold a 3-star rating, indicating average customer reviews.
The Winner. Bitdefender. The fact that Kaspersky is not yet rated by one independent source gives Bitdefender a slight edge over it in this category.
Bottom Line
While Kaspersky is a great product, Bitdefender stands as the victor in this head-to-head battle for supremacy. Bitdefender not only offers better features and malware protection, it also does so at lower price points than Kaspersky. Also, Bitdefender has a significantly larger market share than its competitor.