ESET or Kaspersky, which antivirus software is a better pick in 2019?
Our experts have put together this comprehensive ESET versus Kaspersky comparison to help you make a wise decision.
Internet security is more valuable than ever before. Rather than the Internet becoming safer, it's becoming filled with malware attacks that are growing in number and sophistication each and every day.
This is occurring at the same time as we are putting more of our data online voluntarily, from social media to professional resumes.
It's easy to forget how many malware attacks are there until it happens to you. In 2018, over 800 million new malware bugs were created. One of those could easily infect your computer or the computer of someone you know. It's probably only going to get worse in 2019.
Therefore, you must invest in an excellent antivirus package that has the capability to protect your computer from all types of malware threats. Free Internet security won't do the trick. You need comprehensive coverage that can handle all the new danger that is arising each year.
We have spent over 150 hours examining all the top antivirus software out there, so you can get the best security product for yourself and those you love.
We think that Bitdefender is the best antivirus product you can get in 2019-20. It offers exceptional anti-malware security with minimal impact on system performance, as evidenced by the recent independent lab tests conducted by AV-Test and AV-Comparatives.
Currently, Bitdefender is offering an exclusive 60% discount (not available anywhere else) to our readers for a limited time. Click the button below to check out the special offer.
Don't worry. We can help you find excellent protection and will do all the research so that you don't have to.
In this detailed guide, we'll take a look at two top dogs in the antivirus market: ESET and Kaspersky. We will compare the two companies using several key metrics, as shown below:
Breakdown of the Comparison
Here's what we'll cover in this ESET vs Kaspersky comparison:
Features
Anti-Malware Protection
Impact on System Speed
User Interface
Pricing
Popularity
Customer Ratings
In a rush? Take a look at the section below to find out the summary of our comprehensive guide.
Comparison at a Glance
Features… Kaspersky offers more exciting and useful features at most steps of coverage.
Anti-Malware Protection… Kaspersky's performance was far better than ESET in independent evaluations.
Impact on System Performance… Kaspersky achieved perfect scores in recent evaluations.
User Interface… Both companies offer a streamlined and user-friendly interface.
Pricing… Kaspersky has a much better pricing plan and allows you to get more licenses for less money.
Popularity… ESET's market share is significantly higher than Kaspersky's.
Customer Ratings… ESET receives fewer complaints on average than Kaspersky, as indicated by two review-collecting sites.
The Winner
Kaspersky provides better coverage and more features for less money than ESET. Kaspersky also performs way better than its competitor in recent protection and performance tests run by independent labs.
Let's go into details.
1. Features
To get a good sense of what each antivirus company brings to the table, let's take a close look at what each of them offers in terms of the features.
ESET's Features
ESET has an elementary security suite called NOD32 Antivirus. Its features include:
Threat Protection – protects you from most digital threats, including viruses, spyware and phishing attacks.
Silent Mode – blocks notification when a program is on a full-screen mode.
UEFI Scanner – looks for malware threats even before Windows starts.
The next offering from the company is ESET Internet Security. Everything included in the NOD32 suite is a part of Internet Security, with some additional features like:
Secured Browser – protects your banking and payment functions.
Spam Shield – protects against spam and malicious emails.
Parental Controls – allow you to monitor your children's browsing patterns and block particular websites.
Webcam Protection – Stops anyone from hijacking your webcam for spying.
ESET Smart Security Premium is the highest tier of coverage offered by ESET. You can get everything from Internet Security and more with this package, such as:
Password Manager – stores, manages and prefills your passwords across all your devices.
Secure Data – lets you encrypt files and removable media that is too sensitive to be left unprotected.
Each ESET product can be used on any computer or device. There are a handful of security solutions for businesses or more extensive networks that you can look at right here.
Kaspersky's Features
Now let's see how Kaspersky compares in terms of features.
The first offering from Kaspersky is a freemium product called Kaspersky Free. Since this doesn't cost anything, it only offers basic protection and doesn't have a lot of features to warrant high marks. It does protect against phishing threats and the ability to scan USB drives for malware, but Internet security that you pay for will always be superior.
Kaspersky Anti-Virus is the first paid suite from this company. It brings everything that the free antivirus offers and includes some more useful functions and perks, such as:
Vulnerability Scanner – allows you to check your PC for any potential security threats such as outdated software.
Silent Mode – lets you suspend any notifications while you're playing video games or watching a movie.
Ransomware Protection – prevents hackers from encrypting your relevant data and demand ransom in return.
Kaspersky Anti-Virus is only usable with Windows PCs.
Next, we'll look at Kaspersky Internet Security. This can work on Windows PCs, Macs and any mobile devices you may have. This suite comes with everything that Anti-Virus offers in addition to:
Spyware Detection – catches spyware hiding inside your Android smartphone.
Hardened Browser – allows you to shop or surf the web much more securely than before.
Anti-Spam Protection – acts as an ad blocker for your entire computer. This can essentially remove the chance of you receiving spam email.
Limited VPN – 200MB per device per day of VPN that lets you browse anonymously.
Kaspersky Total Security is the most premium offering from Kaspersky. Everything you find in Internet Security is here, plus:
Parental Controls – great for families or anyone who wants to monitor the kind of content their children consume.
Password Manager – stores your passwords in a secure digital vault.
File Shredder – permanently deletes any files that are too sensitive to risk being stolen.
Cloud Backup – a backup utility function that allows you to store 2GB of any data on a cloud server, which is offered by Dropbox.
Kaspersky Security Cloud is another excellent product that has everything that Total Security included, in addition to:
Better VPN – 500MB per day, per device of data traffic for safer browsing.
Apps Permission Utility – keeps you informed about all the permissions used by your smartphone apps.
Data Leak Protection – alerts you to leaks concerning your accounts and offers professional advice.
Interested in Kaspersky's business-specific antivirus products? Click here for more information.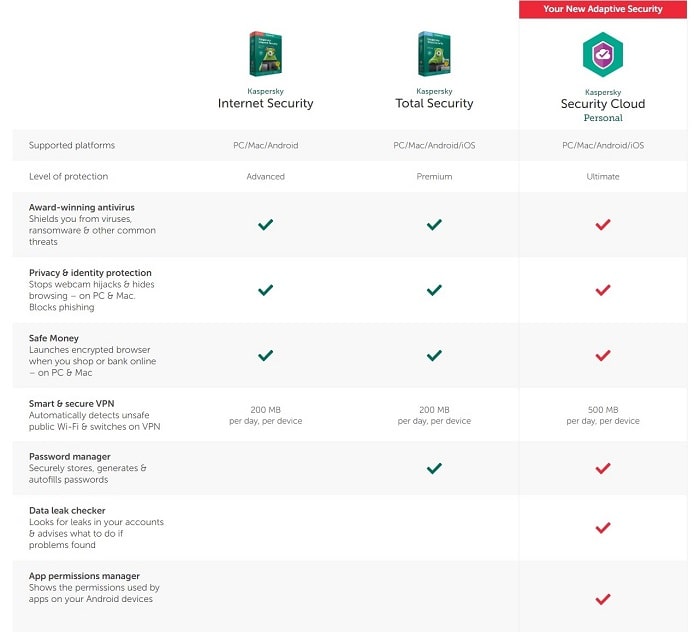 The Winner: Kaspersky. It's incredibly close, but Kaspersky has more interesting features and a broader spread of uses than ESET. This is a very narrow margin and both companies offer some great functions for each tier of coverage.
2. Anti-Malware Protection
The ability to protect your computer from malware threats is the primary purpose of an antivirus suite. Therefore, we should check each company and see how well its software fares on computers when pitted against malware during unbiased tests.
There are two different companies that we can look at for test results. Both companies are independent and are thus reliable in determining which antivirus software is more competent.
The first antivirus testing lab is the Germany-based AV-Test Institute, which conducts bimonthly tests in three major categories (protection, performance and usability) using a scoring rubric of 1 to 6.
In AV-Test's latest protection evaluation conducted in July and August 2019, Kaspersky clinched a perfect score of 6 out of 6, demonstrating outstanding malware protection capabilities.
ESET didn't take part in the latest AV-Test evaluations. The last it participated was in December 2017 when it received 5.5 out of 6 in the Protection test.
Austria-based AV-Comparatives is another reputable lab that we can look to for unbiased test results.
In its June 2019 Real-World Protection Test, Kaspersky once again came out as a star performer, receiving the highest possible ADVANCED+ award. ESET was on the other side of the divide, as it could only manage to receive the lowest STANDARD rating.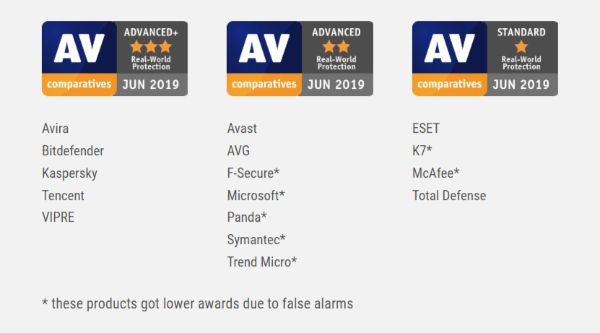 Another key test run by AV-Comparatives is the Malware Protection Test. Unlike the Real-World Protection Test, in which the vector is the web, the Malware Protection Test focuses on network drives, USBs, etc.
The results of the September 2019 Malware Protection Test showed that both ESET and Kaspersky got the two-star ADVANCED award.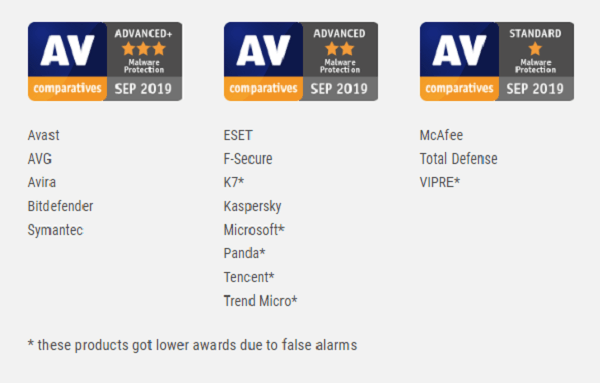 The Winner: Kaspersky. Kaspersky is the undisputed winner in this category, as shown from recent evaluations.
3. Impact on System Performance
Of course, while the ability to protect your computer from antivirus is essential, it's also true that good antivirus needs to be able to run on your computer without slowing down its processes drastically. Otherwise, you would be able to use your computer as effectively as before.
We can take a look at both independent testing labs once again to see how both ESET and Kaspersky fared when they were run on normal computers.
In the latest AV-Test Performance assessment, Kaspersky came up with flying colors by getting a perfect 6/6 score.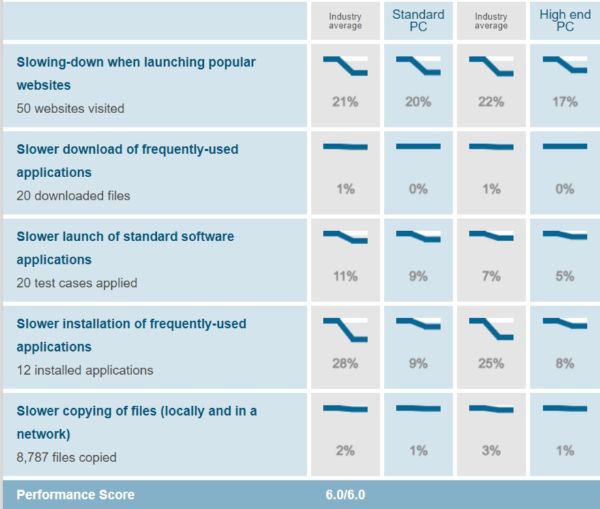 As mentioned above, ESET's last data was available for December 2017. In that test, it received a rating of 4 out of 6 stars.
In the AV-Comparatives' April 2019 Performance test, both ESET and Kaspersky received the 3-star ADVANCED+ rating, the highest award bestowed by the testing organization.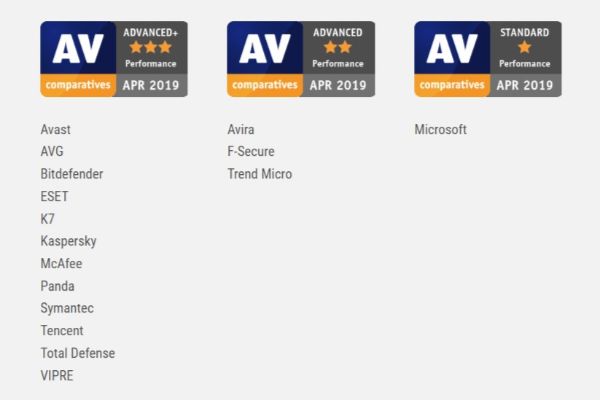 The Winner: Kaspersky. Both companies performed equally well in one test, but ESET was bested by Kaspersky in the other by a significant margin.
4. User Interface
Now that we've looked at the nitty-gritty of all the home products offered by both antivirus companies and seen how they perform on standard computers, it's time to take the human element into account. Good antivirus software should be easy and intuitive to use for anyone. So, let's look at the user interface of both products.
ESET's user interface primarily operates through a single basic dashboard that uses a palette of blue and gray. This dashboard can be resized or run in full screen or windowed modes. You can drag any file on your computer right into this dashboard and make ESET run an instant analysis to check for threats.
ESET's interface requires you to click a few times or navigate several drop-down menus to schedule scans or monitor your network. You do have to perform a little bit of work to make the interface follow your commands.
However, determining whether your computer is at risk is easy to see since you just need to glance at an indicator bar that alerts you if there's any issue.
Now let's take a look at Kaspersky's interface.
Kaspersky's interface is extremely simple and streamlined and uses the primary colors of green and white. Everything is very well organized into a single main row and utilizes large icons for easy identification. Casual users will appreciate how accessible the entire interface is.
However, Kaspersky does have a tendency to inundate you with ads if you're not using the premium version.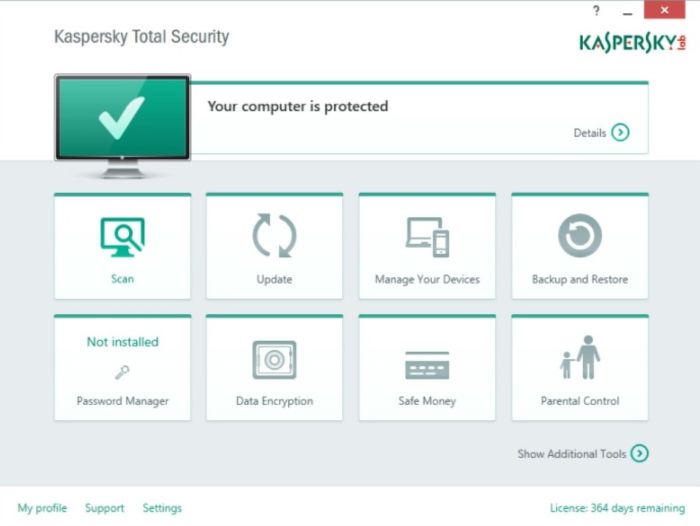 Winner: Both. Both companies offer a streamlined design and focus on usability.
5. Pricing
Pricing is definitely important as it directly affects the value for money that you get for each antivirus software suite. A good antivirus is not only effective, but it's also affordable.
| | | |
| --- | --- | --- |
| | ESET | Kaspersky |
| Entry-level Product | ESET NOD32 Antivirus costs $39.99 per year for 1 device. (You can protect up to 5 devices for an additional cost.) | Kaspersky Anti-Virus costs $23.99 per year for 3 Windows PCs and $31.99 for 5 Windows PCs. |
| Premium Product | ESET Internet Security costs $49.99 per year for 1 device. (Covers up to 10 devices for an additional cost.) | Kaspersky Internet Security costs $31.99 per year for 3 devices and $35.99 per year for 5 devices. |
| Family Suite | ESET Smart Security Premium costs $59.99 per year for one license as well. (Covers up to 10 devices for an additional cost.) | Kaspersky Total Security costs $39.99 per year for 5 devices and $59.99 for 10 devices. |
The Winner: Kaspersky. Kaspersky's pricing model is much more reasonable and gives you more licenses per dollar at every level of coverage.
6. Popularity
Another important metric is to see the market share captured by a company. Let's take a look at survey reports from two data companies: OPSWAT and Statista.
According to OPSWAT's latest figures, ESET is the market leader with a share of 13.1%. Kaspersky is also among the top five with a market share of 8.44%.
Recent data from Statista also puts ESET in the first position with a market share of 12.89%. In contrast, Kaspersky holds a market share of 8.14% and is at the sixth position.

The Winner: ESET. It is evident from both survey reports that ESET is more popular than any other antivirus company.
7. Customer Ratings
Before we make a final decision, there's one more aspect we can look at to determine which antivirus is superior, and that is: how existing customers of each company rate them according to their customer service.
The Better Business Bureau is a website that rates companies on a scale of A+ to F-. On the website, ESET has a fantastic A+ rating, whereas Kaspersky is not rated.
We can also check Consumeraffairs.org, which also collects customer feedback and turns them into 1- to 5-star rating. ESET received a 4-star rating from the review website compared to Kaspersky's 3 stars.
Winner: ESET. ESET's customers rank it higher on average than Kaspersky's.
Bottom Line
Overall, Kaspersky is definitely the better software here, as it not only offers better features and a much more reasonable pricing plan, it also outshines ESET in recent malware protection and performance evaluations.
Related Comparisons
Bitdefender Versus Avast
McAfee Versus Norton
McAfee Versus Kaspersky
Bitdefender Versus McAfee
Bitdefender Versus Norton
Bitdefender Versus Malwarebytes