(Last updated on January 14th, 2021)
Bitdefender or Avira, which antivirus software is a better pick in 2021?
Our experts have put together this comprehensive Bitdefender versus Avira comparison to help you make a wise decision.
Nothing in the world has transformed our lives more than the Internet. It dictates almost all aspects of our lives, ranging from reading or watching the news, connecting with friends to online shopping and banking. 
The world is on our fingertips now. A product being sold in another country that is a thousand miles apart from yours can be in your room in a day or two with just a few clicks or taps.
Distance isn't a problem anymore, as everything is within your close reach. It's a blessing for sure. But it can also become a huge problem for us.
The Internet's ability to close gaps has also enabled the bad guys to deliver malware threats to your doorstep – in fact, inside your home – in no time.
A simple click on the wrong link or an innocent visit to a nasty website can rob you of your data and privacy, which may include your bank details, sensitive documents or personal photos.
Or think about this: somebody may be spying on you through your laptop's webcam or listening to your conversation through the microphone.
As many as 4.8 billion malware attacks occurred in just six months through June this year. Similarly, 2 trillion intrusion attempts were made and 19.2 web app attacks were observed during the same period, according to security firm SonicWall.
The scenario calls for an excellent antivirus program that protects your data and privacy. Several antivirus packages are available on the Internet for free, but you can't rely on them because they have flimsy firewalls and lack advanced features.
In comparison, a premium suite from reputable companies like Bitdefender, McAfee or Kaspersky can address all your digital security issues. An excellent paid antivirus package goes way beyond simple malware protection by offering several useful features like parental controls, password manager, VPN, file encryption, webcam protection and much more.
Editor's Note: We have spent over 150 hours examining all the top antivirus software out there, so you can get the best antivirus product for yourself and those you love.

At the moment, we think that Norton is the best antivirus software available in the market. It offers exceptional anti-malware security with minimal impact on system performance, as evidenced by the recent independent lab tests conducted by the AV-Test Institute.

Currently, Norton is offering an exclusive 70% discount to our readers for a limited time, so grab your copy of Norton before the sale ends.
Best Antivirus Software for 2021
---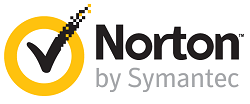 Unbeatable anti-malware protection
Minimal system impact
Exceptional value for money
Recommended by PC Mag, CNET & TechRadar
100% virus protection promise
60-day risk-free money-back guarantee
In this comprehensive guide, we are going to examine various antivirus suites offered by two famous vendors, i.e. Bitdefender and Avira.
Breakdown of the Comparison
Here's what we'll cover in this Bitdefender vs Avira comparison:
Features
Anti-Malware Protection
Impact on System Speed
User Interface
Pricing
Popularity
Customer Ratings
In a rush? Below is a quick rundown of winners in each category.
Comparison at a Glance
Features… Bitdefender comes with several advanced features at every tier of coverage.
Anti-Malware Protection… Both antivirus companies achieved the highest possible scores in all independent protection tests.
Impact on System Speed… Bitdefender fared significantly better than its competitor in independent evaluations.
User Interface… Both antivirus vendors present a straightforward and intuitive interface.
Pricing… Bitdefender offers much better pricing plans than Avira, as it lets you cover more products in fewer dollars at each tier of coverage.
Popularity… Figures from independent statistics portals show that Bitdefender is way ahead of its rival in terms of popularity.
Customer Ratings… Both companies have similar ratings from independent user feedback websites.
The Winner
Bitdefender's excellent protection and performance capabilities, an advanced feature set, reasonable prices, and a large market share show that it is not only the winner of this comparison, but it is one of the best products available in the market.
2021's Top Antivirus Picks
---
#1 (Best Overall)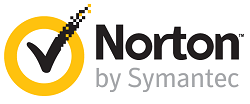 Extensive feature-set
Award-winning malware protection
Minimal system impact
competitive pricing structure
Intuitive user interface
100% virus protection promise
60-day money-back guarantee
#2 (Very Good)
Robust Feature-set
Excellent Anti-malware security
Zero System Slowdowns
Exceptional Value for Money
Intuitive User Interface
#3 (Very Good)

Impressive Feature-set
Good malware protection
Value for Money
Now, let's dig into the details.
1. Features
A book can be judged by its cover, and an antivirus package can be judged by its features. An excellent antivirus program goes beyond just detecting and blocking viruses. It offers several advanced tools and utilities that are a must for complete protection in this digital age.
Bitdefender's Features
Bitdefender offers a wide range of home antivirus packages, which start from Bitdefender Free. This Windows-only freeware does provide complete real-time data protection and prevent you from harmful websites, but it lacks dozens of useful features that are part and parcel of premium packages.
Bitdefender Antivirus Plus, the company's first paid offering, is where things start to get interesting. This entry-level suite-only supports Windows. At the initial level, Bitdefender offers separate products for Mac, iOS, and Android.
Besides real-time protection and advanced threat defense, the Antivirus Plus suite includes the following features:
Multi-Layer Ransomware Protection – protects your files from being encrypted by cybercriminals to extract money from you. Safe Files – the feature stops anyone from making unauthorized changes to your sensitive files.
Anti-Tracker – helps you manage apps and other programs that collect your data.
Limited VPN – 200MB per day, per device traffic to protect your online presence.
The next level of coverage is Bitdefender Internet Security, which also supports only Windows. Apart from all the features mentioned above, this suite comes with:
Parental Controls – protects your kids from age-restricted content, thus providing them with a secure online experience.
Password Manager – stores all your passwords, credit card details, etc. in a secure online vault for easy access whenever and wherever you want.
File Encryption – lets you securely place sensitive documents in a password-protected vault on your computer.
Microphone Monitor – helps you know which apps have access to your device's microphone.
Webcam Protection – prevents unauthorized access to your webcam.
Bitdefender Total Security is the company's flagship product and offers complete protection. In addition to all the features mentioned above, this advanced antivirus suite boasts:
All-Platform Support – supports Windows as well as Mac, iOS and Android devices.
Bitdefender Photon – helps the Total Security suite adapt to your computer's configuration, resulting in fast speed.
OneClick Optimizer – this is another performance tool that boosts your computer speeds by deleting old and useless files.
Anti-Theft Function– locates, locks and erases lost or stolen devices that have the Total Security suite installed on them.
Game, Movie and Work Modes – stops pop-ups and adjusts your device's visual settings when you play games, watch movies or work.
The company also offers Bitdefender Family Pack, which comes with the same features included in the Total Security suite but covers 15 devices, enough to protect you and your loved ones' data and privacy.
Bitdefender offers its premium customer support via email, call and online chat for all of its packages.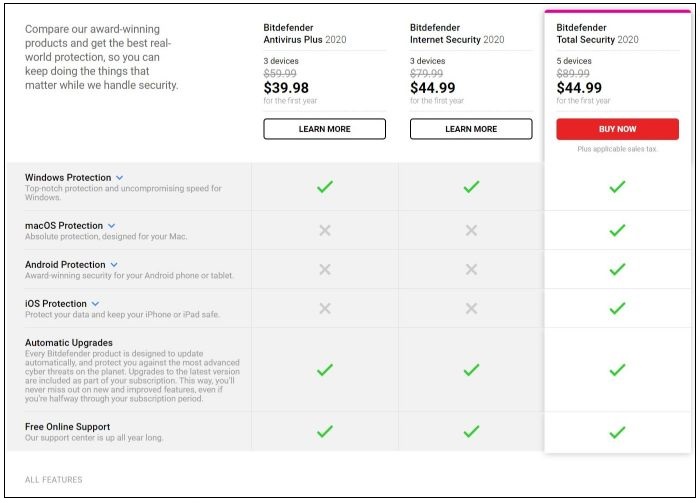 Avira's Features
Avira also offers different packages catering to the specific needs of customers. Its product line starts with the freeware Avira Free Antivirus. It provides real-time protection and blocks different types of malware, such as adware and spyware.
However, as expected, Avira's free edition doesn't come with features like a password manager, parental controls, webcam protection, etc.
The company's real protection starts with Avira Antivirus Pro. The package offers support for only Windows, and includes the following features:
Advanced Real-Time Protection – detects and removes malware and potentially unwanted applications.
Anti-Ransomware – stops hackers from locking you out of your PC or encrypting sensitive files to demand money for a return.
Device Control – detects and blocks malware on external devices like USB flash drives, smartphones, and digital cameras.
Data and Identity Protection – prevents cybercriminals from stealing your passwords and credit card details.
Next up is Avira's Internet Security Suite for Windows. The product is basically a combination of the Antivirus Pro package and two premium tools, i.e. Software Updater Pro and Password Manager Pro. Its features include:
Anti-Phishing Tool – protects you against phishing attacks, which are aimed at stealing user data through social engineering.
Email Attachment Scan – scans all email attachments, whether they are received via a system-based client (for example, Outlook) or a web-based service (for example, Gmail).
Software and Driver Updater – updates applications and drivers from the source (supports more than 150 apps).
Password Manager – a full-blown password manager that not only stores, generates, syncs and auto-fills passwords, but it also alerts you if your account information is compromised as a result of a security breach.
The next and the highest tier of protection from the company is Avira Prime. Besides everything that comes with the Internet Security Suite, the Prime package combines almost all the premium tools offered separately by Avira, including:
System Speedup Pro – boosts system speed by cleaning junk files and speeding up boot time.
Home Guard – detects and addresses vulnerabilities in your network.
Phantom VPN Pro – encrypts your Internet connection so that you access all the websites and services without any geo-restrictions and with complete security and privacy.
Privacy Pal – helps you adjust more than 200 privacy settings with just a few clicks, preventing corporations from collecting your personal data and cleans up your digital footprint.
Cross-Platform – Prime supports all major operating systems, including Windows, macOS, iOS and Android.
Customers of all Avira suites get 24/7 customer service. However, Avira Prime users are entitled to exclusive VIP customer service.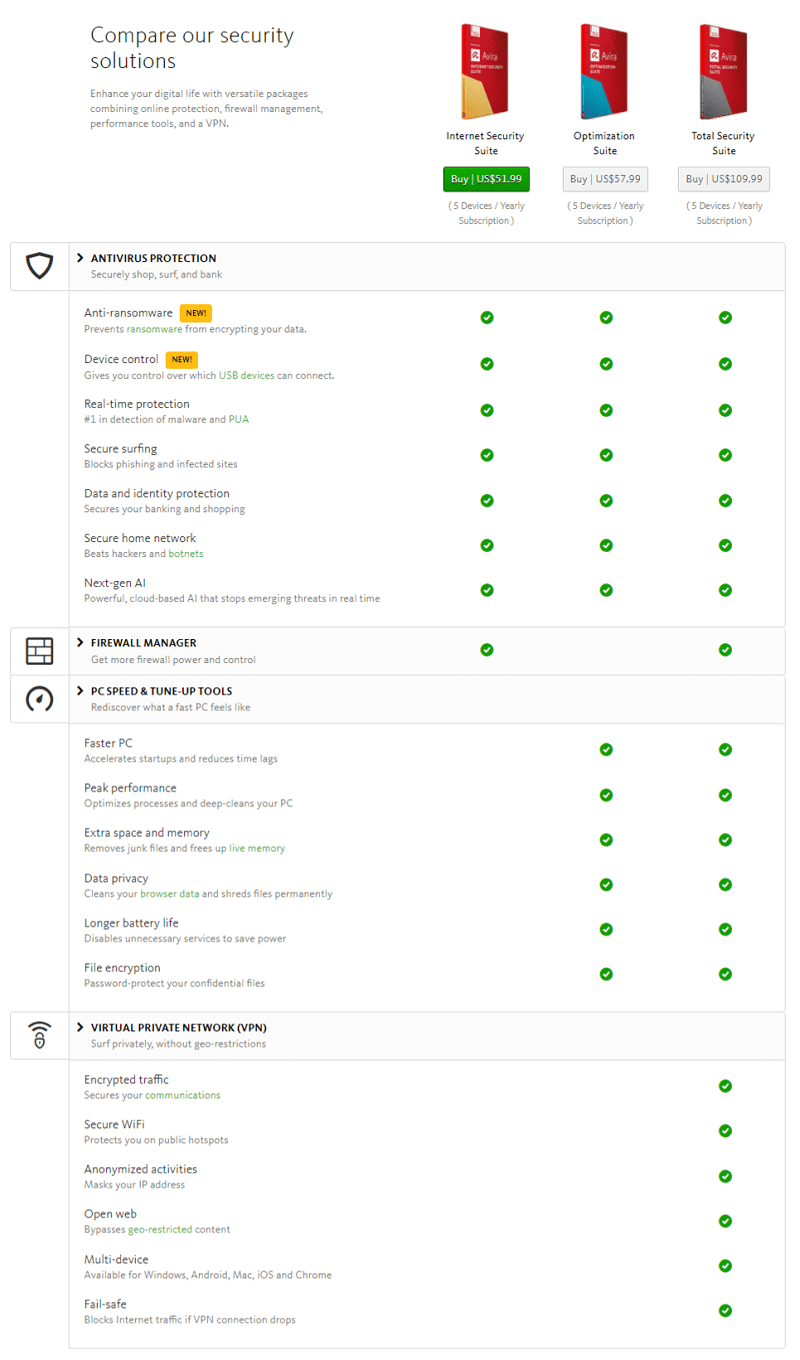 The Winner: Bitdefender. Bitdefender offers a better mix of protection and performance features than Avira.
2. Anti-Malware Protection
The primary job of an antivirus program is to protect you against malware threats, both present on the system and the Internet.
Let's find out which among Bitdefender and Avira offers better malware protection. The best way to do this is to look at the recent evaluations conducted by reputable independent testing labs.
One such organization is the Germany-based AV-Test Institute, which runs Protection, Performance and Usability tests every two months and gives a rating on a scale of 1 to 6 (with 6 being the highest score).
In the latest AV-Test Protection evaluation, conducted in July-August 2019, both Bitdefender and Avira put in their best performance and came up with a perfect score of 6 out of 6.
Bitdefender: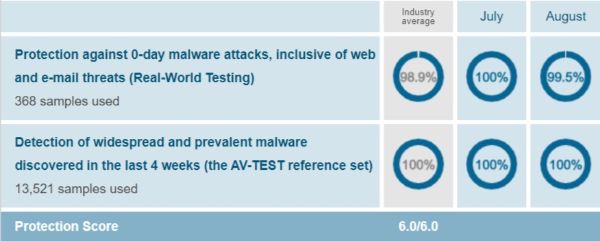 Avira: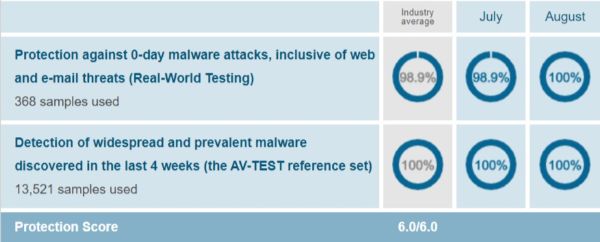 Another widely regarded testing lab is Austria's AV-Comparatives, which conducts two protection tests: the Real-World Protection Test (web-based) and the Malware Protection Test (system-based).
In the most recent Real-World Protection Test, conducted between February and May and released in June 2019, once again both contestants clinched the highest possible score by securing the 3-star ADVANCED+ award.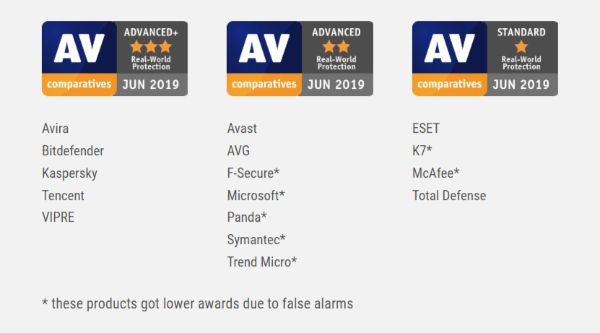 The results were the same in the September 2019 Malware Protection Test as well, as both Bitdefender and Avira continued their perfect streak with another ADVANCED+ rating.
The Winner: Both. Both vendors put in the best possible performance in the malware protection category, scoring the highest scores in all three critical evaluations.
3. Impact on System Performance
Another critical metric to gauge an antivirus program's overall usefulness is its ability to put no to minimal strain on your PC. If a program significantly reduces your computer speed instead of boosting it, then it isn't worth a dime because it's playing the role of a virus itself.
Let's go to the same testing labs mentioned in the above section to find out which of the two contestants perform better in this category.
In the AV-Test's August 2019 Performance evaluation, Bitdefender achieved a perfect 6/6 score, indicating it lets the system run smoothly while it operates in the background.
Avira was not far behind and got a score of 5.5 out of 6.
In the AV-Comparatives' Performance test conducted in April 2019, Bitdefender received yet another highest-possible ADVANCED+ award, whereas Avira got the 2-star ADVANCED award.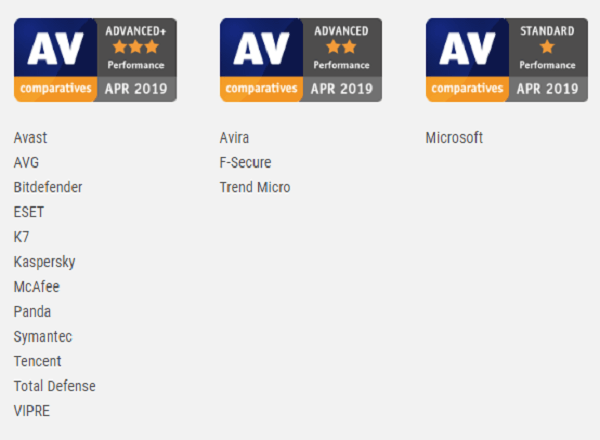 The Winner: Bitdefender. Bitdefender continues its perfect-score streak in this category as well, comfortably edging out its rival.
4. User Interface
It's true that malware protection and impact on system performance are critical indicators that tell a lot about a security product. At the same time, the look and feel and user-friendliness of an antivirus program are also of utmost importance.
Bitdefender's straightforward and sleek interface uses an extremely simple color scheme in which black, light grey and white predominate.
The interface presents a black rail on the left side, showcasing broad categories like Protection, Privacy, and Utilities. When you click on a category, you will see its options on the main screen in large white tiles against a grey background.
My Account, Settings, and Support are also given on the side rail.
On the dashboard, you will find your PC's protection status, and below it are two major options, i.e. Quick Scan and VPN. You can also add a quick action of your own choice.
Most features can be found in the Protection section under different headings, such as Antivirus, Vulnerability, Firewall, Antispam, Online Threat Prevention, etc.
Similarly, the utility tab takes you to OneClick Optimizer, Startup Optimizer, and Disk Cleanup, among other tools.
Overall, Bitdefender's interface is self-explanatory and intuitive, and you will get where you want to go in no time.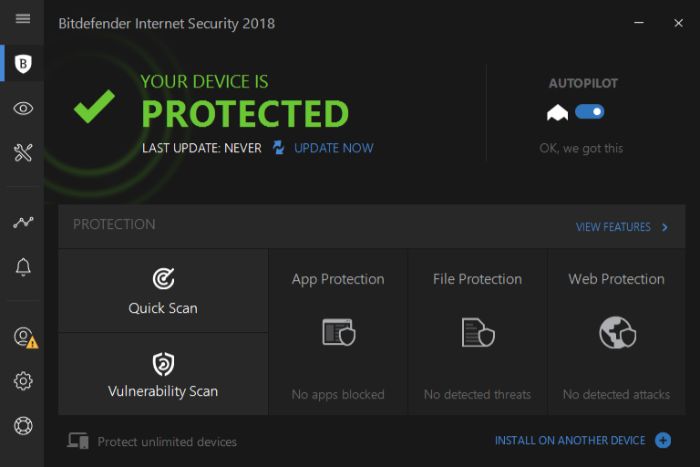 Let's see what Avira offers in comparison.
Avira also uses a light color theme like Bitdefender, offering a modern and minimalist look. The dashboard is neat and clean with a lot of white space, which makes accessing all the features quite easy.
The interface is also user-friendly and intuitive, and there is nothing to get confused about. The interface uses large buttons and information is presented in an easy-to-understand way.
You can run a quick scan from the dashboard and manage real-time protection and a firewall. Other common tasks can be accessed using a side rail.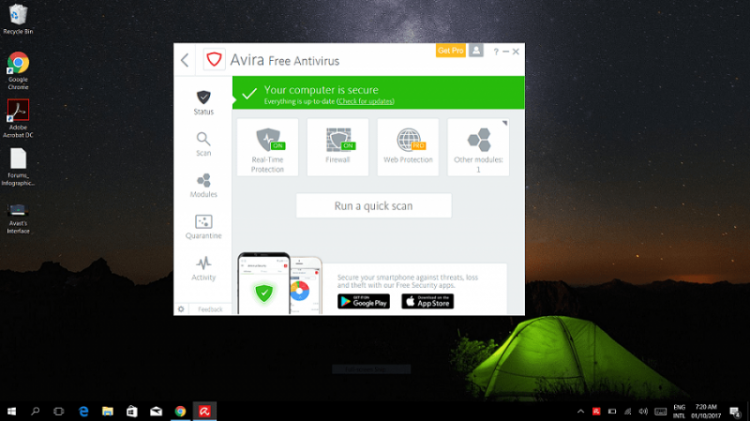 The Winner: Both. Both antivirus vendors offer a modern, fresh look in an easy-to-understand and intuitive fashion.
5. Pricing
An antivirus has to be priced reasonably, as it will decide its overall value for money. Let's see how Bitdefender and Avira fare in this category.
Bitdefender Antivirus Plus costs $29.99 per year for up to 3 Windows. Bitdefender Internet Security costs $34.99 per year for 3 Windows devices. Bitdefender Total Security costs $39.99 per year for 5 Windows, Macs and smartphones. Bitdefender Family Pack costs $54.99 per year for 15 Windows, Macs, and mobile devices.
Bitdefender Products
Regular Price
Discounted Price
Bitdefender Antivirus Plus
$59.99/year
Check here
Bitdefender Internet Security
$79.99/year

Check he

re
Bitdefender Total Security
$89.99/year

Check here

Bitdefender Family Pack
$119.99/year

Check here

Bitdefender Antivirus for Mac
$59.99/year

Check here

Bitdefender Small Office Security
Varies

Check here

Bitdefender GravityZone Business AV
Varies

Check here
Avira Antivirus Pro costs $44.99 per year for one license. Avira Internet Security costs $57.99 per year for one license. Avira Prime, the company's flagship offering, comes with five licenses for $99.99 per year.
| Avira Products | Regular Price | Discounted Price |
| --- | --- | --- |
| Avira Antivirus Pro | $44.99/year | No Discount |
| Avira Internet Security | $57.99/year | No Discount |
| Avira Optimization Suite | $57.99/year | No Discount |
| Avira Total Security Suite | $98.99/year | No Discount |
| Avira Prime | $99.99/year | No Discount |
| Avira Business Products | Varies | No Discount |
The Winner: Bitdefender. Bitdefender continues to amaze us with its pricing options. As clear from the above table, you can cover more devices in less money with Bitdefender.
6. Popularity
Let's see how popular both the contestants are, according to different sources. It's an important tool because if a large number of people are buying a product, it must be offering excellent services.
Bitdefender is in fourth position with a market share of 11.2%, according to the latest data released by security firm OPSWAT. In contrast, Avira wasn't even in the top-ten list.
Data from another statistics portal Statista also shows that Bitdefender is in fourth position, having a market share of 10.17%. Again, Avira is not in the top-ten products.

The Winner: Bitdefender. Avira is nowhere close to Bitdefender when it comes to market share.
7. Customer Ratings
Our final determinant to see whether an antivirus program provides great value for money is to check how existing customers rate these products on independent review websites.
Our first source in this regard is the Better Business Bureau (BBB), which gives a rating on an A to F scale. On this website, both Bitdefender and Avira hold an average C rating.
According to another reputable source, Consumeraffairs.org, which gives a rating on a scale of 1 to 5 stars, once again both contestants have an equal score of 3 stars.
The Winner: Both. None of the companies has an excellent rating from both customer review websites. Therefore, this section ends in a tie.
Bottom Line
Bitdefender is our overall winner in this in-depth comparison, as it not only provides excellent protection, but it also comes with more advanced features at every tier of coverage. Besides, its packages are priced quite reasonably, especially if you want to cover more devices in your family.