(Last updated on January 13th, 2021)
Avast or AVG, which antivirus software is a better pick in 2021? 
Our experts have put together this comprehensive Avast versus AVG comparison to help you make a wise decision.
Ransomware attacks have been surfacing in all shapes and forms since 2013 and have shown no signs of slowing down ever since.
Did you know that a ransomware attack happens every 14 seconds this year? In fact, just last week, a new type of ransomware came to surface, which is being called a new MegaCortex variant.
The malware threatens to steal your private data and publish it unless you agree to pay a ransom amount. It isn't an empty threat either as the malware changes the victim's Windows password, gaining full control over the machine.
Who wants to be in a situation like that? But this is happening. So, if you're going to be safe online, your priority should be to invest in a premium antivirus product that will guarantee full protection for you and your family.
Like watching video content? See our review of the best antivirus for 2021
You may already have a free software, but it isn't sufficient to provide the comprehensive security that we need today.
Freeware lacks advanced features like real-time threat detection, behavior analysis, vulnerability analysis, and identity theft protection. These features come with premium products and ensure your security against malware attacks on multiple levels.
Editor's Note: We have spent over 150 hours examining all the top antivirus software out there, so you can get the best antivirus product for yourself and those you love.

At the moment, we think that Norton is the best antivirus software available in the market. It offers exceptional anti-malware security with minimal impact on system performance, as evidenced by the recent independent lab tests conducted by the AV-Test Institute.

Currently, Norton is offering an exclusive 70% discount to our readers for a limited time, so grab your copy of Norton before the sale ends.
Best Antivirus Software for 2021
---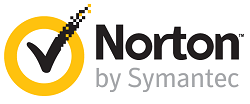 Unbeatable anti-malware protection
Minimal system impact
Exceptional value for money
Recommended by PC Mag, CNET & TechRadar
100% virus protection promise
60-day risk-free money-back guarantee
We'll help you find out more about these and other advanced features and the kind of protection they provide in today's comparison of Avast and AVG.
Breakdown of the Comparison
Here's what we'll cover in this Avast vs. AVG comparison:
Features
Anti-Malware Protection
Impact on System Speed
User Interface
Pricing
Popularity
Customer Ratings
To gauge which of our products performs better on the above criteria, we're going to use assessments and survey reports from independent sources and include our final thoughts based on facts and figures.
In a hurry? Take a sneak peek at the comparison to find out the winners in each category.
Comparison at a Glance
Features… Avast and AVG both offer similar feature-sets, so both are alike in this respect.
Anti-Malware Protection… Both companies demonstrated equal competitiveness on independent tests.
Impact on System Speed… Both Avast and AVG remained head-to-head on this category as well, receiving similar ratings in the independent evaluations.
User Interface… AVG interface is slightly more intuitive and functional compared to Avast's interface.
Pricing… Avast Premium Security for multiple devices is slightly more affordable than a similar option by AVG.
Popularity… As per independent market reports, Avast is far ahead of AVG in popularity.
Customer Ratings… Both companies have a similar customer satisfaction rating on the feedback collection website.
The Winner
Both companies have tied in most categories. However, Avast is a bit ahead by winning one category more than AVG.
2021's Top Antivirus Picks
---
#1 (Best Overall)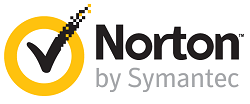 Extensive feature-set
Award-winning malware protection
Minimal system impact
competitive pricing structure
Intuitive user interface
100% virus protection promise
60-day money-back guarantee
#2 (Very Good)
Robust Feature-set
Excellent Anti-malware security
Zero System Slowdowns
Exceptional Value for Money
Intuitive User Interface
#3 (Very Good)

Impressive Feature-set
Good malware protection
Value for Money
Let's get into details.
1. Features
A product that offers more features naturally comes off as a better offering and can easily attract customers' attention. Let's see what features come packed into Avast and AVG products, starting with Avast.
Avast's Features
The first product from Avast is a freeware called Avast Free Antivirus. This software only offers cursory protection but you won't find any advanced features packaged into this program.
Usually, cybersecurity companies reserve their best features and utilities for their premium products. So, for premium security options, let's look at Avast's paid offerings.
Avast Premium Security is the first premium product from the company that provides comprehensive protection against all kinds of malware. Other features included in the package are:
Firewall – monitors your network traffic for security holes and resolves them.
Ransomware Shield – protects your private data from hackers so they can't access anything to use as ransom against you.
Real Site – protects you against fake websites and makes sure you land on the original websites.
Password Manager and Protector – manage your passwords on the net and restrict unauthorized access to them.
Anti-Spam Utility – Keeps your inbox clean of junk and phishing emails.
Sandbox Feature – Let's you open suspicious files and documents in a safe mode to prevent your system against hidden malware threats.
Webcam Shield – secures you and your family against webcam spyware.
File Shredder – permanently removes any files from your system that you've deleted.
Wi-Fi Inspector – monitors vulnerabilities in your home and public networks.
Finally, Avast Ultimate is the highest tier of protection from this company. This product is a mix of all premium suites and individual offerings. The additional features that come with this product include:
Secure VPN – ensures a safe browsing experience for you by giving you anonymity on the internet.
Passwords Premium – Notifies if your password information is leaked as well as provides one-click operation to log in to websites.
Clean-up Tool – keeps your computer speed at its best by getting rid of junk and unnecessary files and folders.
For Apple products, the company offers Avast Security for Mac. This product is available in two versions: free and premium. The free version only offers basic malware protection. The Premium version, however, includes many advanced features and provides complete malware security.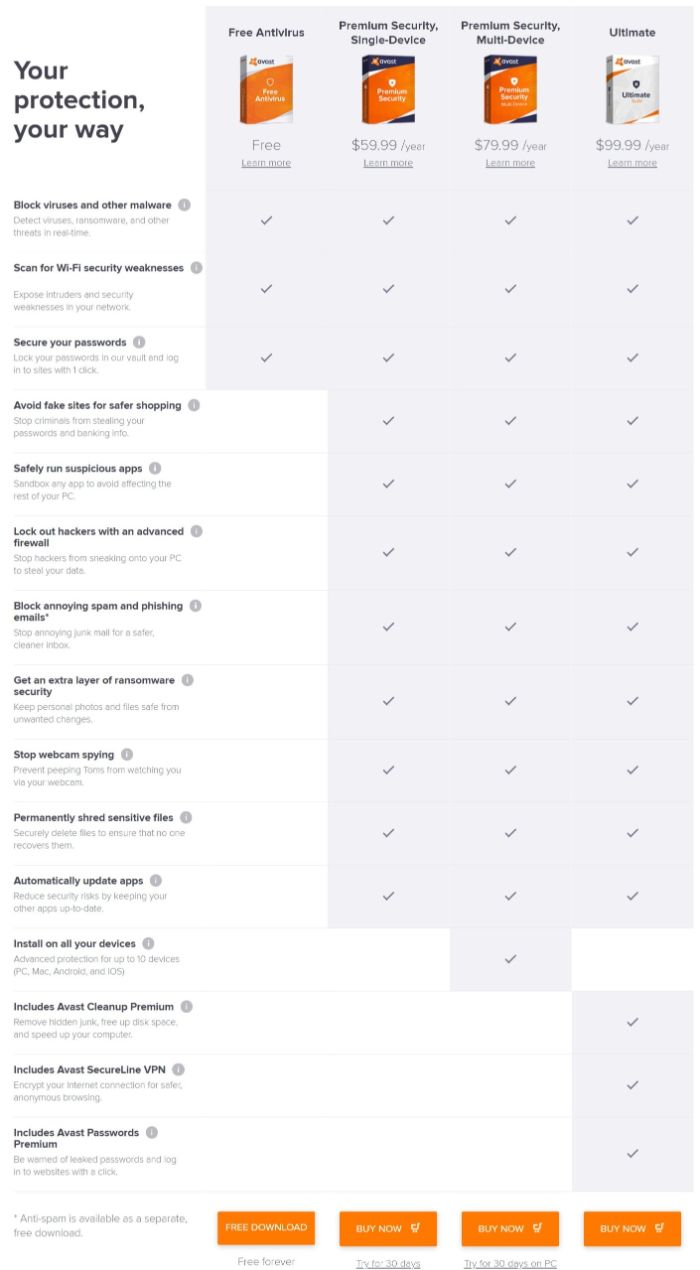 AVG's Features
Like Avast, AVG also offers a free software for PCs called AVG Antivirus Free. You can get a basic level of protection with this software, including ransomware protection. But like other freeware, it lacks the advanced features that come with paid AVG packages.
The first paid product from the company comes with AVG Internet Security. This package provides comprehensive protection against all kinds of malware, including spyware and ransomware. Other advanced features offered by this suite are:
Enhanced Firewall – blocks hackers' access to your system using Artificial Intelligence-aided threat detection and removal utilities.
Online Safety – blocks unsafe links, downloads, and email attachments.
Webcam Protection – prevents you from the spying activities of hackers.
Payments Protection – protects you from fake and replica websites during online shopping, so your financial information is safe on the internet.
Antivirus Pro for Android includes malware and privacy protection as well as anti-theft security for Android devices.
AVG Ultimate is the all-in-one, most premium product from the company. This package takes everything from the previous suites and adds some more features:
Performance TuneUp – Cleans junk data, manages system resources, fixes performance issues, speeds up your processor, and improves your battery life.
Single Hub Management – secures and tunes up all your PCs from one screen.
Macs and Android – includes app management for Mac and Android devices.
Unlimited Devices – covers all your personal devices, including PCs, Macs, and smartphones.
You can also view AVG's business-specific products right here.
Winner: Both. Both products offer almost the same features and utilities through their products. That's why both are equally competitive in this category.
2. Anti-Malware Protection
An impressive array of features will miserably fail if it can't deliver on malware protection, which is the most crucial function for antivirus software.
So, let's look at independent test results from AV-Test and AV-Comparatives, to see how our products deliver on this criterion.
The AV-TEST Institute conducts three different assessments in the categories of Protection, Performance, and Usability. All these categories are rated on a scale from 1-6. Here, we are going to look at the Protection Test results.
Avast gave a brilliant performance and scored a full 6/6 score.

AVG wasn't behind as it too nicked the perfect 6/6 score.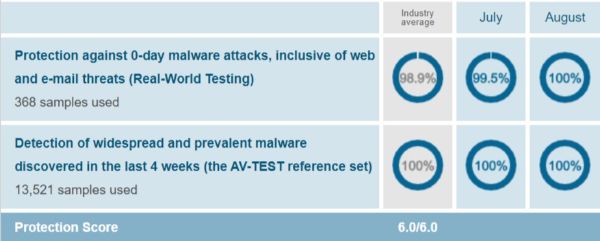 The other protection test we're going to consider is the Real-World Protection Test from AV-Comparatives. This organization ranks product through awards. Both Avast and AVG demonstrated a similar performance on this test and went home with the second-best ADVANCED awards.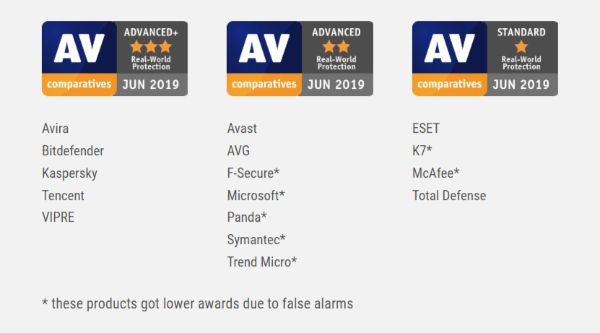 Let's now look at Malware Protection Test results, also by AV-Comparatives. This assessment is slightly different in that it is based on malware transferred over network drives and USB.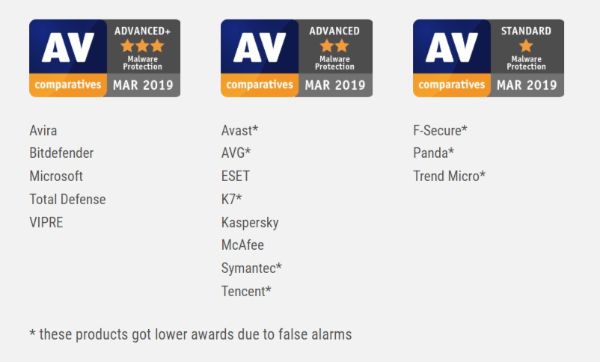 Once again, both Avast and AVG performed the same and got the ADVANCED awards. However, this time, the reason for ending up in second place was a high frequency of false alarms.
Note: A false alarm occurs when antivirus software wrongly identifies a legitimate file as suspicious.
Winner: Both. Both companies stayed head to head throughout the three assessments and showed similar performance. That's why this category belongs to both Avast and AVG.
3. Impact on System Speed
As crucial as malware protection is, system performance is no less critical. If a software gives superb antivirus security but drags your computer to a miserable speed, it's just not worth it.
That's why now we're going to examine the impact of our products on a standard computer's speed.
In the Performance Test by the AV-TEST Institute, Avast scored a decent rating with 5.5/6 points.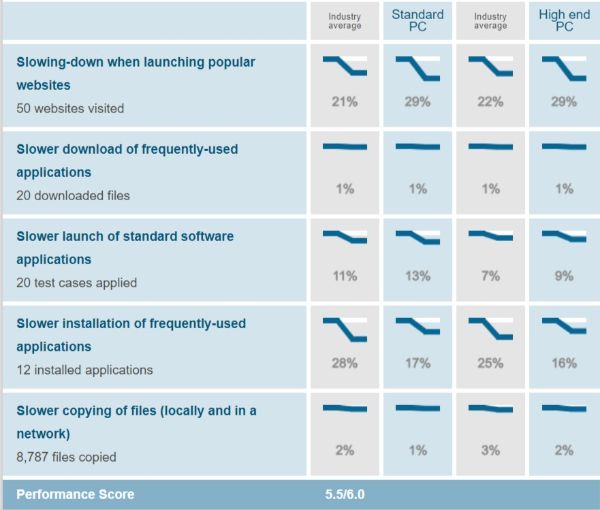 AVG was once again right on Avast's tail and got a 5.5/6 score of its own.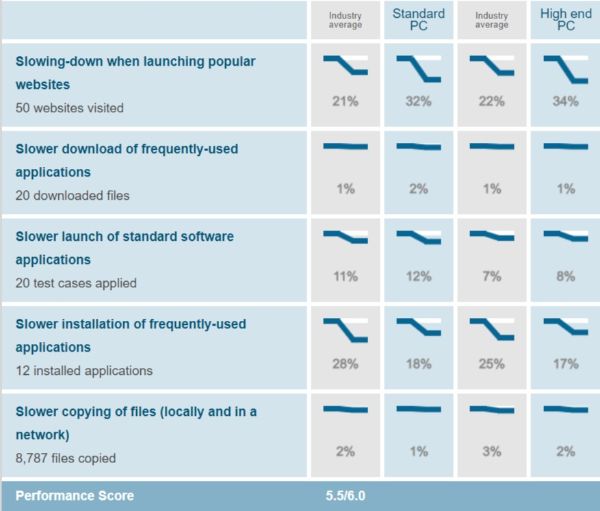 Next, we'll look at the Performance Test results from AV-Comparatives. In this evaluation as well, Avast and AVG demonstrated a competitive performance receiving the highest ADVANCED+ awards.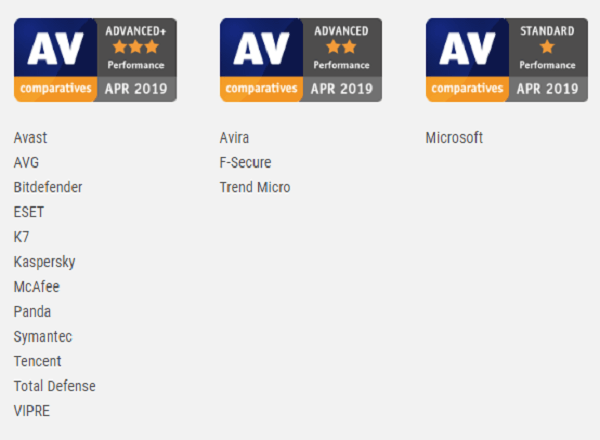 Winner: Both. Both companies presented a cut-throat performance in this category as well and remained equally competitive with similar scores.
4. User Interface
There are two things that a user interface must incorporate: a) user-friendliness b) efficiency. Any interface that lacks these two qualities is bound to make a bad impression on the user. So, let's now see if we can find these qualities in both Avast and AVG's interfaces.
Avast uses a dark grey color as the background and bright contrasting accent colors for its interface. This interface is intuitive, straightforward, and user-friendly.
A left-hand side rail consists of all the access buttons for different features and utilities. You can expand these buttons to get to more particular tasks. To view notifications and further settings, you have to click on icons placed on the top bar of the interface.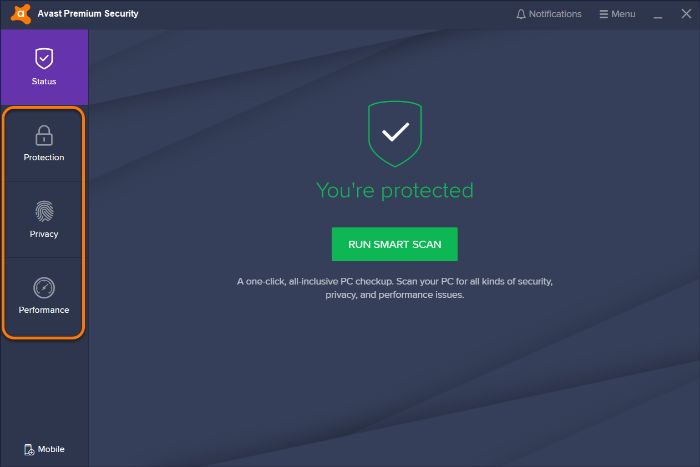 The status information is displayed in the middle of the screen. Here, you will also find a button to "Start Smart Scan" to run a thorough inspection of your device for viruses.
The free software does display frequent advertisements, but this isn't something you have to worry about with paid products.
Now let's have a look at AVG's interface.
AVG interface has a neat and striking design with black and dark grey colors making up the background. To contrast these dark colors, AVG uses bright green and white accent colors that make everything else prominent on the screen.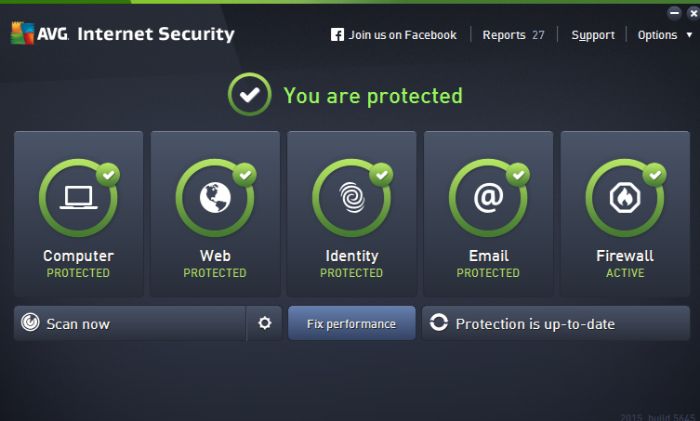 The top bar on the interface contains buttons like scan Reports, Support, and Options. Beneath it, you'll find an update about your device's security status.
Across the middle of the screen, big blocks house prominently labeled icons for different functions such as Computer, Web, Identity, Firewall, etc.
Further down, you'll find "Scan now" and "Fix Performance" buttons as well as your computer's performance update, all in a single row.
AVG interface has a simple, user-friendly design. However, it shows locked icons for functions that you'll need to upgrade to unlock. It isn't only annoying but also quite a waste of valuable space on the Home screen.
Winner: AVG. Both Avast and AVG have simple interfaces. However, AVG wins here because its interface is a bit more intuitive than Avast's just because of the entire layout.
5. Pricing
Pricing is something every company needs to be careful about. If a product fails to justify its cost with the value it provides, the company can quickly lose customers. Below we give a comparison of both Avast and AVG's pricing plans. Let's see which one offers a better value for your money.
Avast Premium Security costs
$69.99 per year for 1 device.
$89.99 per year for up to 10 devices (Multi-device).Avast Security for Mac costs $59.99 for 1 Mac. Avast Ultimate, the most premium tier – costs $119.98 per year for 1 device only.
| Avast Products | Regular Price | Discounted Price |
| --- | --- | --- |
| Avast Internet Security | $47.99/year | Check here |
| Avast Premium Security (1 Device) | $69.99/year | Check here |
| Avast Premium Security (Multi-Device) | $89.99/year | Check here |
| Avast Ultimate | $99.99/year | Check here |
| Avast Business Antivirus | Varies | Check here |
AVG Internet Security costs $89.99 per year for 1 PC. AVG Ultimate costs you $99.99 per year for up to 10 devices.
| AVG Products | Regular Price | Discounted Price |
| --- | --- | --- |
| AVG Internet Security | $89.99/year | Check here |
| AVG Ultimate | $119.99/year | Check here |
| AVG Business Products | Varies | Check here |
Both Avast and AVG's first product's cost is quite steep for an entry-level product. Although, you do get coverage for up to 10 PCs, Macs, or smartphones with Avast Multi-device option, if you don't need that many devices protected, this offer isn't of much use to you.
Winner: Avast. Both companies are relatively expensive, given the prices of other antivirus products in the market. However, Avast offers great value for money with its Avast Premium Security Multi-Device suite.
6. Popularity
Next, we are going to look at some market surveys to see which of our products holds a bigger market share and greater popularity.
As per the recent Windows Anti-Malware Market Share Report from OPSWAT, Avast has a market share of 8.37%, whereas AVG is not listed as a separate product, which shows it has a far smaller share compared to Avast.

Now we'll consider the August 2019 survey report from Statista. Here too, Avast is listed as the fifth most popular product with a market share of 10.09%. While, once again, AVG is nowhere to be seen on the top products list.
Winner: Avast. The independent survey reports indicate that Avast is far more popular than AVG and holds a significant share of the antivirus market.
7. Customer Ratings
Customer support is a critical area in today's market. One where diligence or negligence can easily make or break a product. So, let's review customer satisfaction ratings from Consumeraffairs.org and see how our companies take care of their customers.
Consumeraffairs.org is a review website that collects customer responses and ranks products on a 5-star scale based on average feedback.
On this website, Avast received a modest rating with almost 3 stars. While AVG also got 3-stars.
Winner: Both. Both companies received a similar rating with a modest level of customer satisfaction.
Bottom Line
It's been a tough competition. Both Avast and AVG demonstrated fierce competition tying in four categories. However, while AVG managed to leave Avast behind with its intuitive interface, Avast secured an edge over AVG by winning two categories: pricing and popularity. That's why Avast takes the crown in today's guide.